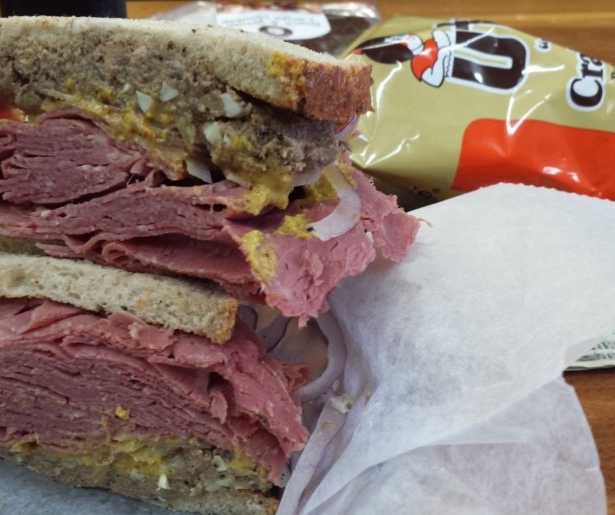 SHARE
In 'Yeah You Right', we document that supremely sublime moments that make living in New Orleans a treat for all of the senses and your soul besides. In this edition, our take on the Platonic ideal of a sandwich.
Ooooh.
When folks say 'New Orleans food,' the image that comes to mind involves shrimp, po'boys, etouffe, gumbo and beignets. They don't generally think, 'Jewish Deli.'
This is a mistake. We may not be New York, but New Orleans can deli with the best of them, a fact confirmed by a visit to Stein's on Magazine St.
The staff here obsesses over the deli arts: fine cheeses, excellent meat, good beer and olive oil from heaven. Whenever I drive out to the Lower Garden District, my wife makes me swear to stop at Stein's for a Reuben, essentially on pain of being exiled to a husband-y doghouse for an indeterminate period.
I have no issue with indulging my spouse on this score, as I always use a Stein's visit as an excuse to order the above sandwich, which is one of my favorite things in the universe. That would be the corned beef with chopped liver on rye, with a side of Utz crab chips. It's…perfection on bread. The chopped liver in particular is smooth, rich and unctuous, a lovely spread that perfectly marries to the muscular punch of beef, and when it's all laced with a lashing of good mustard and washed down with an iced tea, well, I'm happy as anything.
Moral of the story: Get ye to Stein's, dear friends, and tell them we sent you. You're about to elevate lunch to new levels.