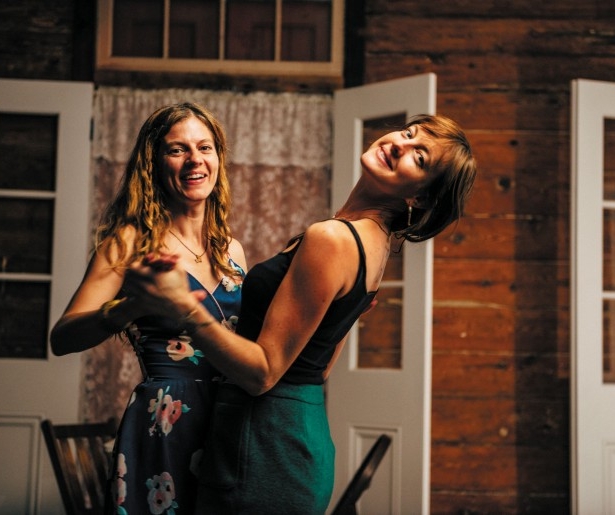 Mosquito Supper Club chef Melissa Martin grew up learning to cook for herself and five siblings in Houma. "Our supper club is a dream state of our past — that feeling you had at your grandparents house," she says, explaining the underpinnings of her establishment, a restaurant-cum-dance-hall that brings Acadiana to the streets of New Orleans.
"In Houma I had like all these aunts and uncles, and we all lived next to each other we all ate at my grandmother's house together every weekend. Then Effie Michot, my partner, is from Lafayette, from a prolific musical family," Martin continues. "She eats breathes and sleeps Cajun music. It's a driving force in her life. So my past was always food-centric—but for Effie, her past was more was music-centric. We've brought those two elements together with our supper club."
"A lot of places where you see Cajun music, they're restaurants," says Effie Michot, whose father and uncles comprised the Michot Brothers Band, who traveled the world in the 1980s on a quest to reinvigorate Cajun music and language. Their sons, Andre and Louis Michot went on to become the Lost Bayou Ramblers.
"Growing up in Lafayette, a couple times a week I'd be out at some place like Prejeans or Mulate's, eating and dancing and watching my uncles play. Our dream is not to own a restaurant some day, but to have a dance hall, where we can have dances at and cook and eat."
And thus, Martin handles all cooking for Mosquito Supper Club while Michot manages the front house, which includes booking bands to play the MSC's family friendly first-Sunday Zydeco boogies and third-Saturday Cajun brunches, both in and around French Quarter, Marigny and Ninth Ward neighborhoods.
"At our last dance, for $10 we served a home cooked Cajun meal of white beans, catfish, boudin or corn maque choux," recalls Martin. "We expected 100 and well over three times that many showed up for our Zydeco Boogie with Corey Ledet at St. Maurice Church in Holy Cross," says Michot of the venue MSC prefers when hosting live music. "It's an early show, so you can bring the kids and they can just bug out. The church has these slick marble floors, great for sliding."
Nighttime supper clubs for around 30 guests feature dishes Martin cooked growing up, like oyster soups, crab cakes, citrus salads, pies, cookies and cakes. The duo's weekend supper clubs have all filled up despite featuring no live music.
"Really, it's just very expensive to book bands," says Michot, who sometimes must choose between paying a band and paying herself. " For the dances, I try to pay at least $150 per band-member. Zydeco bands cost more because it's like five or six people, and they have a ton of equipment. I also think Zydeco musicians got ripped off when they started traveling up north, and so I've heard they've become more firm about their guarantees."
Lately, Michot has shared her extensive record collection with diners, decorating the sweet-smelling air with Cajun tunes — and anyone who helps flip the record over gets a free drink. "Effie is the DJ. We have a great collection of Cajun vinyl albums we play. Though lately it's been Loretta Lynn, and this Patsy Cline album we listen to over and over," says Martin. "Effie likes to listen to her music really loud. And when I'm cooking I sometimes have to tell her, 'Turn it down, I have to think about what I'm doing!'"
For Carnival February, Martin and Michot will skip hosting their weekend dances to focus on temporarily taking over Cleaver and Co. butcher shop near the parade route (3917 Baronne St.), with breakfast and lunch every day from February 6 to 15. The supper clubs will commence at Cleaver both weekends, though Michot says she expects the space will hold roughly 20 guests per night.
After Carnival, the Mosquito Supper Club will cease daytime cooking and spend their weekend nights at Mr. Gregory's in the French Quarter (806 N Rampart). Reservations are required for all nighttime supper clubs.
Martin and Michot regard their Mosquito Supper Club as something more than a mere pop-up. "Our dates are set in stone, for one thing. You actually have to reserve your seats so we know who's coming," says Michot. "We also present our whole menu to you beforehand: your five coarse meal: big platters that you all share among yourselves."
Martin says the differences are culture, and family: "We want folks to be able to come with their kids, get good food, let the kids run all over the place, and get to bed early."
Above photo by Rush Jagoe.