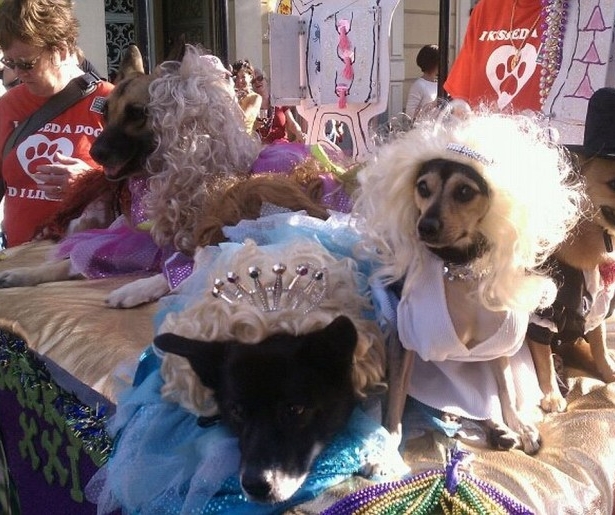 SHARE
I understand that to someone from out of town, playing up the weekend before the weekend before Mardi Gras sounds a bit silly. It's almost two weeks out from the actual holiday of Fat Tuesday – how exciting can things get?
The answer is: very exciting.
But it depends where you are. There will be some decent Uptown parades over the weekend, but in my opinion, the real juice along the St Charles Ave marching route really kicks up on Thursday, with Muses.
In the meantime, on the other side of town, in the French Quarter, Marigny and Bywater, there are three fantastic parades that all speak to DIY sensibility, a keen sense of satire, nerdiness, animal empathy and a passion for fun, all at once.
'tit Rex
First, it's pronounced 'Tee.' And in Cajun Louisiana, 'Tee' is an affectionate diminutive that translates to 'little.' As in, petit. Or 'tit.' As such, 'tit Rex is an actual diminutive Mardi Gras parade, one that eschews the mega floats and boxes of throws associated with standard krewes for hand-adorned shoebox floats, similar to the ones created by New Orleans schoolchildren, and a snarky sense of humor (ere go the name, which plays on both the dinosaur 'T Rex' and Rex itself, the traditional 'Kings of Carnival').

The parade always attracts a nice gumbo of the weird and wonderful. The tiny wheels of 'tit Rex roll at 5pm on Feb 7 at the intersection of St Roch and St Claude Ave; check out the route here.
Chewbacchus
The Intergalactic Krewe of Chewbacchus is a much beloved fixture of Carnival. It would be a woeful understatement to say that members dress as sci-fi and fantasy characters; Chewbacchus' handmade costumes, throws, and floats (think neon-bedecked papier maiche Millenium Falcons) are some of the most jaw-droppingly complex, beautiful fixtures of the season.

The parade has become such a huge cult hit it's now actually, well, a cult: specifically, the Cult of the Sacred Drunken Wookiee. Want to become an official ChewbacchanALIEN Minister of the faith? Check out the Chewbacchus site, which also contains a parade route map.
The intergalactic journey begins from the corner of Lesseps and St Claude at 6pm on Feb 7. For the second year, the parade will be led by Peter Mayhew – i.e. the actual Chewbacca.
Barkus
Speaking of Star Wars, the city's only all canine crew is throwing a Star Wars themed parade on Feb 8.
You have to register to put your pooch in the parade, and you'll want to dress those puppies up regardless. It's always nice for owners to dress up alongside their furry friends. Barkus is entertaining as anything, so make sure to pop by Louis Armstrong Park at 2pm on the 8th for the great shaggy start to the procession. Full route available here.