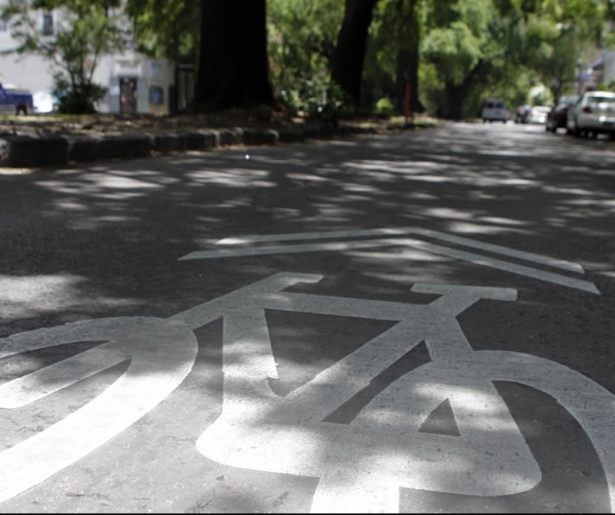 SHARE
Esplanade Avenue is famed as a gorgeous tree lined thoroughfare that stretches from the French Quarter all the way up to City Park. This spring, Esplanade got a long-awaited facelift – repaving, restriping, and reconfiguring. This work will strengthen the connection between the greater mid-city area and the French Quarter by creating a safer, more pleasant roadway that serves all users.
The Basics
Since early April, Esplanade between City Park and I-10 has undergone quite a makeover, including: resurfacing, lane striping, a 'road diet' (see below), and the addition of a bike lane. This work is part of a more than $90 million effort- $15.6 million this year in New Orleans alone – to resurface over 60 road segments in Orleans and Jefferson Parishes called Paths to Progress.
While the repaving part of this project is pretty easy to grasp, the 'road diet' part can seem a little weird. The basic idea of a 'road diet' or 'right sizing' of a street is to reconfigure a road to provide the correct amount of road space for the amount and type of traffic traveling on that road. The point of a road diet is to create a safer roadway for all users – pedestrians, cyclists, and cars.
In this case it means that Esplanade will now have one automobile driving lane, one automobile parking lane, and one bike lane in each direction along with curb ramps accessible for those with disabilities.
Impacts – connectivity, safety, economic activity
A ride down the length of Esplanade is like viewing a cross-section of the city itself. Between City Park and the French Quarter Esplanade Avenue touches several neighborhoods including: Bayou St. John, Fairgrounds, Treme/Lafitte, 7th Ward, French Quarter, and Marigny. Additionally, folks living in mid-city now have a safe and convenient route to bike to the quarter.
The resurfacing, road-diet and bike lane project will help folks travel between these neighborhoods as well as within them. Whereas Esplanade was a fast moving street with cavernous potholes and ambiguous lane markings, this new configuration will make it safer for the many residents that live along the avenue to walk to a corner store, bike to the quarter or city park, and feel a lot safer about parking their car on the street.
The safety impacts of this project are yet to be realized. Still, past evidence show that the road diet should make driving and walking safer and more pleasant, and the addition of a bike lane should make biking on Esplanade much safer.
There is some good evidence pointing to the economic vitality of a biking and walking friendly community. On Esplanade, this means that the shops around Ponce de Leon (Canseco's, Fair Grinds, Swirl, Santa Fe, etc) stand to see an increase in business. One local resident already perceives an uptick in foot and bike traffic in the area, calling a repaved Esplanade the 'hipster highway.' With a safer, smoother path accommodating cyclists and pedestrians, it will be interesting to see if more tourists on bikes expand their range up to City Park.
Roadways are the essence of public space, yet they are dominated by cars instead of people. The point here is not to demonize automobiles. Instead, pay attention to how the environment around Esplanade evolves as the new roadway configuration takes effect.