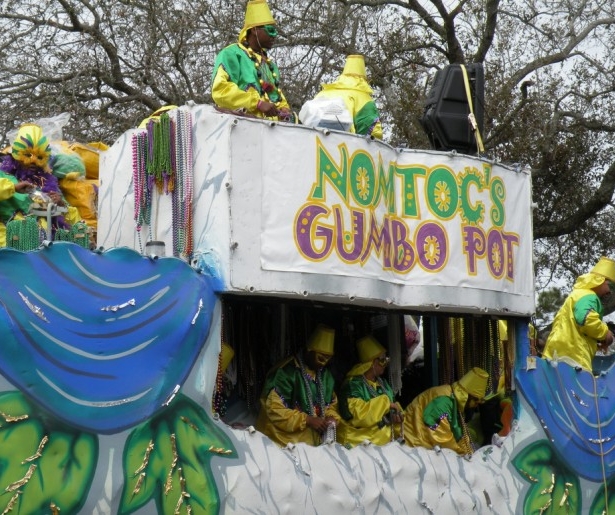 New Orleans Most Talked of Club (NOMTOC) formed in 1951, but the African American krewe weren't allowed to parade until 1970.
"It was an outlet for African Americans, because they didn't have an outlet over here [in Algiers]," says James Henderson Jr., NOMTOC's President and a proud member of its Jugs Social Club for 40 years. "There was the Krewe of Allah, we weren't welcome to that. There was the Krewe of Chocktaw, we weren't welcome to that. So NOMTOC were doing it for themselves."
Today the NOMTOC parade club boasts around 400 members, with 65 Executive Board members designated as "Jugs"—a reference to the old-timey brown-and-white ceramic jugs that might contain moonshine. "It might be an allusion to drinking," Henderson chuckles.
But despite the imagery, NOMTOC is known throughout Algiers as a community focused organization. In the tradition of Rex and Zulu, the Jugs award scholarships to community students. They hold an annual back to school book fair, a bike giveaway, a public picnic, a health fair and other events.
"It's gotten now where if people see us outside on the porch, the feel comfortable just coming up and participating," says Henderson.
The traditional Jugs' Mardi Gras festivities consist of a party to distribute NOMTOC branded beads to the float riders, followed the next week by the Jugs Ball.
"We do the King's party, though we call him the Prince until he becomes King the night of the ball," says NOMTOC's Treasurer Nolan McSwain. "We take the Prince around town on a 'King's Ride' and then we do a banner raising event to celebrate the new King and his wife. And then we start getting ready for the big parade."
NOMTOC's columned clubhouse presides over the intersection where Newton St becomes General Meyers, beside Federal City, sometimes called the Behrman neighborhood. "This immediate area was built by railroad men," recalls Henderson. "They work for the city now, but they used to be railroad folks. The West Bank was built around oil, and when all that moved to Houston, so did the jobs, and so did the float riders for both Cleopatra and Alla."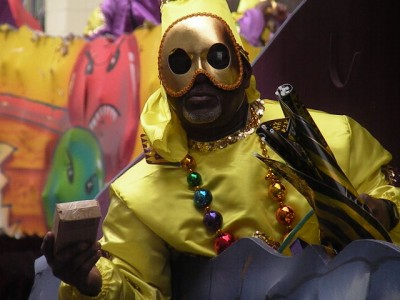 The Behrman area recently got a facelift of new curbs and new retro streetlights just as the Jugs bought the meeting hall across from their clubhouse. As the city plans to pour millions into Federal City, the Jugs plan to establish a stronger presence in their own neighborhood. They're proud of their position as one of the last West Bank krewes in Orleans Parish.
The 2013 Super Bowl and other recent events have moved the krewes of Cleopatra, Chocktaw, King Arthur and Alla to the Uptown St, Charles route, where they will parade again this year, leaving only NOMTOC and Adonis to parade in Orleans Parish's Westbank (there are other Westbank krewes in Jefferson Parish).
"Now the St Charles route is it," says McSwain. "Used to be you didn't have to leave your neighborhood to see a quality parade. But then one by one they fell for various reasons."
Henderson believes we won't be seeing any new Westbank krewes soon, with new city limits capping the total number of parades at 30. "The krewe of Athena, I went to their ball last night: Beautiful presentation by some professional women," says Henderson. "But they won't be allowed to parade in the city. Though they're all Orleans Parish based people, they have to take their parade to Jefferson Parish."
But Henderson says the Jugs won't budge. This year, their top-notch Mardi Gras parade, Feb 14, will feature a dozen young bands and 21 floats. NOMTOC are traditionally not stingy with its branded throws. "This year we've got lighted beads with our medallion on it," Henderson begins the list: "We've got umbrellas, we've got another set of beads that have just the jug man on it, we have Frisbees, we have the flat Frisbee you can unfold—it gets about ten inches. We got the head-boppers, the tambourines, and the NOMTOC coozies."
Atop one float will sit Chief Tyrone Casby of Mohawk Hunters, the Westbank's only Indian tribe. Though not directly affiliated, NOMTOC publicly welcomes the Mohawk Hunters at the Jugs clubhouse each Fat Tuesday.
"Being a Westbanker I felt I needed to have roots on the Westbank," says McSwain, who first joined NOMTOC via family members, and friends who felt like family. "I am glad I gravitated toward Jugs and NOMTOC, and I bleed brown-and-white now."
All images by Randall V. Schexnayder.