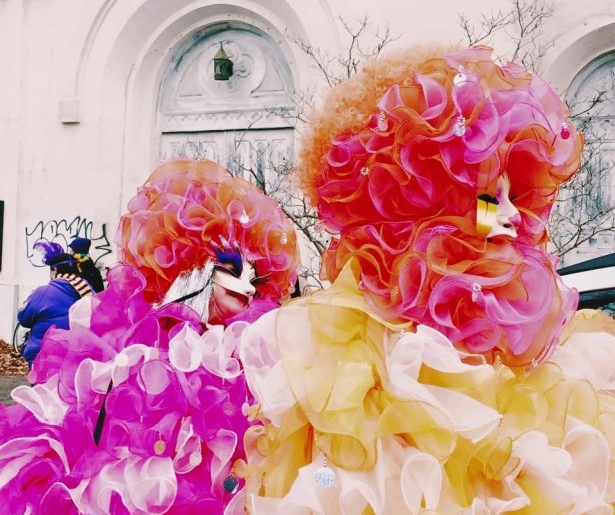 SHARE
Your pocket's a little lighter
You're reeling in the dawn
you make your way down Esplanade
after everybody's gone
you stand outside her window
she turns her head away
on the day after Mardi Gras day
From The Day After Mardi Gras Day, by Alex McMurray.
God. Does any other set of lyrics so perfectly nail the yawning ache in my heart on Ash Wednesday? I have seen what my city is capable of – seen the heights of her creativity, art and expression. And now it lays in tatters, bits of costume, floats and bunting scattered around the streets, our living rooms and neutral grounds.
There's a sadness as we stop what has been two and a half weeks of celebration and trade it in for, figuratively or literally, the sacrifice of Lent – even if you're not Catholic, the cessation of the Carnival season marks an ending of something. But it's a bittersweet departure. We are sad to see the girl turn her head away, as the subject of Alex McMurray's song does, but also grateful for the beautiful moments we shared with her the previous day.
And that's the sum of it. Carnival and Mardi Gras represent a turning of the seasons, a holiday that is equal parts commemoration and looking forward to the future, a day to take our ashes – the remnants of something past – down to the river, and the next day, spread them on our foreheads as we look to the Spring.
Seasonal holidays remind us of the cyclical nature of things, and that can seem daunting; it can be (ironically) sobering to be reminded that year after year, certain practices will always repeat themselves. But people need cycles. In The Day After Mardi Gras Day, the narrator of the song seems to give up on Carnival when he says, "we're never going to get it right/so what's the use in trying?" Yet trying is the point. Every year, we put on the greatest show in the world, and every year, it's a little sad when the curtain finally descends, but it's the moments in between that sustain us to the next set of celebrations that make New Orleans such a great place to live.
We hope you had a lovely Mardi Gras. Let's do it all again next year.