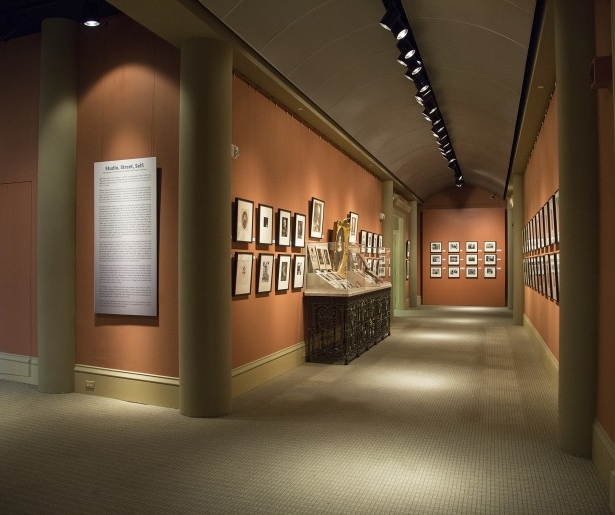 SHARE
Except for small placards with dates and simple identifications, few words accompany the dozens of photographic portraits along the warm walls of The Historic New Orleans Collection's Studio, Street, Self exhibit. Faces line the halls of the exhibition space, some formally gazing at the lens like old Renaissance portraits, others caught in candid moments on the street or in their studios.
"It feels like you're encountering people on the street," said the exhibit's curator John Lawrence, also the THNOC's Director of Museum Programs. As for the lack of descriptions or explanations beside each photographs? "We want people to learn by looking," said Mr. Lawrence.
And there's much to learn from this wide-ranging collection of photographic portraits, both about photography as creative expression, and as a form of documentation. A stroll through the exhibit feels like both a walk through the history of New Orleans, and an intimate peak at artists and workers plying their respective trades.
Such an odd juxtaposition allows for a photograph of Tennessee Williams exploring his old New Orleans apartment to hang across the aisle from Ding Ding, a man with a face full of creases known for selling peanuts at football games in City Park many years ago. Other famous faces include legendary local musicians such as Danny Barker and Ellis Marsalis, as well as artists with strong New Orleans connections like Sherwood Anderson.
The loose, yet curated randomness of the exhibit allows for an almost puzzle-like experience. "Bring an open mind and expect to be surprised," said Mr. Lawrence.
Every piece in the show needed to be a photographic portrait, either in a studio, on the street, or a self-portrait, but the exhibit also leaves room for playfulness within each of those categories. For example, the only painting in the exhibit was included because the painting's subject is holding an early photographic tintype of her husband, thus making it a meta "portrait of another portrait."
Another example—one photograph is a simple family picture at sunset, but the stretched shadow of the photographer extending across the frame qualified it as more of a self-portrait. Clever inclusions such as these allow visitors to think about just what a portrait really is, and what its supposed to do.
One stipulation, however, was that each face must be identified with a first name, last name, or both. "If we didn't know the name of the person in the photograph, we didn't include them in the show," said Mr. Lawrence.
Though a few larger group portraits use the guideline that only some of the faces must be identifiable, the show emphasizes this ability to identify as a way to separate the photographic portrait as a distinct art form. After all, is a portrait still a portrait if you can't identify the subject? That's another question for visitors to ponder over as they lock eyes with faces of the distant and recent past.
Studio, Street, Self is free and runs through Feb 28th at the Williams Research Center (410 Chartres Street). Gallery hours are Tuesday-Saturday, 9:30am-4:30pm.
Photographs courtesy of The Historic New Orleans Collection.