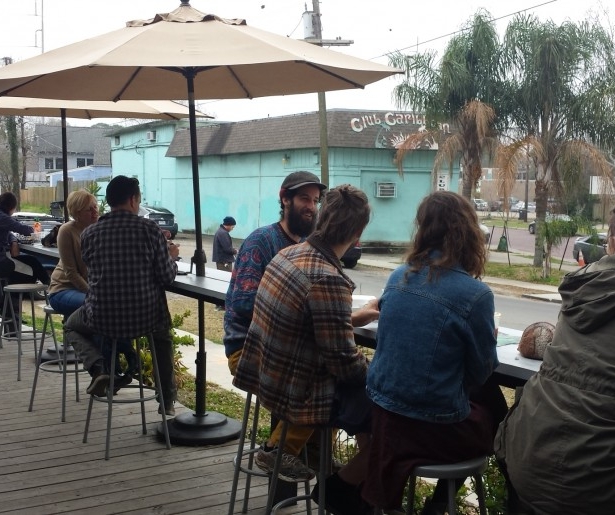 SHARE
'Brunch' has become an annoying thing in a lot of American cities. Bear with me for a moment, because there's a reason I'm putting 'brunch' in quotes.
Just brunch sans quotes is fine. While it's original meaning is 'a meal between breakfast and lunch,' I feel like most people define brunch as 'a leisurely breakfast on the weekend.' How leisurely depends on who you're asking. The second job I ever worked in my life was bussing tables at a Days Inn restaurant for the after church, scrambled eggs buffet crowd.
Those folks were a decidedly different breed of bruncher than the young urbanites who have adapted brunch into a modern institution, one that seems to namely consists of these qualities: a group of hungover friends shows up at a place at different times; the ones who arrived early are annoyed with the ones who arrived late because the scene is crowded; they wait a stupidly long time for a table; they have mimosas that are basically canned juice with a splash of rotgut champagne; they eat small, more expensive portions of egg-y stuff one could pretty easily make at home. This, friends, is 'brunch' in quotes.
If you haven't been outside of New Orleans in awhile, I'm sorry to say that this is what brunch has largely become in large American cities (if you've tried to eat in New York or DC before 1pm on a Sunday, you know exactly what I'm talking about). Thankfully, the sheer amount of good breakfast spots in New Orleans seems to have tamped down the 'brunch' phenomenon in favor or just brunch.
That's not to say some places don't get annoyingly crowded on weekend mornings – some of my favorite breakfast places, like Surrey's and Elizabeth's, are packed like sardine cans with long lines to boot. But Elizabeth's has never served a bad Bloody Mary, and both places cook the kind of breakfast food that makes me want every meal to be the first of the day.
I write all of the above because I lived in DC for awhile and I am always impressed by the amount of good brunch options in this city that have short little waits. And my latest discovery is the Pagoda Cafe.
Located off of Esplanade Ave in the 7th Ward, the Pagoda is named for its digs, an old Chinese laundromat fashioned to resemble a pseudo-Asian temple. The joint sits near the cobbled Broad St end of Bayou Rd, in an area that is rapidly gentrifying, pinched between successive waves of hipster-bougie settlement working south from Faubourg St John and north from the Treme.
The menu is an interesting fusion of fancy deli, Asian-influenced dishes and vegetarian goodness.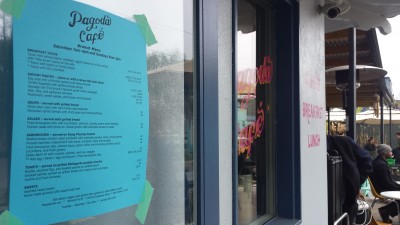 It's an interesting romp around the world; start with a Mexican breakfast taco, move on to an Australian sausage roll, nibble on an Indian banh mi with green chutney and honey roasted beets, or opt for local Chisesi ham pressed with brie. For all of the myriad origins of these menu items, there's a thread running through them: starchy and hefty enough to give you calorie fuel for the day ahead, but laced with something – Asian spice or deli cheese or meat-y filling – that elevates it past bog standard diner dishes. It helps that the most expensive thing on the menu is $9.50, so the whole 'New places are all too expensive!' rant doesn't really have a leg to stand on here.
I opted for this sandwich: a fried lemongrass tofu po'boy with cilantro, shredded veggies and lots of other nice things that are actually healthy but also taste good.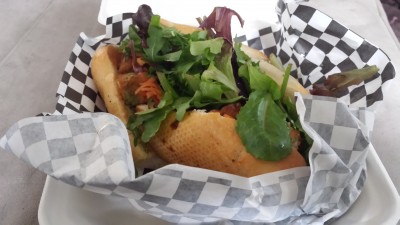 What can I say: I'm trying to be a little more healthy, but I'm trying not to hate life while I do so. And let me be straight: there was no grimacing through the vegetarian sandwich here. This was a damn good dish, mixing up the sharp edge of Asian spice with a satisfying veggie crunch and the comforting stodge of the bread. It tasted good, and it left me full, and I'm a big guy who demands big portions. I was happy, and I barely had to wait for my food. On a Sunday morning, at the height of the brunch rush, this is all I can ask for. I suggest you do the same.
Pagoda Cafe
504-644-4178
Tue–Sat 7am – 4pm
Sun 9am-3pm
Closed Mon
1430 N Dorgenois St