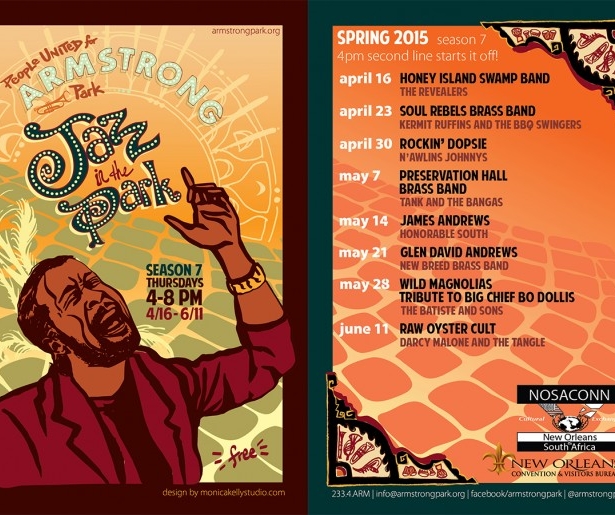 SHARE
Spring in New Orleans is intimately connected to the beginning of what is locally known as festival season, a string of seemingly unending celebrations of local culture, art, music and life that happens to coincide with some of the sweetest weather in the world. (Seriously, there's a cliche that New Orleans has unremittingly hot and humid weather, and yes, it can get muggy during the summer, but late March to June here is just about perfect).
Anyways, if festival season marks the beginning of spring, then Jazz in the Park, put on by People United for Armstrong Park (PUFAP), marks the beginning of festival season. This is well and appropriate, as the celebration centers on the Treme and Armstrong Park, which taken together are the launching points of the city's unique musical traditions.
This cultural backstory will be a major component of this year's Jazz in the Park celebrations, as evidenced by the new Treme Art Exhibit, which goes on display on March 24. The exhibit will feature 23 artists who portray the life and folkways of the Treme neighborhood; their work will be displayed at the Jazz Compound in Armstrong Park.
Treme resident Nate Williams helped set up PUFAP up with the artists. "I am plug and link in chain, that connects the dots…when PUFAP came to me with this idea I immediately put [PUFAP executive director Emmanuel] Lain in touch with some of the baddest artists in the City. I am an artist and I have an eye for identifying other good artists and this exhibit will feature some of the best artists in the business."
There's more than music at Jazz in the Park; it's a showcasing of local culture from all corners and all ages. High school marching bands will feature parade from 4:30-5pm, and Second Lines put on by Sudan Social Aid and Pleasure Club and One Sound Brass Band will tear it up at 4pm.

Where there's song, there's dance, and PUFAP is introducing local dance troupes like the Star-Steppin' Cosmonaughties to entertain the audience during set changes.

"Alright," you may be saying, "all well and good. But who's playing?"
We got you covered. Check out the line-up below.
April 16th
– The Revealers, The Honey Island Swamp Band
April 23rd – Kermit Ruffins, The Soul Rebels
April 30th – N'awlins Johnnys, Rockin Dopsie
May 7th – Tank and the Bangas, Preservation Hall Jazz Band
May 14th – The Honorable South, James Andrews
May 21st – New Breed Brass Band, Glen David Andrews
May 28th – Baptiste & Sons, Tribute to Wild Magnolias featuring Monk Boudreaux
June 11th – Darcy Malone & the Tangle, Raw Oyster Cult