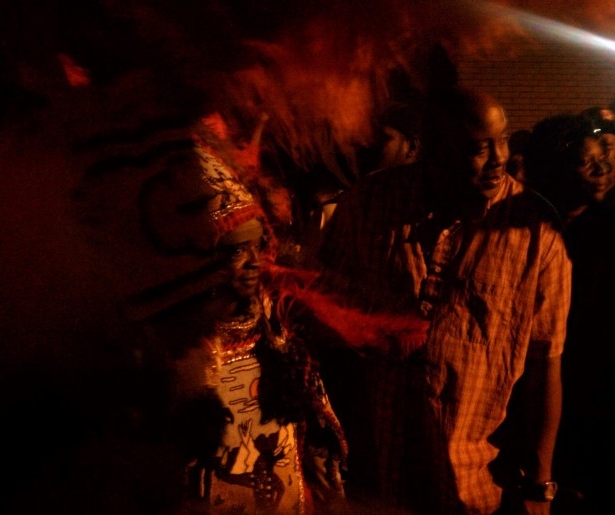 SHARE
Big Chief Brian Nelson first came up with the idea for a story centered around Mardi Gras Indian culture when he was still a teenager. "It started as a short story for a creative writing project back in high school," said Mr. Nelson. "But obviously it's grown so much since then."
As Big Chief of the Guardians of the Flame, Mr. Nelson knows a thing or two about the often enigmatic culture of New Orleans' Mardi Gras Indians. He grew up surrounded by Indian tribes, and drew from his own family experience when writing and directing his short-film Keeper of the Flame, which screens on Saturday, March 7th from 1:45pm to 3:30pm at The McKenna Museum of African-American Art
Mr. Nelson's path to completing Keeper of the Flame was long and arduous. He first developed the story into a treatment and script at the North Carolina School for the Arts several years ago. But in 2006, Hurricane Katrina derailed any hopes for a production.
"I lost all of my old movies because of Katrina," said Mr. Nelson.
Still, Mr. Nelson applied and was accepted into the University of Southern California's graduate film program, one of the most prestigious in the country. But once in Los Angeles, he made projects that didn't focus much on the Indian community he grew up in.
"I tried to back away from the culture," said Mr. Nelson. "But the more I ran from it, the more I started to write about it. It chased me down."
And it eventually caught him. For his USC thesis, Mr. Nelson finally decided to bring Keeper of the Flame to the big screen. Production occurred in the spring and summer of 2010 in New Orleans, with actors including Big Chief Alfred Doucette and Harold Sylvester.
"I grew up watching Harold Sylvester on my grandmother's television," said Mr. Nelson. "And then all of a sudden we're filming at my grandmother's house and he's just sitting in the living room. It was amazing."
Keeper of the Flame is a coming-of-age family drama centered around Mardi Gras Indians in a hurricane and flood-ravaged New Orleans. After a Big Chief of a prominent tribe dies unexpectedly, he passes the mantle of leadership to an unlikely candidate: his young grandson, Michael.
The decision causes conflict within the family, especially with Michael's Uncle Tre, who challenges his nephew's authority by forming his own tribe.
"The movie is an homage to my grandfather, Big Chief Donald Harrison Sr.," said Mr. Nelson. "He's a big reason why I became a filmmaker."
Mr. Nelson emphasized realism throughout the production, and calls it part drama, part docu-drama, because actors mix with actual members of different Mardi Gras Indian tribes in the film. "I really wanted the entire cast to be participants within the culture," said Mr. Nelson.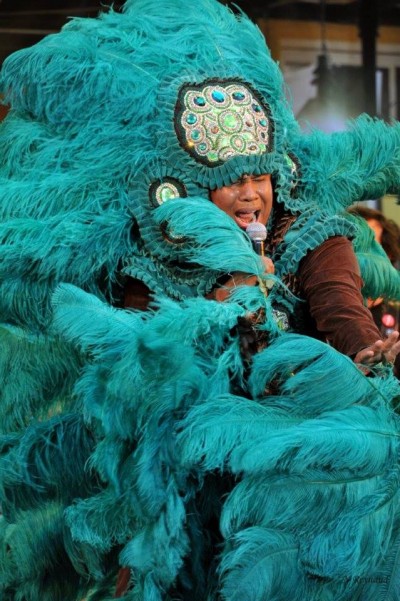 (Image courtesy of the film makers)
After months and months of editing, the film premiered at the Patois Film Festival in 2011, winning the audience award. It also screened at the New Orleans Film Festival, and has won awards at other festivals.
Mr. Nelson is currently developing Keeper of the Flame into a feature-length movie. He's also working on a documentary about Mardi Gras Indian Queens.
"There's lots of mystery around Mardi Gras Indian culture," said Mr. Nelson. "But at its essence, Keeper of the Flame is about family. I wanted to make the story universal for everyone."
The film screens on Saturday, March 7th from 1:45pm to 3:30pm at The McKenna Museum of African-American Art (2003 Carondelet St).
Although primarily a filmmaker, Brian Nelson is also the Artistic Director for the Guardians Institute and works with the Mardi Gras Indian Hall of Fame. Additionally, he runs a Mardi Gras Indian themed Peace Advocate Book Program for young students.
Top image by Adam Karlin.