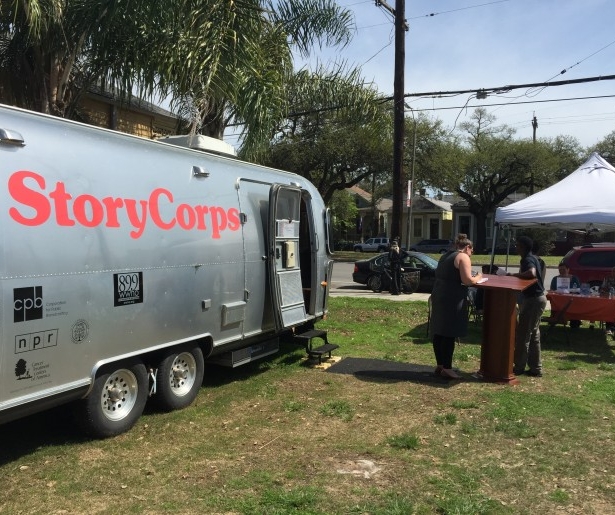 SHARE
Every New Orleanian has a story to tell. Whether you've lived here all your life, for a few years, or even a few days, the city has a way of generating fascinating and sometimes magical narratives that connect people of all walks of life. For over a decade now, StoryCorps, the much-loved NPR radio program, has dedicated itself to collecting and preserving stories all across the United States. And through April 8th, the StoryCorps MobileBooth — an Airstream trailer outfitted with an intimate recording studio — will be parked at Doerr Furniture (914 Elysian Fields) with the goal of collecting new stories from area residents.
"New Orleans has such a rich history of music and culture," said StoryCorps Mobile Tour Site Manager, Emily Janssen. "We tell people to come share stories for themselves, for their families, and for their city."
The specially outfitted StoryCorps Airstream tours the country collecting interviews between two people who know and care about each other. What started as simple idea — a 40-minute recording session between friends or colleagues sharing stories about their lives — has grown into one of the more popular public radio programs around, with segments of select interviews airing nationally on NPR's Morning Edition.
Through their partnership with WWNO, StoryCorps reached out to community organizations like the Neighborhood Story Project in order to find local citizens with unique stories to tell, especially those who might not be as familiar with the NPR show. WWNO will also produce a few of its own special programs based on StoryCorps interviews to air locally in the coming weeks.
This is not the first time StoryCorps has parked a mobile recording studio in New Orleans. They set up shop in Jackson Square shortly after Hurricane Katrina, and parked at the National World War II Museum 2010 (archived interviews can be found here).
But this time around, StoryCorps representatives are hoping to hear new stories from the always-changing New Orleans population, particularly within the Latino community that's come to the city post-Katrina.
"We've reached out to several organizations in order to hear some of those perspectives," said Dina Zempsky, Director of the StoryCorps Mobile Tour. "We want to bring in all kinds of stories from local communities."
On March 15th, StoryCorps held a press event in which two sets of interviews were conducted. First, local trumpet player Aurelian Barnes sat down with his friend and mentor, Oscar Washington, to speak about growing up in the New Orleans musical community.
The two musicians sat across from each other in the small MobileBooth recording studio to swap stories. A StoryCorps facilitator sits in on every session as well, both to ensure recording, and to ask questions and provide context for eventual listeners.
"We always have so much to talk about," said Mr. Barnes. "And it's cool that now the stories can be out there for other people to listen to." Both Mr. Barnes and Mr. Washington, like all StoryCorps participants, also received a CD recording of their conversation.
After that session, a second conversation took place between Tracey and Tom Sherry. Tom is a bird population ecologist at Tulane University, and Tracey is founder of three non-profits, as well as the managing director of the Birdfoot classical music festival.
Another part of what makes this stop in New Orleans different from previous visits is the brand new location of the MobileBooth. Located between the Marigny and the Bywater, Doerr Furniture (914 Elysian Fields) allows for a visible locale that's not overrun by tourists the way a spot in the French Quarter might be.
The owner of Doerr Furniture, Shane Mutter, welcomed the opportunity to host StoryCorp's MobileBooth with open arms, citing his family's appreciation of the program. "StoryCorps has brought tears to our eyes and made us laugh," said Mr. Mutter. "It's a true gem, what they do."
StoryCorps is a national nonprofit organization dedicated to recording, preserving, and sharing the stories of Americans from all backgrounds and beliefs. The MobileBooth will be at 914 Elysian Fields from now through April 8th. Reservations for recording are open to the general public.
For more information call 1-800-850-4406 or visit storycorp.org. Make your reservations ASAP, because they're likely to be all booked up soon.