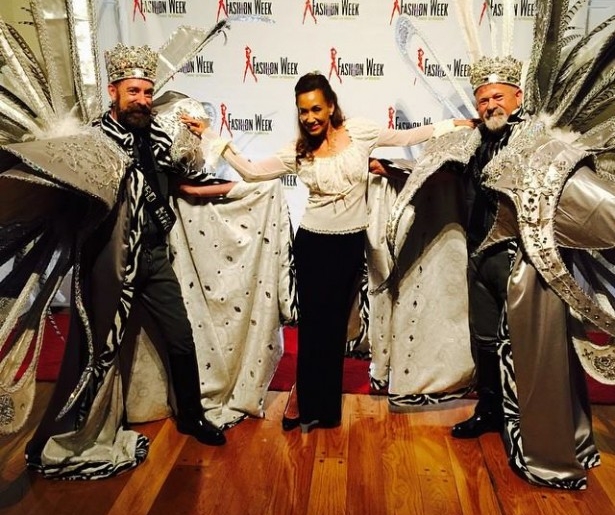 New Orleans Fashion Week launched the spring 2015 celebration of fashion artistry with runway shows, a design competition and, of course, the fetes to match. The week long affair boasts several not-to-miss events aimed at merging the fashion and beauty of the runway with the unique spirit of New Orleans to highlight the talents of southern designers.
What to Watch: New Orleans Style
Catch designer Beckie Wilson's collection, Peacock, showing on Thursday, March 26th to witness the pomp and fanfare of a truly New Orleanian variety of feather headpieces and accessories. For her collection, Wilson draws heavily on her love for the symbolism of peacocks in addition to "the 1920's and 40's as well as New Orleans' zest for life and its flair for anything goes." A free spirit in her own right, Wilson explains, "my wearable art is for the confident and free at heart!" Fans of her work can shop her designs online at her Etsy shop, or purchase her unique pieces locally in the French Quarter at Love It.
Shoe-maven Lacie Reynolds of BESPOKEZ Shoes debuts her new line, Butterfly Effect on the runway Thursday, March 26th with shoe designs featuring a combination of people that have left an impact on society. Although you might fancy trying to guess who might appear on these custom leather shoes, designer Reynolds is keeping a tight lip, "part of the wow-factor is the element of surprise."
With that said, attendees will be sure to not miss these unique creations thanks to the LED lights attached to the shoes that will highlight the designs during their runway strut. BESPOKEZ Shoes are custom and available for purchase online.
Oyster Jewels and Urban Fools shows on Friday, March 27th with designer Tiffany Langlinais of Freret & Napoleon taking an urban approach with what she describes as a "dreamy, grand accessorized feel" for her new line of graphic t-shirts and apparel, amping it up with her oyster shell crown and head pieces.
Lagnlinais says that that this year's show is both "representative of New Orleans and a lot of the local roots you might find an a streetwear style that embraces a youthful feel." Shop the line locally at Lucy Rose, The Wildlife Reserve and Commune NOLA or online.
Also hot on the local scene and showing on Friday, March 27th is ODAOMO, showcasing the designs of local surgeon and designer, Sophia Omoro. This show is standout for its cross-cultural inspiration. Omoro immigrated from Kenya and her native tribe is represented in her line of custom clothing.
Omoro explains that "the ethnic heartbeat is there but anyone can wear it" elaborating that "each item within the same style has its own character, something that comes form a human hand making it form start to finish." As a way to give back to her home country, Omoro designs the garments here and outsources their production to Kenya, where she employs two fulltime seamstresses and one beader for fabrication. A trip to her store at 839 Chartres Street is a must, as the beauty and artistry is on full-display in their natural setting.
Runway shows take place at New Orleans Board of Trade, 316 Magazine Street, with doors opening at 5:00pm. Tickets can be purchased in advance online through the NOFW website and Eventbrite.
A full schedule of all of the NOFW 2015 events can be found on their website.
Image courtesy of New Orleans Fashion Week.