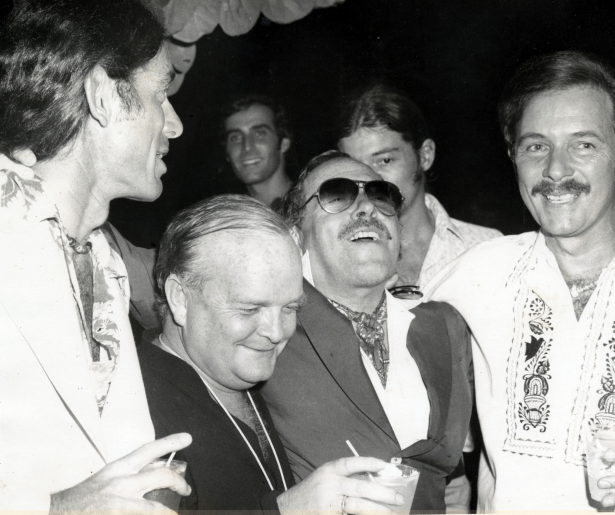 SHARE
Now that spring has bloomed in New Orleans, the festivals are reaching an unstoppable clip, kicking off every weekend, and this year is no different. The annual Tennessee Williams New Orleans Literary Festival (TWFEST) returns from March 25th-29th.
Few events can match the eclectic programming of the TWFEST, which combines literature, theater, film, music, comedy, cooking, and more. It's also the only "literary" festival that ends with a shouting contest on the streets of the French Quarter, as participants howl their best "STELLA!" (or "STANLEY!") as a tribute to Stanley Kowalski's famous wailing in "A Streetcar Named Desire," the classic Tennessee Willams play set in New Orleans.
The festival has expanded considerably over its twenty-nine year existence, growing from a modest theater and literary event to the sprawling, multi-faceted affair it is today
"Sometimes there are misconceptions of what the festival is," said JR Ramakrishnan, Director of Literary Programs for TWFEST. "It celebrates much more than Tennessee Williams, but we also try to program in a way that stays true to his artistic spirit."
The festival's home-base venue is the Hotel Monteleone (214 Royal), but events take place all across the French Quarter, and beyond, throughout the weekend. Other common festival venues include The Williams Research Center (410 Chartres), the Palm Court Jazz Cafe (1204 Decatur), La Petit Theatre du Vieux Carre (616 St. Peter), and many more.
TWFEST attracts a host of creative personalities for various events, including musician Allen Toussaint, filmmaker John Waters, humorist Roy Blount Jr., author Laura Lippman, journalist Amy Dickinson, writer Rick Bragg, among others
Here's a list of ten TWFEST events to check out (the full program of events can be found here):
Tennessee and Toussaint: Soul of New Orleans
The festival kicks off on Wednesday night (Mar. 25th) with a gala at the Ogden Museum of Southern Art. Legendary New Orleans songwriter, Allen Toussaint will perform and Luke will provide the cuisine, but perhaps the most exciting part of the evening is an exhibit of Tennessee Williams' own paintings and drawings. "Few people have seen this collection in real life," said Ms. Ramakrishnan. The gala starts at 6:30pm and admission is $100.
Michael Farris Smith – Putting the Pieces Together
The bestselling author of Creole Belle and The Tin Roof Blowdown leads a master class about how to plan, write, and sustain the energy to finish a novel. Part lecture, part discussion, the event is accessible to both aspiring writers and those just curious about the process. Takes place at 2:30pm on Thursday (Mar. 26th) at The Historic New Orleans Collection.. Admission is $10 or free with a festival panel pass.
John Waters
The one-of-a-kind filmmaker/comic/provocateur performs his autobiographical one-man show at the Joy Theater on Thursday (Mar. 26th) at 8:30pm. Waters is a national cult figure, famous for raunchy films such as Pink Flamingos and Hairspray. He last performed in New Orleans for a Christmas show in 2013.
Then, on Friday (Mar. 27th), author Laura Lippman interviews John Waters at the Hotel Monteleone, Queen Ann Ballroom at 4pm. Admission is $10 or free with a festival panel pass.
Lauren Cerand – Literary Buzz and How To Get It
Back at The Historic New Orleans Collection on Friday morning (Mar. 28th) at 9am, literary publicist extraordinaire Lauren Cerand leads a master class on how to get your writing out into the world.
Ms. Cerand's reputation as one of the most esteemed independent publicists in New York City stemmed from her willingness to take risks, particularly through the use of social media and online networking communities.
"She's such an inventive and creative person," said Ms. Ramakrishman. "Almost like a literary fairy godmother."
Hotel Plays
There's a lot of theater going on throughout the festival, with many performances of Williams' plays, as well as readings/performances of the TWFEST one-act contest winners. But perhaps the most unique theatrical experience is the interactive production of Tennessee Williams' Hotel Plays.
A co-production with the Provincetown Tennessee Williams Theater Festival, actors stage three of Williams' short plays, all set in hotel rooms, with the catch being that audience members move from room to room at the historic "Hermann-Grima House": http://www.neworleans.me/places/view/8684/Hermann-Grima-House to watch each performance. Tickets are $30 and shows for the intimate affair run throughout the weekend:
The Transnationalists: American Writers on Border Crossings
A panel discussion on what it means to be an American writer in the world today, both at home and abroad. Participants include Phil Klay, and Iraq veteran and author, activist/writer/artist Molly Crabapple, an Laila Lalami, a Moroccan-American novelist and linguist.
Moderated by Pamela Paul, editor of the New York Times Book Review. The discussion should cover a wide range of topics given the distinct American experiences of all three participants. Takes place at 11:30am on Saturday (Mar. 28th) at the Hotel Monteleone, Queen Anne Ballroom.
Rick Bragg on Jerry Lee Lewis
Editor of Louisiana Cultural Vistas David Johnson interviews the ever-popular Rick Bragg about his biography of rockstar Jerry Lee Lewis. Expect spirited, humorous discussion. Takes place at 2:30 pm at the Williams Research Center (410 Chartres) on Saturday (Mar. 28th). Admission is $10 or free with a festival panel pass.
"The Palooka" Film Premiere

A screening of a recently produced local film based on a little-known Tennessee Williams short play centered around boxing rings, "The Palooka" was directed by Perry Martin and features actor Bryan Batt. Stick around after the movie to meet the cast and crew. Takes place at 4pm pm at the Williams Research Center (410 Chartres) on Saturday (Mar. 28th). Admission is $10 or free with a festival panel pass.
Southern Cooking Gone Vegan
What would a New Orleans festival be without a culinary element? In addition to a Friday lunch event at historic Antoine's, TWFEST will also host chef and activist Bryan Terry for a foodie discussion with New York Magazine food critic Adam Platt. The event takes place at Bourbon House at 11am on Sunday (Mar. 29th). Admission is $15.
Stanley and Stella Shouting Contest
Self-explanatory climactic event of TWFEST. Come see participants re-enact Stanley Kowalski's iconic, primal scream beneath the picturesque balconies in Jackson Square on Sunday (Mar 29th) at 4:15pm. The event is free and open to the public.
For updates and more information about the festival, check out the TWFEST Facebook page or their website.
Above photo; Tennessee Williams and Truman Capote having a good time, courtesy of Florida-Keys Public Libraries.