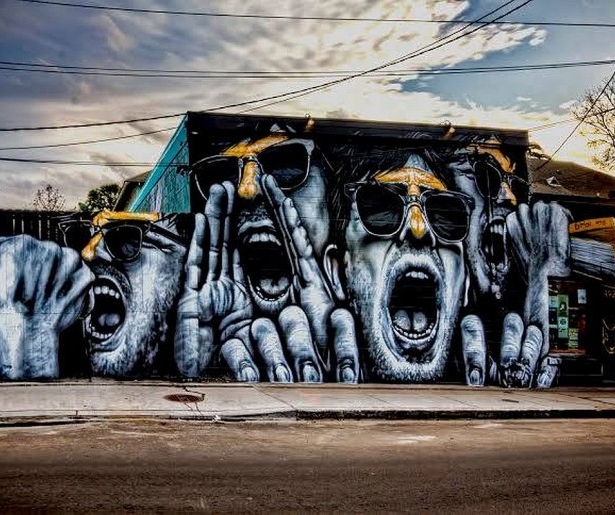 On Facebook, Jason Van Ness provides a free, daily public service to New Orleans music lovers. About four years ago, he began posting the top five concerts of each day. "I break them down hour to hour, so that you can hop from show to show any given night," explains Van Ness. "It's the easiest way to get as much music as you can out of one day."
Van Ness moved to New Orleans for the music in 1997. "I was going to shows, but not to the extent that I am now. It wasn't till after Katrina when I started hitting it full on heavy," he says. "What really hooked me was the introduction of the Open Ears [improvised music series] at Blue Nile, and the possibility of seeing different improvisers together— you learn the music a whole lot better when you get to see everybody play with everybody, and see the full potential of what they can do."
Between bartending and waiting tables, thirty-eight year old Van Ness says he attends well over 1,000 concerts every year. Because he has the broadest of musical palettes, his magnanimous daily concert listings never settle into one genre.
Van Ness drives all over the city every night, not as much out of a sense of purpose as much as, "A fear of missing something. Lots of these shows are improvised shows," he explains, "So they are one-time events. I don't want to miss any of them."
Lately, Van Ness has been extra busy with side projects. "Yesterday was a slow day, I only saw three shows." He's been on break from his job managing the Live Oak Cafe, where he also books live daylight music acts.
"Any artist that has something to say — doesn't matter genre, era or any sort of formula, if they are true and represent it well, then I am willing to book 'em." Live Oak has been closed as of late, but is about to re-open. "We've done new renovations, fixed the sound system, doubled the space," says Van Ness. "We're hoping to have three bands a day over there."
But in the meantime, Van Ness has started his first nighttime series of shows at Gasa Gasa. The series is called Instant Opus, and it has been going strong at the Freret St concert hall for a month. "I inherited every Monday at 10pm from Paul Thibodeaux, who had a similar series. I was always in the audience there, and that's another place where I came to know all the improvisers in town."
Van Ness is pleasantly surprised at the inaugural attendance for Instant Opus. "A lot of people have shown up, a great turnout! Unexpected people! Most of the improv shows I go to, it's other musicians in the crowd and a few hardcore followers. But at Instant Opus we've actually had a college crowd interested in exploring — everyone really seems to be enjoying it."
Van Ness gets almost offended when asked to devise a list of the top-ten living, vital New Orleans musicians. "I could maybe do a top thousand, but narrowing it down is impossible." That said, the same names pop up on many of his rosters: percussion hero Mike Dillon, Consider the Source, the Cliff Hines Trio, and the Joe van Leeuwen Trio.
"Van Leeuwen is a young drummer who's gonna be the next Tony Williams. I don't even think he's old enough to get into bars." Van Ness also suggests Brad Walker. "Sax, a little on the weird side, experimenting with sounds loops effects. He just doesn't sound like your normal sax. Reminds me of Skerik, on some different level."
He says he is against the idea of quantifying and qualifying musical brilliance. "Because the best thing I've ever heard," Van Ness claims, "is the thing I've never heard before."
The next Instant Opus show at Gasa Gasa is on Mar 30. Here's the April lineup:
April 6th: Roger Lewis, Dr. Jimbo Walsh, Ricky Sebastian, Pat Casey
April 13th: Carl LeBlanc, Mario Abney, Nathan Lambertson, Marcello Benetti
April 20th: Sasha Masakowski, Jeff Albert, Jasen Weaver, Brad Webb
April 27th: Jacob Fred Jazz Odyssey and HZ Duo mash up featuring Brian Haas and Rob Mazurek, and special surprise guests.
Above image: Gasa Gasa, courtesy of their Facebook page.