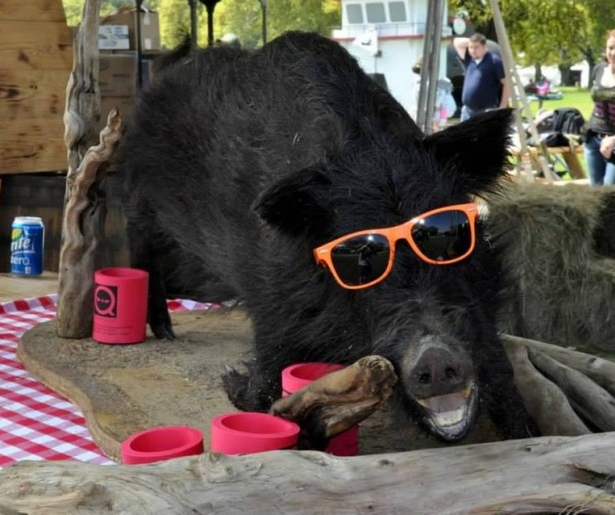 SHARE
This weekend, the hot scent of BBQ will once again mix with the twang of electric guitars in City Park, as Hogs for the Cause returns for its 7th annual celebration of whole hog roasts and Southern Rock.
Becker Hall, co-founder of the event, has been cooking whole hogs since his college days at the University of South Carolina. Back then, USC's football team was in the midst of an historic losing streak, so the games often became secondary to the tailgates. "South Carolina has such a rich barbecuing tradition," said Mr. Hall. "The overnight cooking ritual definitely became the main events of our weekends."
Who knew that years later, Mr. Hall, along with his co-founder and childhood neighbor, Rene Louapre, would be putting on an elaborate whole hog roasting event that includes 85 cooking teams and 15 bands over two days?
The two men always wanted to turn the ritual of a whole hog roast into some sort of charity event, but it wasn't until they met young Ben Sarrat Jr., a four-year-old diagnosed with brain cancer in 2008, that they found their cause. "The idea was always to have a good time for a purpose," said Mr. Hall. "The more you drink, the more you eat, the more you help."
Which segues into the 'cause' that the hogs are for (as it were): the fight against pediatric brain cancer. The event raises money to provide aid and relief for the expenses and economic burdens families routinely face while their children go through treatment.
Hogs began modestly in 2009 at The Fly at Audubon Park. "There weren't many whole hog roasts in New Orleans," said Mr. Hall. "But it was something we thought people might be interested in." That first year, 200 people showed up, many of them just curious folks passing by. The next year, 1500 people attended, and the event has only grown from there, expanding to larger outdoor spaces almost every year.
The event starts on Thursday night with a Gala Dinner at Popp's Fountain in City Park; the dinner will feature Mediterranean street fare from local chefs. On Friday, gates open at 3pm, music starts at 4:30pm, and cooking teams use the evening to prepare their whole hogs for an overnight roast. On Saturday, all 85 cooking teams will compete in the Ben Sarrat Jr. "High on the Hog" Cook-Off.
If you want to attend, 1-day general admission ticket prices at $30 at the gate; other options (such as the expertly named "1-day Boss Hog" or "2-day Passpork") won't break your piggybank either (hehe). Then there's the added bonus that it's for a great purpose.
"A lot of families pull me aside throughout the festival and say that we're making a difference," said Mr. Hall. "And that's a great feeling."
Mr. Hall has also recently made a big push to expand the musical festival element Hogs for the Cause, hand-selecting national acts as well as local ones, and spreading the music over two days and two stages. "If you don't know some of these band names," said Mr. Hall. "You'll remember after seeing them, and you'll walk away having had a good time."
Here are a few of our music picks for the festival:
Strand of Oaks (Friday, 7pm@ NOLA Brewing Stage)

The Philadelphia-based folk rock project of songwriter Timothy Showalter, Strand of Oaks is responsible for HEAL, one of the most celebrated records of 2014. Bombastic, cathartic, and sometimes dark, Showalter's personal songwriting makes for an emotional live performance.
Drive-By Truckers (Friday, 9pm @ NOLA Brewing Stage)

Long-time southern rock royalty based in Athens, Georgia with roots in Alabama, Drive-By Truckers have cultivated a devoted following since the mid-90's through their large discography and relentless touring.
Hiss Golden Messenger (Saturday, 1pm @ NOLA Brewing Stage)
Folk band from North Carolina with a penchant for mixing light, catchy melodies with touching, literary songwriting. Singer MC Taylor recorded the band's breakout record, Bad Debt, in 2010 on a standard cassette recorder at his kitchen table while his newborn son slept in the adjoining room.

The narrative surrounding that record, along with its beautiful acoustic tracks, turned music industry heads, leading to a follow-up in 2013, as well as last year's widely acclaimed Lateness of Dancers. A perfect Saturday afternoon band to rock out with while you chow down on some pork.
J. Roddy Walston & the Business (Saturday, 5:30pm @ NOLA Brewing Stage)

Hard-htting, piano pounding rock and rollers out of Richmond, Virginia by way of Tennessee, J. Roddy is as energetic a rock show as you're likely to see all year. Not to be missed.
For more information on Hogs for the Cause, check out their website.
Image courtesy of Hogs for the Cause.