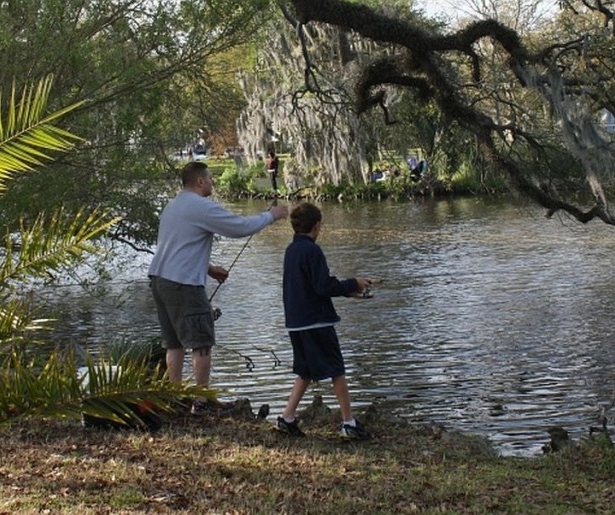 Many New Orleans locals don't realize how great the freshwater fishing is in their very own City Park. Back in 1976, a 12-year-old caught a 52-pound buffalo fish – the largest fish ever caught in City Park lagoons. Just before Katrina in 2005, a junior at Jesuit High School landed a giant 44-pound Blue Catfish. Then in 2013, the park's largemouth bass record was broken twice in one year, with two monsters each over nine pounds.
Current City Park largemouth record-holder Tim Zissis has been catching bass in the park, as well as in Bayou St John, since 1979. "I've caught trout, redfish, flounder and sheepshead in that bayou," he attests. "I have a crab from that bayou in my refrigerator so big I thought it was a world record. Everything grows bigger there, I think because there's no pressure – not many people fish there, they just don't know how great it is."
City Park's many miles of fishable shoreline have healed up nicely since Katrina flooded the area with around eight-feet of polluted water. Over the last decade, organizations like LSU, UNO and the La. Dept. of Wildlife and Fisheries have worked hard to restore life to the lagoons and bayous, which have been stocked several times over, and are now teeming with many fish species. All of these improvements add up to make this year's City Park Big Bass Rodeo on March 28, 2015, the biggest and best in the contest's long, storied history
Established in 1946, City Park's Big Bass Rodeo is the oldest freshwater fishing tournament in the country, and has now grown to include its second ever Boats on the Bayou division. The park recently took on upkeep of Bayou St. John from the New Orleans Levee Board following a bayou wetland restoration and dredging project that created increased water flow from Lake Pontchartrain. One of the results has been great fishing in the newly clean Mid-City bayou, along with a renaissance of boating activity.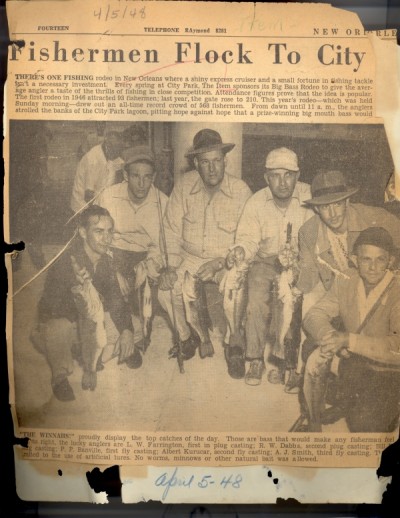 (Above Bass rodeos of another era)
While City Park's lagoons will remain off limits to personal watercraft for the Bass Rodeo, this year's Boats on the Bayou division will allow limitless kayaks, canoes, and other non-motorized vessels to fish Bayou St. John from 7 to 10:30am in four distinct categories: bass, trout, redfish and "trashbag" (any other species of fish).
The single heaviest fish from each category wins a trophy and bragging rights. A "Red Tag Special" will offer prizes for three registered anglers who bring in the heaviest cumulative weight of tagged redfish.
Largemouth bass, however, are City Park's pride and joy. "I caught my big record one on Diagonal Drive, up on a bridge, while casting toward the bank of Scout Island," recalls Zissis. "I was using a topwater bait I painted gold and black. I call it my 'who dat frog.' The big bass took it under and I lost him the first time. Then five minutes later he hit it again. I was elated!"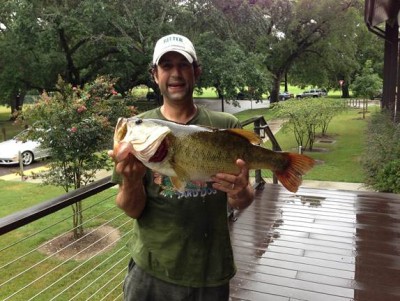 (Above Tim Zissis and his record bass)
Zissis warns that this behavior is rare though, and advises switching up your bait often when fishing for largemouth. "The thing about a bass is they have good memories, so if you catch a bass on a worm, it's not easy to catch that same bass on the same worm."
The event's Big Bass Rodeo division – where all fishing must be done from the bank, no watercraft allowed – includes six fishing categories: Bass Youth, Bass Adult, Junior Anglers (12 and under for bream and cichlids). The Rio Grande Roundup (designed to decrease City Park's number of pretty and colorful but invasive cichlids) event has been eliminated and replaced with Cichlid & Bream Trim Team Event. There's even a bonus prize for anyone catching the heaviest gar or catfish, and past Bass Rodeo winners can compete in the Champions Challenge.
The Bass Rodeo's corresponding Fishtival has also grown in tandem. Beginning with music at 9am, the Fishtival features local artists, ecology and wildlife experts, conservation and boating organizations, and live critters from the Audubon Zoo to pet.
The Louisiana Department of Wildlife and Fisheries hosts exhibits, a touch tank trailer with live critters to touch and more, while Wish to Fish Louisiana hosts a casting contest for children under 15, and offers cast net throwing lessons.
Wish to Fish's provides a tent full of used fishing tackle at low prices, and the Fishtival's Mardi Gras toss promises tons of free fishing ephemera for attendees. Various raffles could also land you great brand new fishing and other outdoor equipment, or else one of three charter-fishing trips with well-known local captains.
But the biggest reason to sign up for this casual, affordable, family friendly historic rodeo is the great fishing. Zissis to this day catches five to eight pound bass regularly in and around City Park "There will one day be a state record bass caught in that area, I know it," Zissis says, adding that he released his record-breaking 9.05lb bass back into those very same waters.
Fishing hours for Big Bass Rodeo are 6:30 to 11:00 am
For Boats on the Bayou 7:00 to 10:30 am
Images courtesy of City Park.