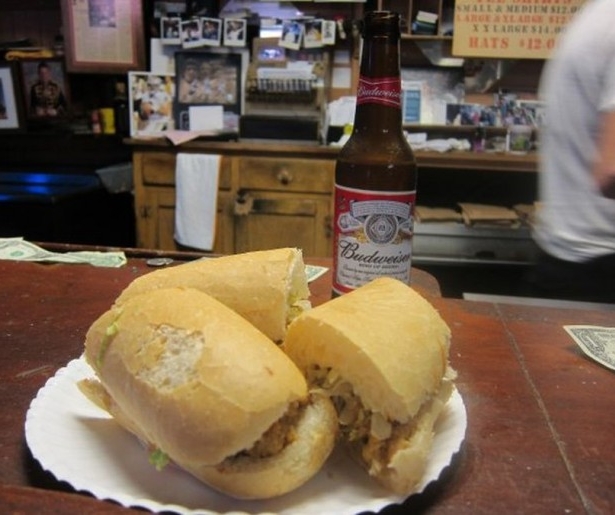 SHARE
A love of New Orleans is a wonderful thing, and at this website, we like to make a note of it when someone says something special about our fair town. There have been two such incidents rounding out the end of March.
First: Mario Batali, who says New Orleans is , "without a doubt" his favorite city for business travel in the world. An endorsement from a guy like Batali is a special sort of imprimatur, I think because the guy so embodies – physically, mentally, and soulfully – the general ethos of New Orleans.
I mean, not to put too fine a point on it, but he's a big guy. A guy who clearly enjoys the sensory and the digestible. And this rotund outer appearance is belied by a public identity that has been one of the loudest (if gentlest) voices for rethinking the American approach to food. Batali has consistently been on the side of eschewing the quick and processed in favor of emphasizing things that are local, high quality and made with a unique touch – all qualities possessed that were lionized in New Orleans long before they became the buzzword accoutrement of the artisanal hipster revolution.
I emphasize things made with a local touch, because Batali has always, with his red hair pulled into a ponytail and penchant for sandals, been an ambassador for the idiosyncratic. And if you're going to represent the weird, you kind of have to love New Orleans. He says as much here: ""At any point you can find someone that has a story that could last an hour from which you still want to listen to more."
It goes on and gets better in the below clip.

A few gems, in case you can't play that: "It's the most celebratory of American cities, pound for pound the most gastronomically gifted…you have to undo your top button. Relax a little bit, take a breath…have a half dozen [oysters] have a sazerac, and then follow your ears until you find someplace that's playing live music."
I mean, if I were only allowed one piece of advice to give to visitors for the rest of my life, it would probably be that last phrase. Also, the guy loves Domilise's, pictured above; he calls their shrimp and oyster po'boys collectively one of the "the most supreme bites in America," and I can't really disagree.
Beyond Batali, another laid back lover of the city gave New Orleans praise when Matthew McConaughey gave a speech after receiving the New Orleans Film Society's 2015 Celluloid Hero award.
His whole speech is so good I'm just going to copy a transcript below . While there is one place where I think he misses the mark (I never like it when people imply that poverty and crime is essential to the city's character and appeal, which happens in the second to last paragraph), by and large, he nails it. Enjoy:
"First of all what a big, beautiful [New Orleans] it is. Cheers to that.
"I said this years ago. A friend of mine asked what is New Orleans like? I said New Orleans is like a giant flashing yellow light. Proceed with caution … but proceed. It is not an overly ambitious place, and that's being complimentary. It has a great identity, and, therefore, it doesn't look outside itself for intrigue, evolution or labels of progress. People here are proud of their home. You're proud of your Crescent City. You know your flavor. You know it's your very own. And if people want to come taste it with you, you welcome them with open arms. But you do not solicit.
"The hours trickle by here. Tuesday and Saturday are more similar here than any other place I've ever been. The seasons slide into one another without any status quo. Yes, it is the Big Easy, home of the shortest hangover on the planet, where libation can greet you on Monday morning with the same smile as it did on Saturday night.
"OK, (it's) home of the front porch. I don't know if y'all recognize this: it's home of the front porch. Not the back porch. Everyone everywhere else has back porches. The back porch is something different. The front porch is an engineering feat that lends itself to the sense of so much community around here and fellowship. Private property and lines of demarcation all land across borders. Here you relax facing the street. You do not retreat into the seclusion and privacy of your backyard. No, you engage with the goings-on of the world that is in front of you. It's a great engineering feat that you've pulled off here. It really is.
"What's my alarm here? My alarm here is church bells, sirens and a slow-moving, $8-an-hour carpenter nailing windowpanes two doors down. That's a good alarm. Do not honk your horn in a traffic jam here.
"You do not sweat the misdemeanors, and, since everybody's getting away with something, the rest of us just want to be on the side of who's getting away with it. And if you CAN get away with it, good for you. You love to gamble. Rules are made to be broken, so do not preach about abiding. And, hey, if (they) don't get away with it, you're probably gonna let them slide anyway.
"Where else do the dead rest eye to eye with the living? New Orleans is a right-brained city. Do not come to town wearing your morals on your sleeve unless you want to get your arm burned. Yes, it's oil and vinegar, but somehow they mix. The poverty, the humidity, they both gracefully suppress all the rationale. And if you're crossing a one-way street, it is best to look both ways.
"Mother Nature rules around here. We all know that. (She's) the natural law queen who reigns supreme. She's a science to the animals, yet she's an overbearing and inconsiderate b—— to us bipedal humans. But here you forgive her and you forgive her quickly. You have to. You know any disdain for her wrath is going to reap more wrath, more bad luck, more voodoo and more karma, so you roll with it, … actually you meander rather slowly forward taking it in stride and never sweating the details."
"See, the art is in the overgrowth here. Mother Nature wears the crown around here. Her royalty rules. And unlike in England, she has both influence AND power. And, like the most authentic European cities, you guys don't use vacuum cleaners to give structure to anything, you use brooms. You use rakes to manicure, because everything here lends it soft edges.
"Where it falls is often where it lays, the swerve around the pothole, the duck beneath the branch, the poverty, the murder rate, all of it is just how it is and how it came to be. Just like a good gumbo, the medley is in the mix.
"Thank you, New Orleans; thank you, Louisiana. Cheers."