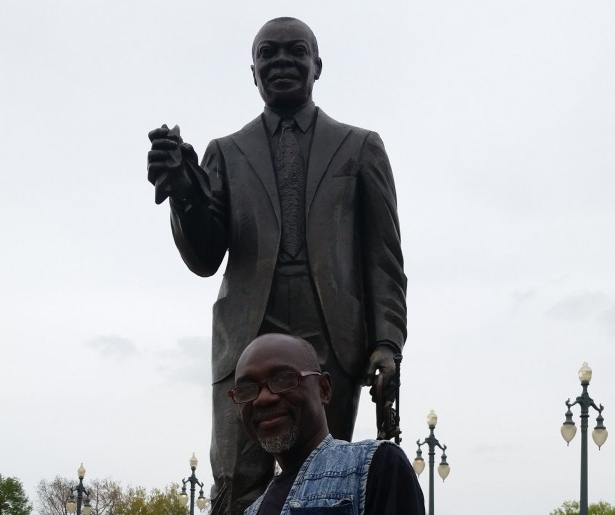 In the heartland of Mali lives multi-instrumentalist, educator and author, Souleymane Dembele, Chairman of the Music Department at the Conservatoire des Arts et Metiers Multimedia Balla Fasseke Kouyate (CAMM), and a member of the faculty of the Institut National des Arts (INA), which trains Malian teachers in European arts and music.
From late March to the 21st of April, Dembele is visiting Louisiana to give a series of academic talks on the connection between New Orleans and Mali – and also, to play several concerts.
"For 22 years I taught music theory, history of Malian music and solfege," Dembele explains. "During this time I learned to play the balafon and saxophone as well. In 2008, at the request of the Director of The Conservatoire (CAMM) I assumed the chairmanship of the music department."
One of Dembele's bigger accomplishments at the INA has been building a partnership with the Danish Royal Academy of Music and the Finnish Sibelius Academy. "I am now hoping to establish relations between the music educators of Mali and the music educators of Louisiana," says Dembele, who is also on a bit of a vacation. "I also hope to attend festivals and other cultural events produced by the communities of New Orleans and the surrounding regions."
Dembele is here at the behest of Africa NOLA, an artist-run organization designed to help disseminate West African culture in New Orleans through the teaching and performance of traditional West African music, American jazz, and New Orleans brass band music. The organization has touched 5,000 students ages 8 to 21 since its 2007 inception.
Most of Dembele's musical engagements will see him playing with Africa Brass Band, the musical ensemble of Africa NOLA.
.
Africa NOLA Director Jeff Klein, who also drums in Africa Brass, traveled recently to Mali to retrieve Dembele, and soak in the culture. "Their music scene is bigger than ours in New Orleans," Klein says. "And it's clear our spicy food comes from Mali. Everyone in Mali speaks Bambara, but also French, and they wave horsetails instead of handkerchiefs…"
And now Dembele is here exploring New Orleans culture. "My first impression was a big impression," he says. "Many of the people of New Orleans are descended from Mande peoples of the regions now known as Mali, Senegal, Burkina Faso. I was so surprised when Andrew Wiseman, the New Orleans drummer from Ghana, looks like a copy of my brother in Mali!"
Despite a fairly full schedule, Dembele is hoping to fit even more lectures into his time here in New Orleans. "If people are interested and the opportunity presents itself… I would like to give a presentation that will introduce the breadth and diversity of Malian music, explaining the traditions of the various regions [of the country]…If people are interested in the theory of Malian music, I can explain the heptatonic traditions of the Malinke in contrast to the pentatonic traditions of the Bambara, Songhoi and Touareg peoples."
The vacation part comes when he gets to play music. "I usually don't have time to play," says Dembele, "because of all the bureaucracy at my school. It will be good to play with all the different musicians of New Orleans."
Souleymane's schedule for April is:
April 1st: Speaking at Whitney Plantation at a meeting of Francophone mayors.
April 3rd: 2pm, Old US Mint, presentation on Mali's connection to New Orleans.
April 14th: Workshop at Silence Is Violence program in Central City
April 16th: 6pm, Ogden Museum with Africa Brass
April 18th: LA Bucket Brigade's Earth Day Festival with Africa Brass
Above image: Dembele standing in front of Louis Armstrong, courtesy of Africa NOLA.