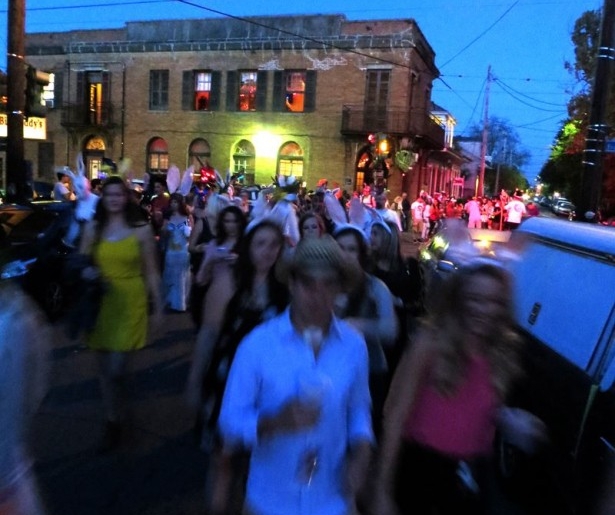 On Easter weekend the bunnies come out in New Orleans — to catch a buzz, for a cause. Bunarchy, the most wild and wonderful collision of rabbits, booze and charity, begins on April 4 at 6pm.
"It's not a rabbit fetish of mine, per se," says Bunarchy patriarch Dan Sheridan, who started the Easter adjacent, rabbit-themed pub crawl in 2009, inspired by a similar event in Detroit. "My wife is from Detroit and she had gone to Bunarchy there. When I imported her to New Orleans she suggested we start a Bunarchy here. And since I know how to throw parties…"
Sheridan has a reputation as an event organizer – he was the main force behind the small NooMoon stage that brought local bands to New Orleans VooDoo Fest in its early years. More recently, he and his wife Andrea inherited a house in Michigan and moved away, but they plan to return to New Orleans for at least each Easter weekend to helm the rabbit-y procession they helped put in place.
"New Orleans being the costume capital of the world and the drinking capital of the world makes Bunarchy a perfect thing for this city," says Dan Sheridan of his ever-expanding Marigny pub crawl.
A few minor adjustments have recently doubled Bunarchy's size. "We used to have it on good Friday but switched it to Saturday so people could run the Crescent City Classic," he laughs. "Many people wanted to do it but didn't want to wake up the next day and run at sunrise." Last year over 300 costumed bunnies bought passes for $10 apiece.
Passes to Bunarchy gain bunnies entry into all the clubs, where each bar offers a drink special. "[For example], Mimi's would throw a peep candy in as a drink garnish," remembers Sheridan. "Aunt Tiki's used to make a carrot cake shot."
This year Sheridan hand-printed and polished oak wood medallions and drink koozies for those who buy passes. He's still lining up the entertainment: At St Roch Tavern, DJ Mike Feduccia will bring his famous "techno bull," portable sound system, dressed with bunny ears. DJ Spacekat will spin at the AllWays Lounge.
Awards are given out throughout the bar hop for Sexiest Bunny, Scariest Bunny, Most Original Costume and Hottest Couple. There is also a Lifetime Achievement Award.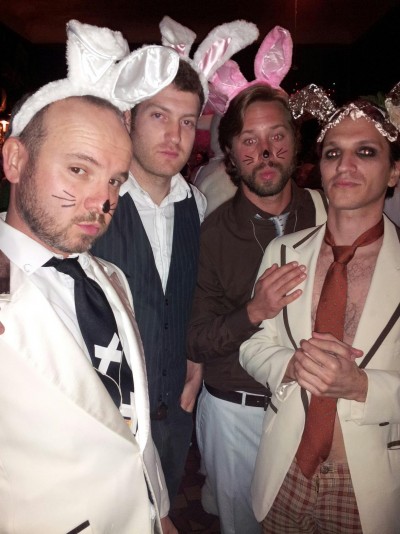 "A couple years ago we gave the lifetime achievement award to Don Corbitt, the latex costume maker, who used to wear this famous latex bunny hood. We asked him to attend Bunarchy, and then others who attended the event in his bondage bunny hood wanted him to make them similar hoods." Sheridan himself owns two Corbitt pieces in green and red.
This will be nurse Nichole Brining's third year bunnying up. "Usually I find Easter weekend to be boring since I'm not affiliated with any church," says Brining, who has been working on her Bunarchy costume for three weeks. "I like that it's a pub hop that starts early. And it's always for a charity I like."
"The money in past years has gone to a different animal help organization: the LSPCA, ARNO, NOLA's Ark," Sheridan explains. "This year the money is going to Used Dogs, a smaller dog shelter in Algiers."
Used Dogs not only finds homes for abandoned pets but helps keep dogs in their current homes through consultations and training. Money will also go to the Nancy Morrison Memorial Fund, dedicated to a longtime Nola Bunarchy supporter, volunteer and key member of New Orleans's Burning Man community.
Nichole Brining says that even though the event sounds slightly lascivious, she is most impressed with how smoothly and peacefully the Bunarchy always runs. "For a rather large group of people traveling en masse to six locations, it is really awesome to see them work as a group," she says. "Not to mention seeing dozens of bondage-like bunnies crossing the street at one time."
The list of stops for Bunarchy are as follows:
Marie's Bar at 6pm,
Mimi's at 7pm,
St Roch Tavern at 8pm,
The Allways Lounge. at 9pm,
The John at 10pm
Blue Nile at 11pm.
Tickets are available in advance on Bunarchy's Facebook page or at either Funrockin store (1125 Decatur and 3109 Magazine St). Tickets can also be bought along the route '"We bring a big bag of rabbit ears to sell for $5," says Sheridan, "so if people wanna, they can just join in the hop."