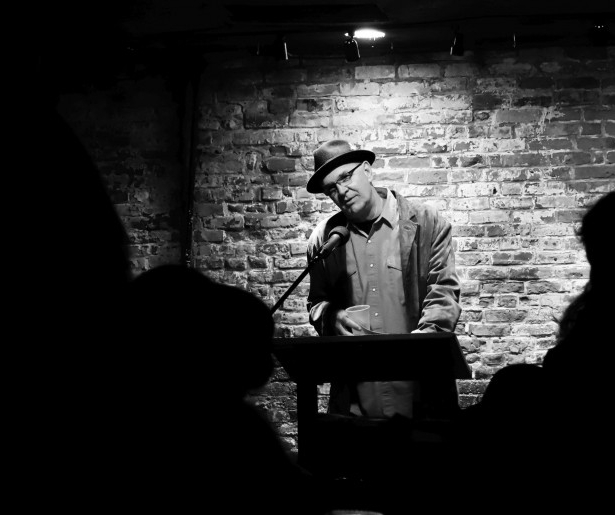 Maybe your poet friends haven't told you yet, but April is National Poetry Month. The East Bank Regional Library in Metairie (4747 West Napoleon Ave) invited New Orleans poet and publisher Bill Lavender to populate their calendar with weekly poetry events throughout April.
Lavender's own book imprint, Lavender Ink, founded in 1995, has published almost all the readers at all of the library's upcoming events.
"I started Lavender Ink because I thought there was not an outlet in New Orleans for the Southern avant-garde— really, there were not any outlets for the southern avant-garde," explains Lavender, who serves as the imprint's director, editor-in-chief, and sole-proprietor. "All the avant-garde imprints operated out of the north," he says, "and they were not really interested in the southern idiom."
The locally based Trembling Pillow Press, run by poet Megan Burns, publishes similar styles, but only about two books a year. Never one to self-publish, Lavender (who will read his own poetry at the library on April 22) publishes his books via Trembling Pillow (Q and Eye of the Storm) as well as the out-of-state label, Black Widow (Memory Wing).
Before 2012, Lavender ran University of New Orleans Press, and his own imprint simultaneously. Prior to leaving UNO Press, Lavender Ink published only four or five books of poetry each year. "UNO was more formal, with an editorial board that had to approve [my choices in books]," explains Lavender. "Most authors wanted the perceived or real prestige of the university press, but sometimes if UNO rejected someone, I'd offer to publish at Lavender Ink."
He also pressed books by artist he felt might be too risque for the university; local poet Thaddeus Conti's thick volumes of beautifully profane poems and sketches represent a good example.
In the last couple years Lavender has published 20 books of poetry but also fiction, nonfiction — anything interesting. "I took all the energy I was putting into UNO and put it into Lavender Ink. I also continued the translation series I started at UNO at Lavender Ink, called Dialogos."
An offshoot imprint devoted to literature with cross-cultural significance, Dialogos publishes primarily but not exclusively literature in translation. "Anything that had a cross cultural or international feel," says Lavender, who explains his inspiration thusly: "When I was a kid what I learned of foreign language I learned from poetry translations, so I wanted to see that tradition revived. Also, in the field of translation I can attract world-class writers and literature — one of the first translations I did at UNO, Antonio Gamoneda, had won a Noble Prize. In English, to get the same caliber of work would cost real money."
Still, Lavender admits, "Most of my sales are from local appeal. I sell more local stuff than international." Lavender Ink's two most popular titles have been the Yat Dictionary, by Chris Champagne, and the anthology by Lavender's wife, Dillard professor Nancy Dixon, N.O. Lit 200 Years of New Orleans Literature.
The East Bank Regional Library series will host the following schedule for National Poetry Month:
7 p.m., Tuesday, April 7 Andy Young, Ava Haymon and Ralph Adamo, whose seventh collection of poetry, Ever (Lavender Ink), is "about and through wars, hurricanes, issues as common and profound as work and time, and endurance of every sort. [Adamo] writes as well as about becoming a father after age 50 and raising two children in a time of transition and conflict. The patterns and forms of these poems vary from tightly controlled couplets through prose poetry and various experimental turns of language. At times painfully lucid, at times opaque."
7 p.m., Tuesday, April 14 Gina Ferrara, and Trembling Pillow Press editor in chief Megan Burns, whose books Sound and Basin (2013) and Memorial + Sight Lines (2008) were published by Lavender Ink, along with and Commitment (2014), poems about, "Divorce, the mother's loss of her children, the brother's suicide, and mental illness.
7 p.m., Wednesday, April 22 Bill Lavender reads with author Joel Dailey. Poet and author Andrei Codrescu describes Dailey — author of Lavender Press books Industrial Loop, My Psychic Dogs My Life and Lower 48 — as "…the Robinson Jeffers of Post-Pop, an expansive nature poet whose nature is on TV. His work contains also the most thorough on-going critique of pretension in whatever form she may have been proclaimed."
7 p.m., Wednesday, April 29 Melinda Palacio, Valentine Pierce, and Jose Torres Tama, whose Immigrant Dreams & Alien Nightmares, "documents twenty-five years of the author's performance poetry in his unique bilingual voice…his poems document migratory leaps from Guayaquil, Ecuador to New York City, where his family owned a coffee wagon business in Union Square, and Jersey City, where his teen-age rites of passage forged his urban warrior persona, to the Caribbean-influenced port city of New Orleans, his muse and adopted home since 1984."
For more information check out the event's Facebook page.
Above image: Bill Lavender, courtesy of Louis Maistros.