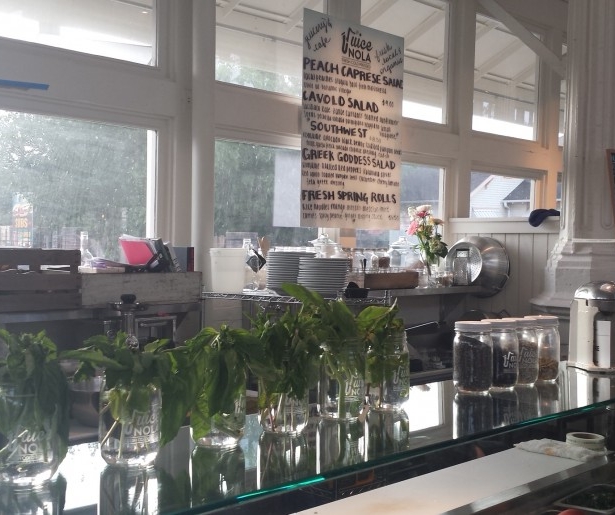 Built in 1875, the St. Roch Market on St Claude Avenue sold fried seafood plates and poboys plus boiled shrimp, crabs and crawfish. Even then, its dingy exterior made it look haunted.
After it flooded from Katrina, it sat vacant for nine years. But this weekend, The St. Roch Market opens — or rather, re-opens, but with a different feel, different purpose and what will surely be a different clientele.
The new 8,600 square foot, 13-vendor "food hall," developed by Will Donaldson and Barre Tanguis, is the result of a $3.7 renovation. Most of the vendors will represent their own various food trucks and restaurant pop-ups. Together they will helm what is essentially a food court.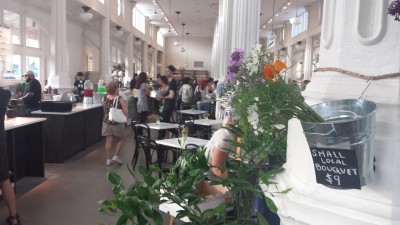 Inside, bussers wander one long, well-lit floor, its motif white and silver, with big windows and slender columns—all the various vendors share the same china dishware, all washed in back. The high-windowed walls are lined with vendors offering creative but not exotic dishes and drinks, all for around $7 to $10 dollars.
The words "small plates" might sound suspicious to St Roch's neighbors, who in the past have been more inclined toward terms like "overstuffed." But the food, at least, is not expensive, nor is it necessarily pretentious despite being outside the New Orleans norm.

The most talked about vendor so far is Lagos, serving West African food, specifically Nigerian dishes such as black bean frijohn, with coconut, fish, and a red tomato and pepper sauce, plus egusi (a West African stew) and dun dun (fried yams). Nearby Koreole gives Korean food a Louisiana spin with dishes like Korean fried chicken, and sweet potato vermicelli with Andouille sausage, sauteed carrot, bell pepper and onion.
Next booth over is King Creole, representing more traditional regional cuisine like spicy Crawfish poutine and chicken in sauce piquant – meaning spicy brown gravy over rice. Elysian Seafood attempts to represent the market's former vibe: Brandon Blackwell, previously of Upperline, and his wife Jennifer, offer boiled seafood, gumbos, etouffes, and fancier prepared items like shrimp mousse and market ceviche.
Elysian will offer four different types of fresh, locally sourced, fresh, raw fish like sheepshead or catfish, though a pre-order seafood program is also available, wherein Elysian can have most anything delivered based on your needs. The ladies from the Mosquito Supper Club pop-up restaurant will run The Curious Oyster Co, offering mostly raw oysters.
Shank Charcuterie is run by butcher Kristopher Doll, who helped open Cleaver & Co. Doll and company will serve cheese and sandwiches during the day alongside devine curiosities like headcheese, and for dinnertime, fancier fare like tartar and carpaccio.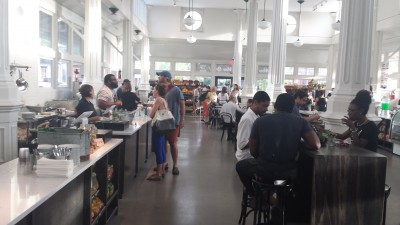 Dirty Dishes sells retail jams, jellies and different types of sauces but majors in Crepes like The Munch with root beer pulled pork, mac-n-cheese, plus Colby and Monterey jack cheeses. The Dirty is stuffed with cheesecake filling, strawberries and crumbled graham crackers.
Sweet Spot Bakery specializes not only in desserts, cake cupcakes and pies, but also in retail breads. Holy Cross micro roaster Kevin Pedeaux will run Coast Roase coffee, and Juice NOLA: will do juice and salads, acai bowls, wraps and healthier breakfast items.
The market's locally sourced produce corner is run by Keenan McDonald, and features local eggs.
Last but not least, Mayhaw at the Market cocktail bar offers drinks for between $7 and $10, such as Bees Knees (gin, honey, lemon and sage) or an Old Fashioned (made the old fashioned way), all between $7 and $8.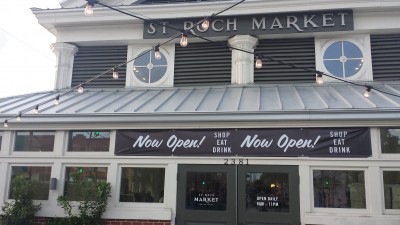 Outside, the market's facade looks handsome and traditional. A mass of shiny silver chairs gleams invitingly out front. Another army of chairs in back faces the St. Roch neighborhood and its recently refurbished neutral ground. How the market will fit into the neighborhood it is named for remains to be seen, but like the bright orange Healing Center across the street, it will likely change the area while serving it.