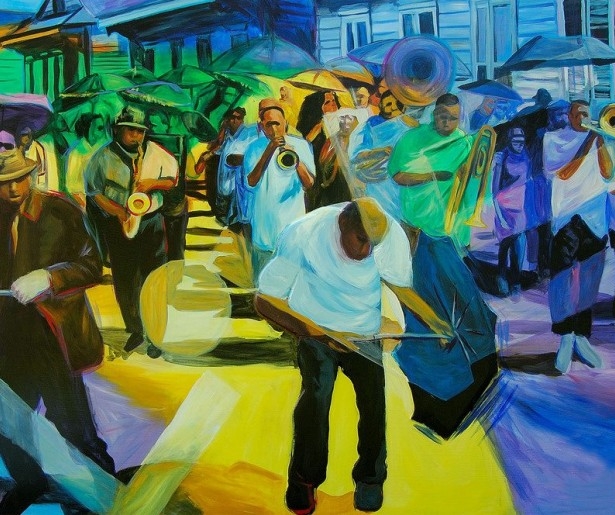 SHARE
April 16 brings Jazz in the Park back to New Orleans, and in the process, jazz and roots music. The concert series is both a family friendly means of enjoying the city's music legacy, as well as a reminder that said legacy is central to the city's identity.
In that vein, the womb of that music and culture is the Treme, and with this in mind, Jazz in the Park is organizing an artistic retrospective of Treme life: Turning Blight into Beauty.
The exhibit will be on display in the Jazz Compound in Armstrong Park until July 6. It features 25 artists, all depicting and highlighting life in one of the oldest African American neighborhoods in the country, an urban area known as the birthplace of jazz.
Emanuel Lain, Executive Director of People United for Armstrong Park (PUFAP), which produces Jazz in the Park, put the call out to artists because he felt the need for neighborhood recognition.
"We have been highlighting the Treme music and culture in our Jazz in thePark concert series for the last four years, but we also wanted to memorialize the Treme neighborhood through art," he said in a statement.
What is most fascinating about the exhibition is the diversity of artists represented. Much of what visitors will see is street art tapped into the rawest veins of New Orleans creativity, re-directed into the exhibition space.
Image courtesy of Jazz in the Park – painting by Jerome Ford.