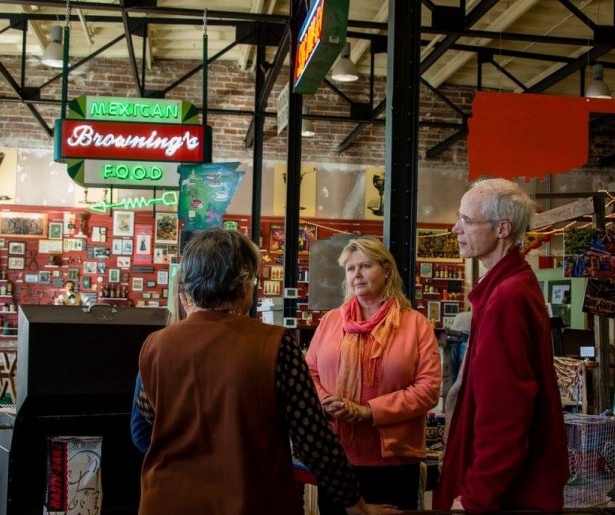 The Eat! Drink! SoFAB! Gala kicks off a full weekend of culinary-inspired events at the Southern Food and Beverage museum and showcases that institution's eclectically curated collection of Southern food history and culture, as well as highlighting its new space.
The Southern Food and Beverage Museum and the Museum of the American Cocktail's New Orleans Collection celebrate their grand re-opening on April 17, by hosting the Eat! Drink! SoFAB! Gala at its new location on Oretha C. Haley Blvd.
The space, a piece of culinary history in its own right, was originally part of the Dryades Market – a hub for seafood, fruit, poultry and vegetable vending in the city from 1847 through 1946, the history of which is now documented in the new exhibit, "Makin' Groceries."
The gala will feature live music by Sharon Martin, pan-Southern cuisine from Chef Ryan Hughes of Purloo and cocktails by Lilette. Guests are invited to browse the museum, while Justin Devillier, chef/owner of La Petite Grocery and Balise along with Poppy Tooker, host of Louisiana Eats, will demonstrate cooking in the Rouses Culinary Innovation Center by Jenn-Air.
The museum, recently relocated from its original home in the Riverwalk Marketplace, has transformed over the past several months into what is now a culinary journey through the Southern states.
"The event is our way of celebrating our museum and the new capacity to host classes and demonstrations alongside great pieces of Southern food history and culture," explains Kelsey Parris, director of operations.
SoFAB shares the space on Oretha C. Haley with the much-anticipated restaurant, Purloo, by chef/owner Ryan Hughes. The cuisine at Purloo reflects Hughes' deep understanding of Southern regional cuisine and highlights dishes beyond the food culture of New Orleans.
The name Purloo is a throwback to Chef Hughes' early days working for renowned Lowland chef, Louis Osteen, as head pastry chef at the Charleston Place Hotel. A northerner by birth, Hughes' early experiences in the South were aimed at soaking up the history, architecture and food culture with an unbiased and open perspective.
It was during this time that he experienced his first purloo, a traditional dish prepared by the Gullah people residing on the nearby sea islands of South Carolina and Georgia. Hughes rekindled these old memories when developing this new concept, naming his restaurant after the dish.
"I've been through so much since then," says Hughes, "but once I started developing a restaurant to be housed in a museum, I wanted to find a name befitting that idea. I really study and research. I have a classical background in French, Spanish, Japanese and German cuisine and I utilize that training here with different Southern regional cuisine."
Sitting almost directly across from the Museum of the American Cocktail's New Orleans Collection is another piece of history: a bar. Thanks to a donation by Bruning's, Purloo houses a Brunswick Manufacturing bar with original construction dating back to 1871.
The historic bar was previously in use at Bruning's Restaurant, and then later placed in storage before suffering water damage. The bar was split into over 150 pieces while encased in the storage facility over Hurricane Katrina and was recently reconstructed by a master carpenter to be housed at SoFAB and utilized as a fully functioning bar.
Working behind this historic bar is Mark Schettler, bar director and VP of the United States Bartenders Guild New Orleans chapter. The beverage program at Purloo echoes what Chef Hughes is doing in the kitchen. "Our goal is that nothing travels more than 5 hours to get here," says Schettler, whose menu consists of a mixture of Southern classic and proprietary cocktails alongside an extensive wine and regional beer list.
Although the space opened to the public in September 2014, the gala marks the completion of several notable new exhibits and features including:
The Museum of American Cocktail's New Orleans collection, a re-imagining by Prescott Trudeau of the original Ted Haigh collection.
La Galerie d'Absinthe, showcasing artifacts relating to absinthe from the collection of Ray and E.J. Bordelon collection.
Trail of Smoke and Fire leads visitors from state to state to learn about the various barbeque traditions of Southern states.
Makin' Groceries, an exhibit highlighting the history of groceries in New Orleans and featuring the old Dryades Market.
The Rouses Culinary Innovation Center by Jenn-Air, is a fully-equipped kitchen that is available to rent by the hour for culinary entrepreneurs and can be used for demonstrations or event bookings.
New to the museum and debuting on Friday evening is the 200-square-food tribute to the life of Al Copeland with The Creative Kitchen of Al Copeland, the man partially responsible for bringing the flavor of New Orleans to the rest of the world through his popular fast-food enterprise, Popeyes.
The gala will also unveil a temporary exhibit celebrating the 175th anniversary of Antoine's Restaurant, America's oldest continuously operating restaurant run by its founding family.
Patron tickets are priced at $200 per person and include a private reception from 6-7 PM on Friday evening. Patron reception attendees will enjoy an exclusive cocktail demonstration from James Beard award winning master mixologist Dale DeGroff. DeGroff will be showcasing the Vesper, a mixture of vodka, gin and Lillet. Cocktail aficionados will also enjoy The Museum of the American Cocktail's New Orleans collection, now open at SoFAB.
General admission to the gala, from 7 PM – 9 PM, is $125 for members and $145 for non-members and can be purchased in advance here or at the door. The celebration continues through the weekend with free admission on Saturday and Sunday to the museum.
Grand Re-Opening Weekend Schedule of Events:
Friday, April 17th at SoFAB
6-7pm: Patron Party
6pm: Dale DeGroff demonstrates the Vesper
7-9pm: Eat! Drink! SoFAB!
7pm: Poppy Tooker demonstrates savory crab calas.
8pm: Justin Devillier of La Petite Grocery and Balise cooking demonstration.
Saturday, April 18th at SoFAB:
11am-1pm: Jyl Benson (SoFAB Staff) demonstrating recipes from Suzanne Ormond's cookbooks.
2pm: Chef Tenney Flynn of GW Fins demonstrates several fish dishes, showing how to break down a fish and cook it perfectly.
5pm: Steven Raichlen History of Barbecue Lecture.
Sunday, April 19th at SoFAB
2 pm: Tariq Hanna of Sucre.
The museum operates from 11am-5:30pm Thursdays through Mondays, with adult admission priced at $10, $5 for students and seniors. Purloo is open for lunch Tues-Saturday from 11am-3pm, Dinner service Tues-Thurs 5-10:30pm, Fri-Sat 5-11pm.
Image courtesy of the Southern Food & Beverage Museum.