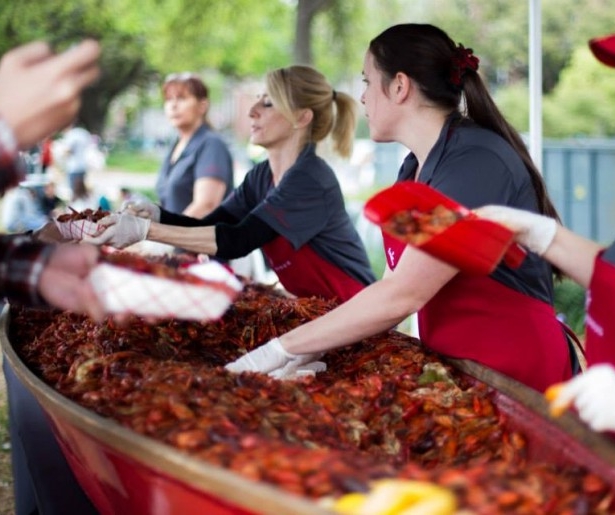 SHARE
It's been a bear of a week weather wise, and I'm not sure if the monsoons are going to let up much over the weekend. Still, there's plenty to do to close out this third week of April, even with all of her showers. First up is the Southern Food & Beverage Museum Grand Re-Opening Gala. Beyond celebrating regional foodways, here's some other events to mark on your calendar.
FF3
Timecode:nola, dedicated to showcasing and promoting the homegrown New Orleans film industry, is holding their annual FF3 independent film festival throughout the weekend. Screenings, lectures and workshops will pop off at the Old US Mint throughout the weekend, and are free and open to the public.
Crawfest
How do you know it's spring Uptown Because Tulane's collected undergraduate body has consumed a metric ton of crawfish and flipped The Boot upside down. Such is the appeal of Crawfest, where you can see even the most finicky out of town student try their hand at mudbugs. Beyond that, there's a fantastic music lineup, including the Hot 8 Brass Band, Khris Royal and Earphunk. Tickets are $10, or free with a Tulane ID; the fest goes off in Tulane's Lavin-Bernick Center Quad on Saturday from 11am-7pm.
New Orleans Earthday Festival & Solar Derby
When an event combines brass music with Palmer Park and handmade solar cars, it stands out from the pack. The Earthday Festival, sponsored by the Louisiana Bucket Brigade, is our family friendly pick for the weekend. It kicks off on Saturday, from 11am-7pm.
Record Store Day
Besides crawfish and Mother Earth, Saturday is Record Store day in a city that has a good amount of excellent record shops. For more information, check out the Record Store Day website, and don't miss our guide to the city's record shops.
Image courtesy of Crawfest.