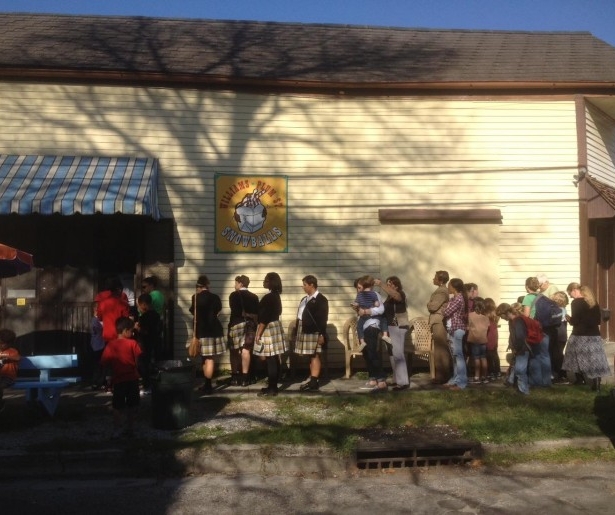 For many, the upcoming New Orleans Jazz and Heritage Festival is as much about the food as it is about the music. Okay, maybe not quite is much, but a Jazz Fest without sampling one of the many food options available is unthinkable. It's impossible to cover them all in a short article, but here are five choices your taste buds will thank you for, as well as where to find said food (if possible) outside of the Fair Grounds.
Plum Street Snoballs
Around the Grounds
Main Location: 1300 Burdette St, New Orleans
Secondary Location: Lafreniere Park, Metairie
Who has the best snoball in town? New Orleanians can fight about the question endlessly (Hansen's! Plum Street! Sal's!), as there are many great options in town and at Jazz Fest. But the festival showcases my personal favorite snoball joint, Plum Street Snoballs. It's the perfect way to cool off if the fest is suffering one of its notoriously hot days.
You probably have a go-to flavor (or flavors), but it's always fun to experiment by trying new ones or mixing classics. My favorite is half-cherry, half-coconut.
Burks & Douglas
Food Area 1
Red beans and rice is classic New Orleans comfort food. Burks & Douglas has been serving its delicious take on the meal at Jazz Fest for 42 years. While it's traditionally served with sausage, these folks also features a meat-free variety for vegetarian foodies.
It's flavorful without being too spicy and if you're looking doing Jazz Fest on a budget (harder to do in recent years as ticket prices climb), the red beans & rice are a terrific option. High in fiber and protein, it'll fill you up and you won't be hungry again in two hours, which'll leave you with more money in your pocket and more time spent in front of the stages.
J&M Seafood
Grandstand
On a hot day, cold, freshly shucked oysters on the half shell can hit the spot for a meal in between acts. Not only does J&M Seafood serve up oysters, their location is in the air-conditioned Grandstand, the overlooked jewel of Jazz Fest.
If you need a break from the heat and the crowds, step inside the cool Grandstand and enjoy a signature Louisiana dish while savoring excellent views of the Fairgrounds, as well as some worthwhile art and historical exhibits.
Side note: the Grandstand also has possibly the cleanest, least crowded restrooms on the festival grounds. I almost feel conflicted about divulging this into – tell only those you must.
Squeal Bar-B-Q
Food Area 1
Main Location 8400 Oak Street, New Orleans
New Orleans is a city with a wealth of food options, but good old fashioned barbecue is underrepresented, especially compared to our Texan neighbors. After bringing their BBQ to Oak Street, Squeal is coming to Jazz Fest in 2015. At their booth, there's a choice of the BBQ chicken sandwich or the brisket sandwich. It's a tough call deciding between the two, but the good news is, there's no wrong choice.
Fireman Mike's Sausage & Okra Gumbo
Food Area 1
Yes, the booth is run by a retired fireman, former NOFD Captain Mike Gowland. The captain originally would take time off from fighting fires each year to work his gumbo magic at Jazz Fest.
Fireman Mike's Sausage & Okra Gumbo is a classic treat with a light roux. The meat is cooked flawlessly, the portions are satisfying, and the lines typically aren't as long as the those for the Pheasant, Quail, and Andouille Gumbo at the Prejean's booth. Many will swear by Prejean's gumbo (and it's hard to argue with them), but Fireman Mike's is worth a try, too.
The Stages
If your stomach's full and you want to learn how to make some of New Orleans' finest dishes in the comfort of your own kitchen, the Food Heritage Stage and Cajun Cabin Stage offer cooking demonstrations throughout the fest. This year, chefs from Pizza Delicious, MoPho, Peche, GW Fins, and other local eateries will be demonstrating their skills for fest goers.
Above image: the line reaches wrap around capacity at the brick and mortar location for Plum Street Snoballs, courtesy of Plum Street Snoballs.