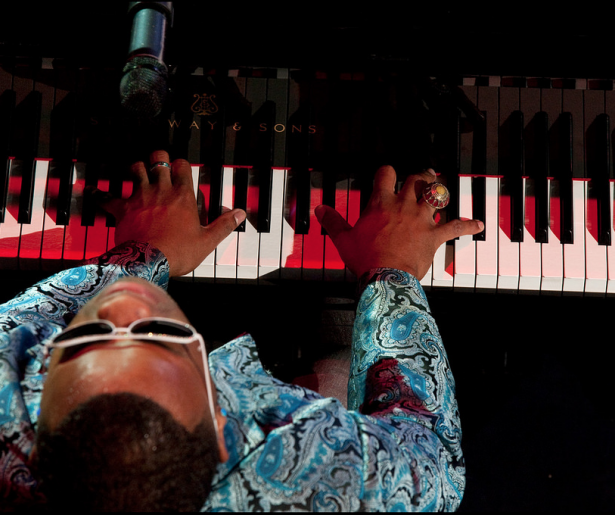 SHARE
To say that New Orleans has a rich history of piano music would be a gigantic understatement. Jelly Roll Morton, Professor Longhair, Allen Toussaint, James Booker — the list of top-flight New Orleans-based pianists could go on forever.
WWOZ showcases these talents on its airwaves all the time, but once a year the award-winning radio station gathers the top piano players, from New Orleans and across the world, for their flagship benefit event, Piano Night.
For twenty-seven years Piano Night has occurred on the Monday evening between the two weekends of Jazzfest, and this year is no different. On April 27th at House of Blues, twenty-two pianists will perform an assortment of piano-driven jazz, R&B, neo-soul, hip/hop, blues, pop, and much more. The event has grown considerably in the past decade, allowing organizers to expand beyond the local scene, and book acts both nationally and internationally renown.
"We want to give back to our supporters by providing them with a funky and unique experience," said Piano Night Chair Deborah Harkins. "We have artists from Cuba, Canada, England, and elsewhere. But we do always try to bring in musicians with some sort of tie to New Orleans."
Piano Night's diverse mix of musicians perform across three different stages within the House of Blues venue. First, WWOZ turns the House of Blues private upstairs Foundation Room into "Club 88," which showcases solo pianists in an intimate setting.
Second, there's "Piano Heaven" at the House of Blues Parish, a slightly bigger set-up with a pianist backed by a few musicians. Then, of course, there's the main stage, where a full band plays behind the piano players at all times.
Access to each of these three stages depends on your ticket package, but almost every musician on the bill plays more than one stage, and many of them play all three. "It's like three different concert experiences in one," said Ms. Harkins.
In addition to the music, Piano Night organizers will be auctioning off a one of a kind George Rodrigue print signed by each participating musician. Also, for the first time, the show will include a live painter, whose rendering of the evening will be raffled off at the very end of the night.
Every year, Piano Night chooses a particular artist to honor throughout evening, and this year's artist is the incomparable Henry Butler. The technically proficient Butler, often referred to as "The Pride of New Orleans," is a remarkable piano talent with a discography that stretches back decades. Though he won't make it to the event in person, many of night's pianists will pay tribute to his ongoing legacy by covering his songs.

The full schedule of performances has yet to be released, but here's a few notable pianists to check out:
Robert Glasper Experiment

Grammy-award winning R&B artist just released his new record, Black Radio 2, earlier this year. Glasper, who is brand new to Piano Night, is a genre-bending talent, combining neo-soul with electronic, jazz, gospel, and much more.
David Torkanowsky

One of the more popular mainstays of Piano Night, Torkanowsky, affectionately referred to as "Tork" by some, has been a part of the New Orleans scene nearly all his life, and is sure to entertain both at the intimate "Club 88," and on the House of Blues main stage.
Jorge Luis Pacheco

This high-energy Cuban jazz virtuoso was a big hit at the event last year, so producers decided to bring him back for a second go-around.
For more information about Piano Night, check out the event's website.
Above image: Davell Crawford, by Ryan Hodgson-Rigsbee, courtesy of WWOZ.