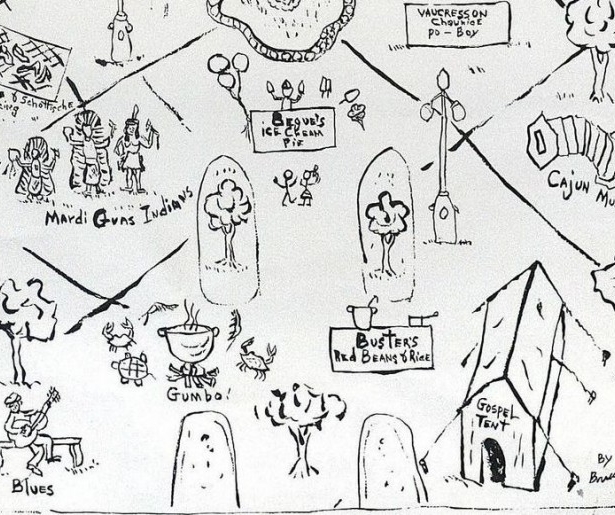 Bruce Brice, who created one of the first promotional posters for the New Orleans Jazz and Heritage Festival in 1970, sold his artwork at 45 consecutive Jazz Fests. No other artist matched that streak. Sadly, the 72-year-old artist passed away from complications due to cancer on September 14th, 2014. While Bruce cannot be at this year's festival in person, organizers and his family are ensuring that his spirit and his artwork will be present.
There will be a second line parade celebrating Brice at Jazz Fest this Friday, beginning at 1:55 p.m. on the dirt racetrack behind the Jazz and Heritage Stage. It's an appropriate tribute, as Brice spent his career depicting various New Orleans rituals and street scenes, among them jazz funerals, parades, and Mardi Gras Indians.
Brice's poster for the 1970 festival was a simple but elegant black-and-white picture of the grounds from a bird's-eye view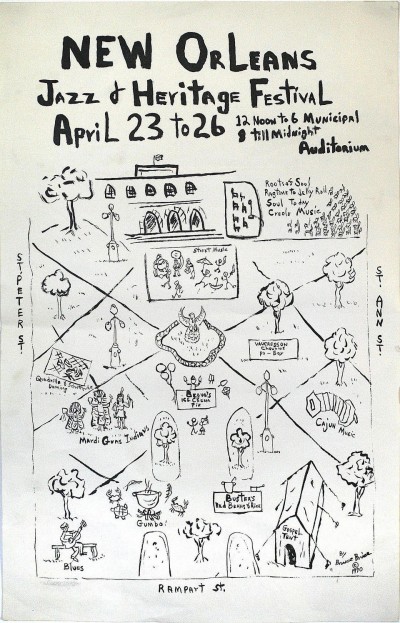 Brice had 4 children: two daughters (Ramona and Rachel) and two sons (Bruce and Eben). According to Eben, Brice wanted to be an artist from the age of six. He grew up in the Lafitte Housing Project and began selling his artworks alongside the Jackson Square fence in 1969. For the rest of his life, he remained a professional artist.
Eben will keep his father's legacy alive by continuing to sell his artworks at the fest, marking the 46th consecutive year Brice's art will be available.
"I'm going to continue his legacy and keep his streak alive," Eben Brice said. "Once you're gone, you can become a footnote and a distant memory. My father's way too important a figure to be a match that flames out."
While a wide variety of Brice's artwork will be available for sale at Jazz Fest, Eben is particularly fond of two works: "Courtyard" and "Mardi Gras 1990." Both paintings feature the bright colors and diverse scenes that were Brice's trademark. Even though the works were colorful, they didn't shy away from the darker side of life. Mardi Gras 1990 features a man being arrested by the police while others enjoy Carnival festivities.
"What makes him special is he took so many New Orleans scenes and he made you look at the world and New Orleans as the colorful place it really is," Eben said.
As proud as Eben is of Brice's legacy as an artist, he's also effusive in his praise of Brice as a father.
"He taught me so many life lessons – how to treat people, how to respond to adversity, and that whatever you wanted to be, you could be," Eben said.
Brice had an impact on New Orleans artist Richard Thomas as a painter and as a man. As a senior at Walter L. Cohen High School in 1972, Thomas first saw Brice on the local news discussing his murals in Treme and the Desire Housing Project.
"I said to myself, 'I'm going to be just like him,'" Thomas said.
Thomas said Brice's style, which he describes as "colorful and rich with the characters you see on the streets of New Orleans," informed his work. Thomas says his own paintings are different from Brice's, but that he learned from how Brice expressed his passion for his hometown and its residents through his work.
"He was the first artist, in my mind, that could represent New Orleans in a style that was as rich as our city is rich…in terms of its culture and its heritage. He was the first to communicate that," Thomas said.
Once Thomas became a professional artist with his own booth at Jazz Fest, he noticed the good nature and the humor of Brice the man. If it was a slow sales day, Brice would make eye contact with Thomas and do an exaggerated slump of the shoulders or a theatrical eye roll. If sales were good, Brice would mime pulling the lever on a cash register in a "cha-ching" motion. Either way, it always made Thomas laugh.
"He was a gentleman, he was a fun guy, he was very spiritual….and he was a genius," Thomas said.
Image: New Orleans Jazz & Heritage Festival poster; 1970; mechanical reproduction poster featuring drawing by Bruce Raymond Brice; The Historic New Orleans Collection, gift of Clay Watson, 1979.383.2
Courtesy of The Historic New Orleans Collection.