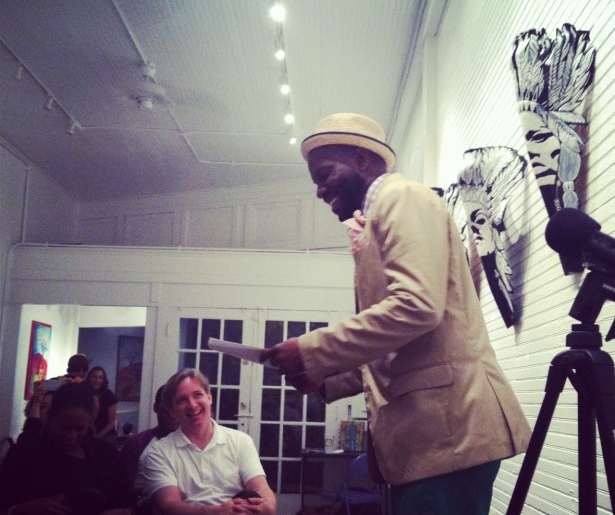 SHARE
When I went to the Sunday Shorts Reading Series, I was struck, every step of the way, by a feeling of how singularly New Orleans the experience was—driving through flocks of Jazz Festers flapping their ponchos at passing cabs in the rain, opening the doors of the Red Star Gallery (2513 Bayou Rd) to be swathed in the familiar smoke of church incense, wandering around an empty gallery full of masks made from queen palm fronds because the writer I was meeting was running late. (To those unfamiliar with New Orleans time, late is comfortable, late is relaxed, late is how everything runs in this city.) But more New Orleans than any of these incidental details were the writing groups coming together that night to have a reading: the MelaNated Writers Collective and the Peauxdunque Writers Alliance.
Peauxdunque (that's New Orleans French play for "Podunk," and pronounced the same way) was founded in 2007 under the auspices of the Pirate's Alley Faulkner Society, and is comprised of a wide cross section of New Orleans poets, fiction writers, essayists, and screenwriters. The MelaNated Writers Collective, an equally multi-genre group of 20 writers, was founded in 2010 by Jewel Bush with the goal of nurturing writers of color living and working in New Orleans' "surprisingly vanilla" literary culture. How did they decide to come together for a month long reading series? According to founding MelaNated member Gian Smith, it was a natural fit because both groups share a number of members and even more of them are friends.
That friendship and camaraderie among writers set the tone of the evening as the gallery filled beyond the capacity of the neat rows of folding chairs. When I asked founding Peauxdunque writer Terri Shrum Stoor about her varied career as an actress, comedian and writer, she instead hugged fellow Peauxdunquians to her and waxed eloquently about their accomplishments. When Gian Smith's smooth, baritone promptings eased the writers into a question and answer interlude with the audience, it was clear he cares not just about the writing process, but writers themselves. Without these intercessions, we wouldn't hear about Oxford American's Parish Chic columnist L. Kasimu Harris' stint as a semi-professional baseball player or journalist and fiction writer Sabrina Canfield ruminations on spring, motherhood, and train hopping.
The reading series is the brainchild of NOYO presents, a production company whose members Gian Smith and Ayo Scott have a history of bringing poetry slams and spoken word to the Red Star Gallery on Saturday nights. This May they are taking their enterprise further and have rented out the gallery for a month of readings, art shows and events. The best way to learn more about MelaNated Writers Collective and how you could get invited to one of their pop-up writing sessions at a coffee shop or on a streetcar, the Peauxdunque Writers Alliance and their annual writing retreats or the many productions of NOYO presents, is to just go and see for yourself what these groups are about.
Photo of L. Kasimu Harris reading from "Dating in the Digital Age" by Robin Baudier