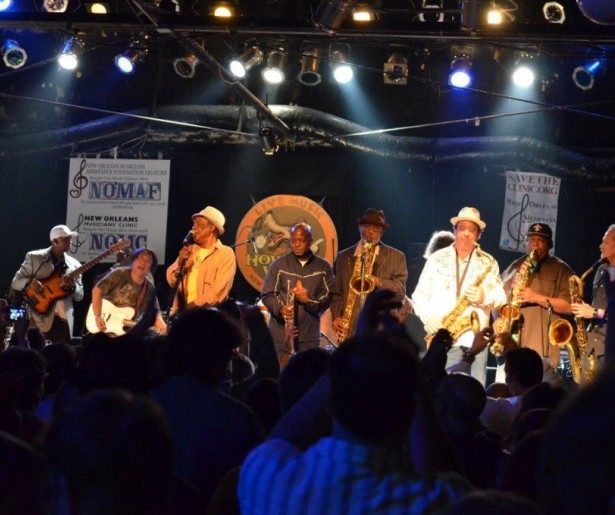 SHARE
Jazz Fest Weekend #1 is in the books, and despite the rain, The Who was incredible, Wilco killed it, and plenty of other bands put on memorable performances. There's plenty more big-name and local acts set to play at the Fair Grounds for weekend #2, but there's also a ton of good music throughout the week to tide hungry music-lovers over. Here's some picks for shows to check out this week:
Monday, April 27th
DRKWAV at Maison (10pm): Dark and weird psychedelic freeform jazz on Frenchmen Street.
Miles Tackett (of BREAKESTRA) at Gasa Gasa (8pm): Longtime funk musician out of Los Angeles returns to New Orleans with new trio project as part of Gasa Gasa's ongoing progressive listening series, Berenice Mondays. Happy hour with DJ RQaway spinning vinyl starts at 5pm, show at 8pm.

WWOZ's Piano Night @ House of Blues: A wide range of local, national, and international piano players play across three stages.
Tuesday, April 28th
Michael Jackson vs. Stevie Wonder Tribute Show at Howlin' Wolf Den (9pm): Musicians celebrate the music of two of pop's most beloved icons. Expect a serious dance party all night long.

Siberia 45 RPM Soul Party with DJs Perrier, Noel, & AJ The Boudin Man (10pm): A night of Northern, Jamaican, and New Orleans soul music. Bring your dancing shoes.
Wednesday, April 29th
Oak Street Block Party (noon-7pm): A free afternoon of music across two stages and the Maple Leaf, with plenty of food, drinks, and local artists. Not a bad way to spend a humpday in New Orleans.
Suwanee Family Band at One Eyed Jacks (11pm): Late-night jamband spectacular featuring an eclectic assortment of musicians, including Adam Deitch, Oteil Burbridge, and many more.
Bob Dylan plays at the Saenger Theatre at 8pm. One of the biggest non-Jazz Fest artists playing outside of the Fair Grounds this weke.
Thursday, April 30th
Down on the Bayou VI at Republic (9pm): A benefit for the New Orleans Musicians Clinic featuring Dr. John, the Dirty Dozen Brass Band, a plenty of others.

Mother Falcon at Gasa Gasa (9pm): Austin-based chamber-pop collective with over a dozen members. As unique a live spectacle as you'll see this week.

Friday, May 1st
FIYA Fest at Mardi Gras World (noon-8pm): Single-day music festival and large-scale crawfish boil with 95 artists spread across two stages. Featuring Dragon Smoke, Diesel Fiya, and a Big Chief Bo Dollis Tribute.
Image: A previous Down the Bayou concert, courtesy of Facebook.