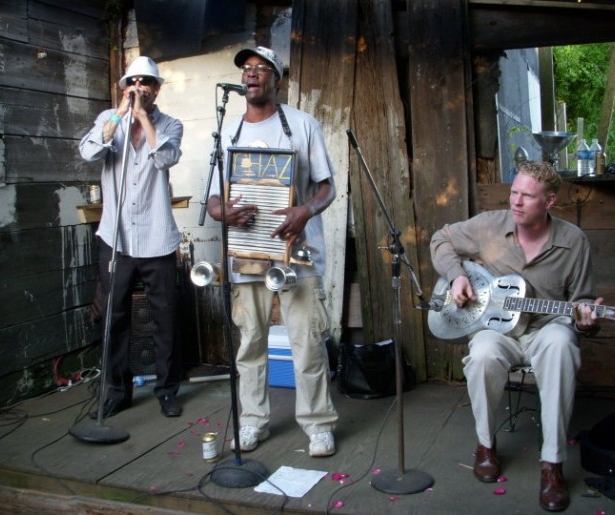 SHARE
While the hotly anticipated New Orleans Jazz & Heritage Festival is unmistakably one of the biggest attractions the city hosts every year, complementing it – and perhaps serving as an alternative – is Chaz Festival, an independent celebration of strictly local talent just a few miles from the Fair Grounds in the Bywater.
This year the fest takes place on Wednesday, April 29, starting at noon and lasting until 10pm at The Truck Farm at 3020 St. Claude Avenue. The timing of it – in between Jazz Fest weekends – makes it a fun addition to a Jazz Fest experience for visitors or locals seeking shows with a more intimate atmosphere.
The all-day fest was the brainchild of musician Alex McMurray, who performs as a solo artist as well as in the Tin Men; his wife, artist Kourtney Keller; and their friend, Dannal Perry. It debuted in 2006 (and skipped a year in 2014), and the name of it is both an obvious play on its bigger, corporate brother across town, as well as a tribute to McMurray's collaborator, "Washboard" Chaz Leary.
ChazFest has grown a bit over the years – though it maintains its distinct neighborly atmosphere – and now features two stages: the Main Stage and the Hard Liquor Stage. The musical lineup reflects the city's diverse musical talent and is a testament to the widespread make-your-own-fun attitude.
Tickets are $30 in advance, available online, $35 if purchased day-of. There will be food on-site as well as a cash bar with strong drinks.
Main Stage
12:00 – Lonely Lonely Knights
1:30 – TBC Brass Band
3:00 – NCP (Nico, Cabral, Pirner)
4:30 – King James & the Special Men
6:00 – Tin Men
6:30 – The Valparaiso Men's Chorus
7:45 – MC Sweet T & the Charming Prix
9:00 – Rory Danger & the Danger Dangers
Hard Liquor Stage
12:45 – Greg Schatz & the Friggin' Geniuses
2:15 – Luke Allen and Helen Gillet and Alex McMurray
3:45 – Helen Gillet's Other Instruments
5:15 – The Geraniums
7:00 – Alex McMurray
8:30 – Herringbone Orchestra
Image courtesy of Chaz Festival.