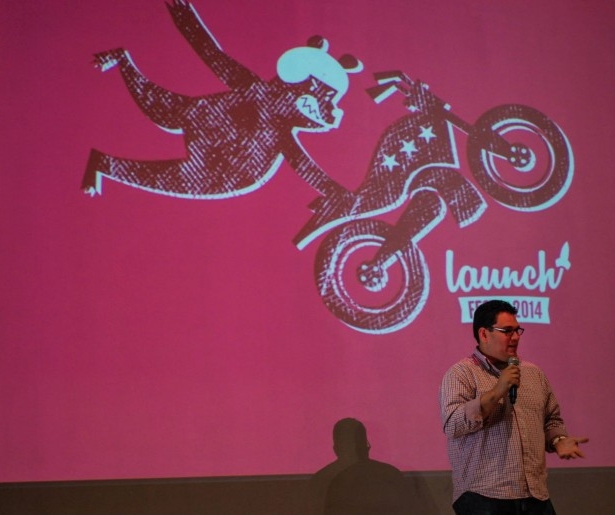 The fifth anniversary of Launch Fest commences at its new location at The New Orleans Jazz & Heritage Center on April 30 from 9am-4pm. The annual event highlights the tech and startup scene in New Orleans, and will include a variety of opportunities to seek inspiration, network and enjoy learning and engaging with those with a shared passion for the industry.
Launch Fest is a one-day conference produced annually by New Orleans' premier co-working space, Launch Pad. The event features nationally recognized speakers in the morning, with the day culminating in an afternoon showcase of promising local startups.
LaunchFest coincides with festival season here in New Orleans, and the new location at 1205 N. Rampart Street is a short walk from the French Quarter, where many out-of-towners book hotel rooms for The New Orleans Jazz and Heritage Festival.
Molly Oehmichen, Managing Director of Launch Pad events, is optimistic about the new location, explaining how they hope to grow the audience this year by connecting with the vibrant festival scene.
The new location, she explains, "is a perfect location for Jazz Fest visitors staying downtown to walk on over and join the party. Launch Fest is the best opportunity to get a feel for our city's vibrant tech and startup scene and meet the brightest young minds in New Orleans before heading to Jazz Fest."
The event itself is designed to grow the entrepreneurial community and show off what is happening, start-up wise, in New Orleans. All of the businesses that are pitching are based in the city, and ticket holders are invited to stay for the whole day, or come and go as their work schedules allow.
The daylong event begins at 9am with a coffee mixer, followed by a rockstar lineup of speakers followed by local hot spot, Pizza Delicious.
Pizza Delicious is not only delicious (check the name), but a great fit for Launch Fest as their own business is representative of the entrepreneurial spirit of New Orleans; they started as a pop-up and grew fans and support for their brick-and-mortar in the Bywater neighborhood through Kickstarter and other non-traditional fundraising.
The afternoon is reserved for pitches from up-and-coming start-ups. This year will also include two story pitches from entrepreneurs that are making waves in a different way. Charles Carrie discusses how he went from angel investor to founder for Scandy, a 3D scanning and printing startup, and Tabitha Bethune, who will share how she and her husband Micaiah are shaping the fashion industry with The Wildlife Reserve, a fashion incubator for making clothing.
The keynote speaker of this years Launch Fest is Chris Messina, inventor of the #hashtag and co-founder of #barcamp and #coworking. He will be joining Richard Pomes, Chief Marketing Director of RapJab, a New Orleans based collaborative of artists, problem solvers and strategists who connect individuals by providing thoughtful marketing strategies.
"I am flattered that I was asked to speak at this year's Launch Fest alongside some serious industry heavyweights," explained Pomes, "My career path is a strange one, having gone from actor to Disney World performer to nightclub promoter to liquor brand ambassador to part-owner of a marketing agency. By telling my story, I hope to share some advice to young entrepreneurs – both through what I did right and what I did wrong."
Also on the ticket is Amy Knapp of Redpoint Ventures. Knapp brings years of experience to the table, and is "really excited to be involved with Launch Fest this year because it's bringing together many things that I love: the start up community, talking with people about how to think of talent when growing their companies, music and creativity. I'm looking forward to learning a lot from other people that day and I'm really excited that my first trip ever to New Orleans is for this event!"
To get facetime with these speakers, guests can purchase a Graduate ticket, aimed at companies who have been through the program that want to support Launch Fest. This level ticket includes additional dinner/networking events earlier in the week to get connected with the speakers and representatives from each pitch company.
Ticket prices vary and can be purchased online.
The 2015 Launch Fest Pitch Class
Alexander Girau presents the cotton-gin of nanoparticle manufacturing at Advano.
Kyle Monti and Martin Holly will demo a new haptic feedback technology from HapTech.
Blake Haney shows how you can find and purchase the best brands and products just around the corner with Locally.
Sean Carrigan will keep us powered up with mobile charging right when we need it with MobileQubes.
Cameron Cantrelle takes the mess out of purchasing landscapers and the wholesale horticulture industry wit PlantBid.
Justin Bayer will bring us back to one of the most formative teenage moments: the college visit, via Welcome to College.
Image: Launch Fest 2014, courtesy of Facebook.