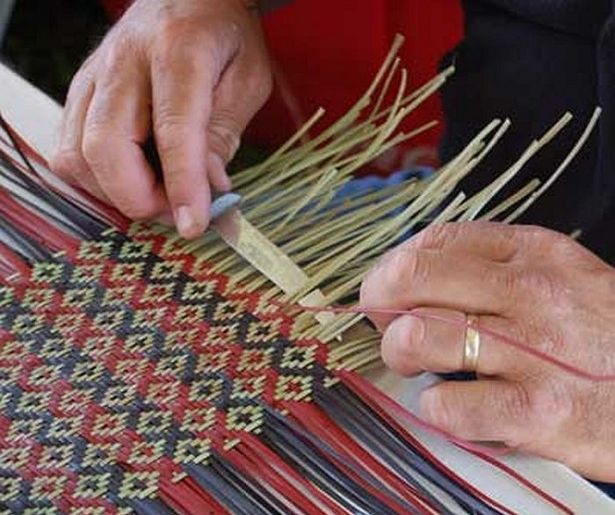 SHARE
Need a break from the heat and the crowds at Jazz Fest? Wander over to the sprawling oak tree near the Fais Do Do stage. There, in a cluster of tents, you'll find Louisiana Folk Life Village, an ad hoc community of local crafters and artisans who keep old traditions alive while forging new ones.
"We like mixing seminal culture bearers like the Mardi Gras Indians with newer traditions that have emerged from street culture," says Rachel Ornelas, cultural heritage coordinator for the Village.
The mix keeps things lively, sometimes to comic effect, like the time live crawfish that escaped from a Cajun trapper's aquarium. The escapees scuttled underneath a table in the Celebrations tent, where several women from the Krewe of Muses were glittering Mardi Gras shoes.
"Those crawfish were completed covered with glitter," Ornelas recalls with a laugh. "Talk about mixing cultures!"
The Robin family of Isleno shrimpers in the Waterways tent are from an old-school tradition; their ancestors first settled in St. Bernard Parish 250 years ago. They rode out Katrina and Gustav on their shrimp trawler, make their own nets by hand and build exquisitely detailed miniature boats.
The matriarch of the family also brings folk remedies concocted from local herbs, and is happy to share her secrets for curing whatever ails you.
Nearby, in the Native Nations tent, Chitamacha Tribal Council Chairman John Darden and his wife Scarlette are keeping a dying art form alive.
They weave river cane into highly-prized Chitamacha baskets, which are hard to come by because so few people make them. Though the Dardens don't sell their work at the demonstration site, you can place an order for one of these beautifully textured baskets and bring a piece of tribal history into your home.
Over in the Laissez Les Bon Temps Rouler Celebrations tent, two Big Chiefs are on hand to teach visitors about Mardi Gras Indian culture while painstakingly beading next year's colorful suit.
Big Chief Victor Harris of the Spirit of Fi Yi Yi Warriors, who meld African and Indian traditions, has plenty to celebrate: As of 2015, he's been masking Indian for 50 years. And schoolkids love to visit Big Chief Tyrone Casby of Mohawk Hunters, who serves as principal at a local school.
Sharing the tent with the Indian elders are two more recent additions to Mardi Gras culture. Krewe of Muses, the first all-female krewe to parade at night on the traditional Uptown route, make iconic throws almost as highly prized as Zulu coconuts: high-heeled shoes ablaze with the sparkly stuff that glitter-bombed those unwitting crawfish. You can't catch a shoe here, but you can watch them being made.
Hands are also busy at the Krewe of 'tit Rəx table, where members of New Orleans' only micro-krewe are crafting next year's tiny throws: miniature versions of Mardi Gras beads, flambeaux, go-cups and doubloons, and all manner of other teeny-weenies.

Inspired by the shoebox floats schoolkids make during Carnival season, the krewe creates grownup shoebox floats that are often satiric, occasionally ribald and always exquisitely crafted. Prime examples are on display.
Ready for some more music? Stop by the Made by Hand tent, where you may catch an impromptu jam session. When they get off stage, Fais Do Do musicians often stop by to sit in with Cajun accordion-maker Clarence 'Junior' Martin. Brazilian drum-maker Fredson Oleivera, who plays locally with Chegado, might well jump in.

Ditto Calvin Ardoin, a master stringed-instrument repairman who plays a mean fiddle himself. And many a visiting Jazz Fest artist has made a pilgrimage to visit master luthier Vincent Guidroz of New Orleans Guitar Company, who's handcrafted instruments for Willie Nelson, Dave Matthews and New Orleans guitar god Phil DeGruy.
If you time it right, you can even catch a spirited set from Mariachi Jalisco, who perform Saturday, May 2, on the Folk Life Stage (3:50-4:20). And three times a day, every day throughout the weekend, the grassy expanse in front of the oak tree serves as a stage for the Ottertrail Native American Dance Troupe, who perform traditional pow-wow songs to the beats of tribal drums. Check Native American Village for times.
Image: River cane baskets by John & Scarlett Darden, courtesy of the New Orleans Jazz & Heritage Foundation.