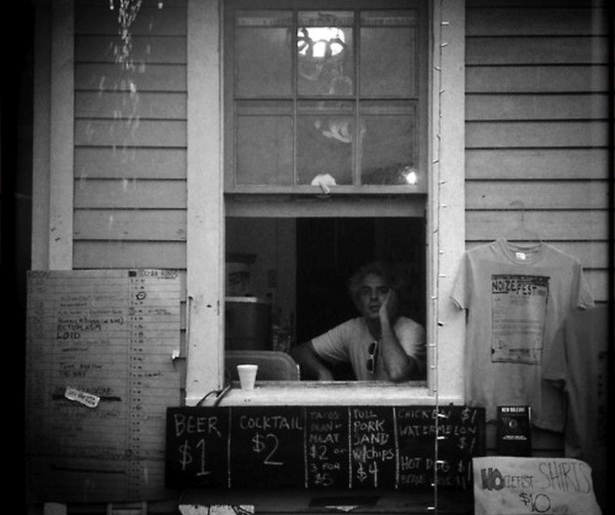 SHARE
NOizefest is an anarchic alternative to the well-oiled machine that is Jazz Fest. For openers, it's free. Always has been, always will be, as per the dictum of the event's late founder: Keith "Deacon Johnson" Moore, the black-sheep scion of New Orleans jump-blues icon Deacon John, who launched the very first NOizefest in Michael Patrick Welch's Bywater backyard in 2005.
Two years later, the self-proclaimed "New Orleans King of Ambient Noise" was tragically killed, and it fell to Welch to perpetuate his legacy. (Editor's Note: Michael Patrick Welch is a contributor to New Orleans & Me).
This year, to celebrate its 10th Anniversary, "Year of the Goats(s), NOizefest breaks with tradition by moving to "Goat Island," a.k.a. Scout Island, in Brechtel Park on the West Bank (4001 Lennox Blvd). It also adds an official Kids Area, cohosted by Welch's 5-year-old daughter Cleo and noise-guitar hero Rob Cambre, and shifts to more family-friendly hours: 10:30 am to 5 pm. But, as per usual, it happens on the last Sunday of Jazz Fest (May 3). And the spirit remains the same.
Unlike Jazz Fest, which requires a year of logistics and weeks of work crews to build its scaffolding and stages, NOizefest has always been a family affair – and a highly functional one at that. When rain struck (as it frequently did) in Welch's backyard venue, the rag-tag krewe of NOizefesters would spring into action hoisting tarps above the sprawl of homemade instruments and electronics that littered the ad hoc stages. And, rather remarkably, almost everything stayed dry.
"Over the years," recalls Welch, "it became so much of a community event that I'd almost strive not to put any time or energy into it. It was like: How little can you do to make this happen? I'd borrow a PA system and buy a keg, and that was about it. Everybody does NOizefest; I just blow the whistle."
With this year's move to "Goat Island," where Welch's wife Morgana King pastured a herd of goats to clear away the brush, the laissez-faire organizer had to get a little more proactive. He made arrangements to officially rent Scout Island, which boasts two covered pavilions, plenty of tree-shaded picnic tables and benches, and – mirabile dictu! – actual restrooms with real toilets.
He also spent time plotting the acoustics to avoid noise bleed between the stages, and to minimize spillover into the neighborhood. The low-volume Kids Area will be situated behind the bathrooms for sound insulation, and the longstanding ban on drum kits will help keep sonic mayhem in check. Welch will also be monitoring sound with a decibel meter to keep levels well below the legal limit, as he does every year.
That said, be sure to bring your earplugs. Even if it's not legally breaking the sonic barrier, the improvised skronk, kamikaze free jazz, power electronics, psychedelic noise and assorted audio ephemera is gonna be LOUD.
Chuck Reilly, "Keith Moore's original weirdo friend," tops a bill of two dozen acts, ranging from the semi-obscure (Rotten Milk, Scarecrow Sonic Boombox) to the semi-famous (Borbetomagus guitarist Donald Miller and glass-smashing artist Stephen Collier).
While Jazz Fest is scheduled with Swiss-watch precision, the NOizefest lineup is as fluid as a lava lamp. There's a sign-up sheet for players, which evolves throughout the day, that includes the Main Stage, the DJ Area, the aforementioned Kids Area and the infamous No Respect Area, where anything goes."
"Letting people sign themselves up is another thing I don't have to do," quips Welch. "It also makes people interact, meet each other and be nice to each other. Almost all years have had great community interaction, and some have had almost magical interaction. Not scheduling anybody was the best thing that could have happened."
Who plays where and when may be up for grabs, but there is one constant. Every year, since its inception, the Noisician Coalition closes out NOizefest with a cacophonous second line. On May 3, as always, it will pay tribute to founder Keith Moore. It will also honor Chauncey, Welch's pet goat, who is immortalized on this year's NOizefest t-shirt and was an enthusiastic participant in every NOizefest until he passed away last year.
NOizefest runs from 10:30-5 on Sunday, May 3, at Scout Island in Brechtel Park on the West Bank. For complete line-up, check the event page, and have fun.
Image: Photographer Jonathan Traviesa tends bar at NOizefest 2015. On the left: the sign-up board where bands self schedule. Photo by Robert Hannant.