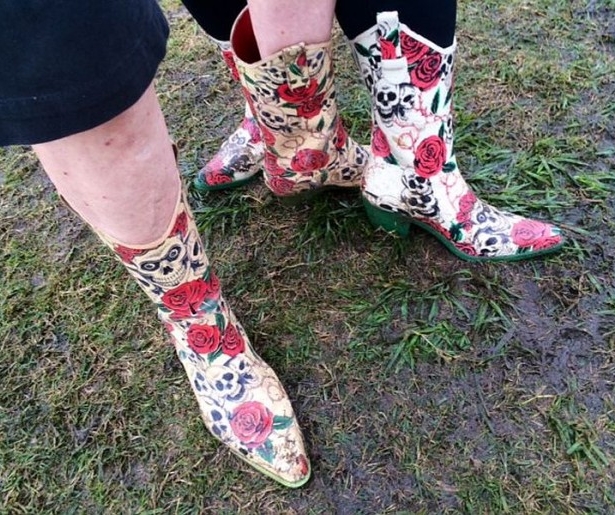 SHARE
Jazz Fest style: It's not just tie-dyes and Crocs, silly hats, and the latest Coachella-inspired accessory: weather-inappropriate floral wreathes. The Fest's "Do whatcha wanna" creed also inspires Fairgrounds fashionistas to raise to the occasion with panache, while always preparing for the anything-can-happen weather that is coastal Louisiana. Indeed, some of the best shots I got came after the rains hit on Day 2, and people started to do what true Festers do best: improvise.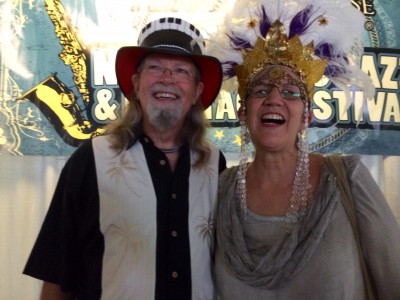 Just Married: Tommy Boehm & Patty Ginnard
Hometown: New Orleans
The newlyweds met at Tipitina's in 1998, when they paired up for Jazz Fest for keeps. After 17 years together, they finally made it official on the Allison Minor stage on 4/25/15. The bride borrowed her regal crown from 2012 Mom's Ball Queen Kathy Grusich, while the groom's rakish keyboard tophat is "an old Jazz Fest find."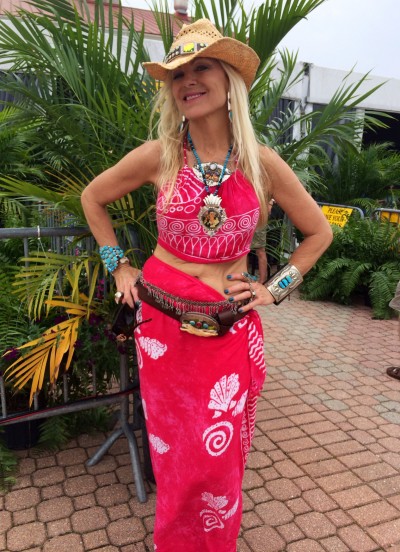 Juli Juneau
Hometown: New Orleans
A transplant from Juneau, Alaska, Juli's come to Jazz Fest every year since 1989, except for a two-year stint in Africa. She aptly describes her style as "sassy, sexy and always accessorized!"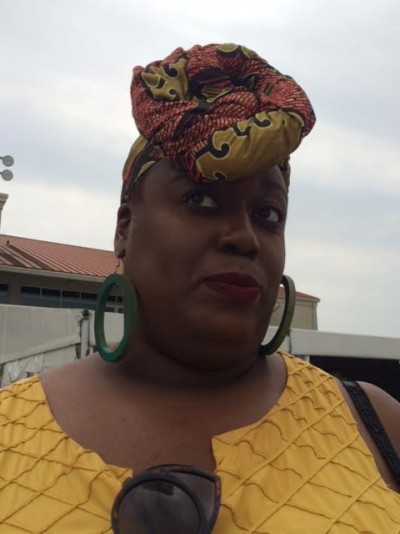 Niala Howard
Hometown: New Orleans
A New Orleans native and makeup artist, Niala is up to 35 Jazz Fests and counting. When she hits the Fairgrounds, she likes to be "flow-y and showy!"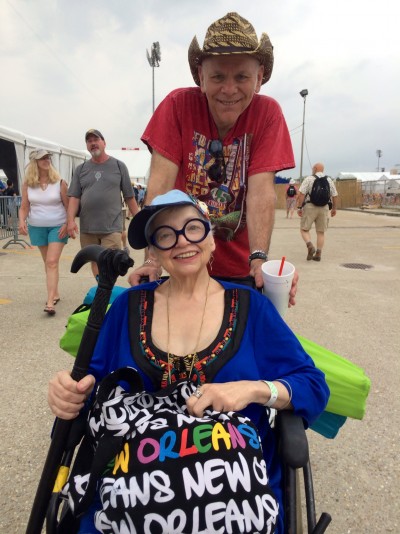 Marde & Bob Gregory
Hometown: Los Angeles
The Gregorys have made an annual trek to Jazz Fest for the past 19 years, and Marde wasn't about to let a sprained ankle spoil this year's fun. "Jazz Fest is for everyone," says Bob. "Everyone looks good!"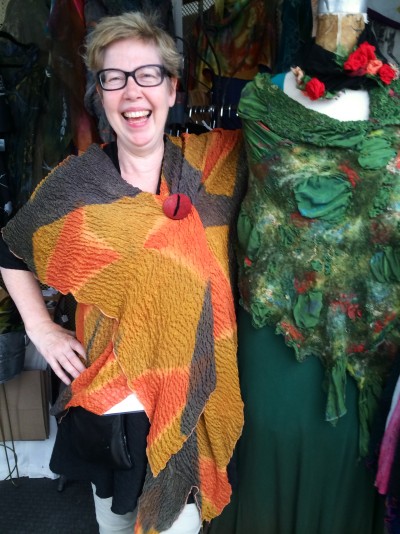 Kate Beck & Greta, Kate Beck Textiles
Hometown: New Orleans
When Kate moved to New Orleans from Seattle in 1996, she packed along her "best friend" and mannequin Greta. For 19 years, she's showcased her exquisite hand-crafted designs at Jazz Fest, where devotees buy a new piece every year.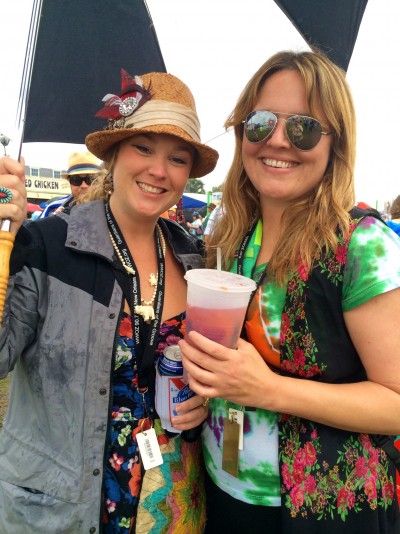 Cat Todel & Collin Ferguson
Hometown: New Orleans
Cat and Collin, cofounders of the Where Y'Art creative community, have been coming to Jazz Fest since 2000 and 1996 respectively. By Collin's calculation, her attendance record comes to "38 consecutive Jazz Fest days!"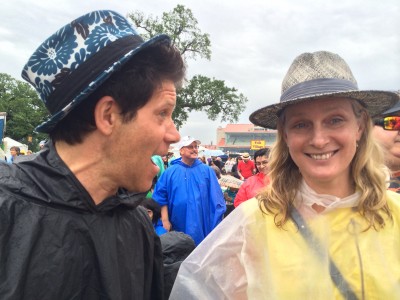 Larry Smith & Piper Kerman
Hometown: Brooklyn, NY
Larry & Piper have made four pilgrimages to Jazz Fest. Larry scored the floral porkpie — "the first hat that ever stuck" — at his very first Fest in 2008. Piper's equally attached to her summer fedora, which tops a perennially cool, classic look.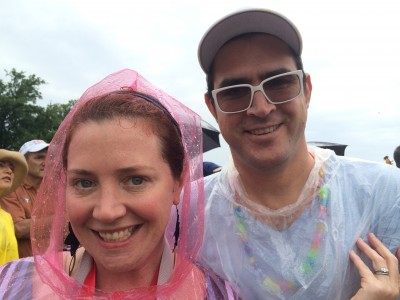 Molly Ditmore & Ted Rheingold
Hometown: San Francisco
Lots of folks reunite with far-flung friends when Jazz Fest rolls around. Molly and Ted joined Larry and Piper at Fest number 4 this year, and are likely to continue the tradition for many years to come. Even in the rain, they manage to embody Molly's Fairgrounds fashion code: "Colorful and practical!"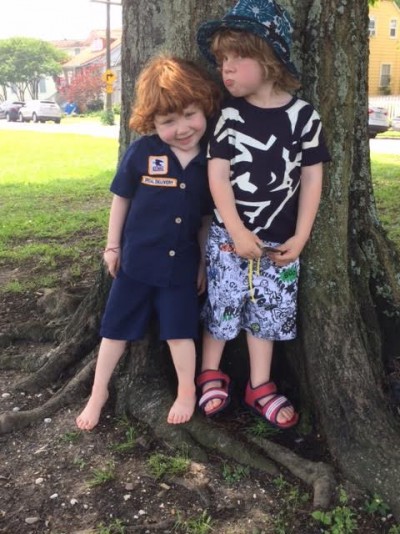 Mabel & Lukas
Hometowns: San Francisco & Brooklyn
Fest buddies Mabel & Lukas renewed their friendship at Jazz Fest #2 this year.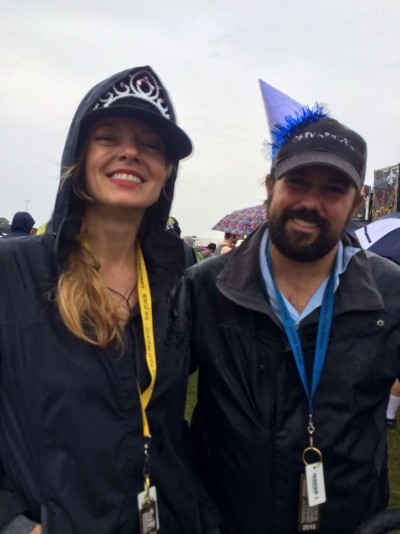 Teva Peter & Giovanni Bommacito
Hometown: New Orleans
A little rain didn't dampen the fun for Teva and Giovanni, who've celebrated Teva's birthday at the Fairgrounds for 16 years. It's a great place for Teva to score big with another New Orleans tradition: pinning money on the birthday celebrant.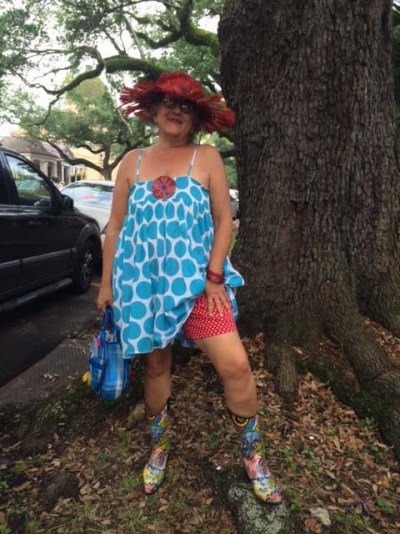 Christine Williams
Hometown: New Orleans
A native Louisianian, Chris has worked or fested at Jazz Fest for over 30 years, and managed to make a funky fashion statement even when she was assigned to the Medical team. She builds her Fairground style on the 3 C's: "Comfortable, cool, costume."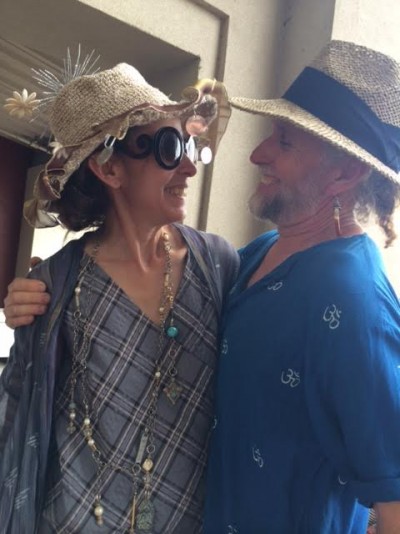 Elizabeth and Gary Eckman
Hometown: New Orleans
Elizabeth and Gary haven't missed a single Jazz Fest since they moved to New Orleans from New York in 2005. Gary's ironclad rule? "Always a sarong, and a nutria tooth earring." Elizabeth has her own fashion formula: Always a hat, usually involving Christmas ornaments. It's a great way to recycle them.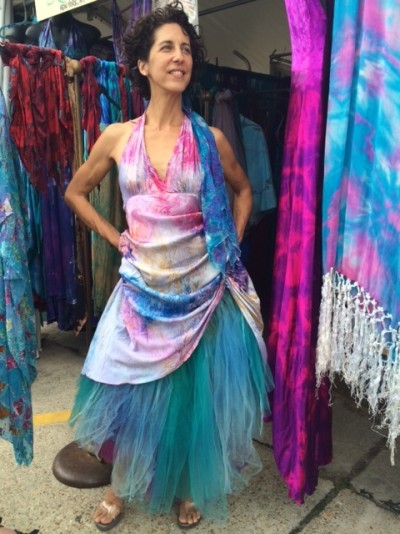 Valerie Massimi (model). Gown by Momo Soho
Hometowns: New Orleans & New York City
I spotted Momo Soho's gorgeous hand-dyed creations on the first day of Fest, and was especially drawn to this gown, with its Mardi Gras-like underskirt of tulle. My friend Val, a New Orleans native who spent many years in New York, was delighted to bring it to life by modeling it at the Fairgrounds. Momo Soho's Michael Lubin, the first designer ever to hand-dye vintage silk slips, supplied Val's Cinderella-style slippers.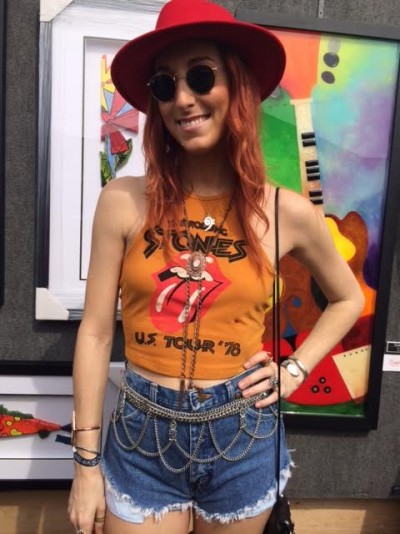 Jennifer Hunsberger
Hometown: Hell's Kitchen, New York City
This is the very first Jazz Fest for fashion buyer Jennifer Hunsberger, and she's having a ball people-watching: "Lots of free spirits!"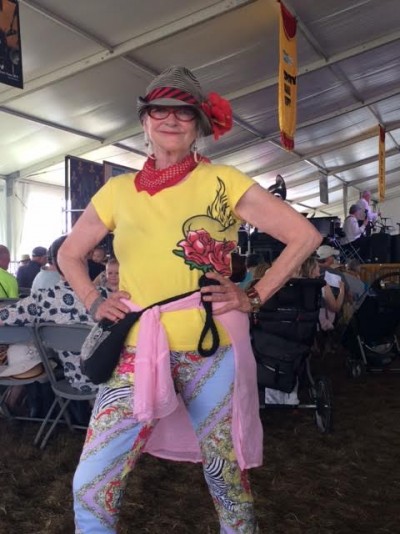 Cree McCree
Hometown: New Orleans
I first came to Jazz Fest in 1988, when I lived in New York City. I continued to make the annual pilgrimage for many years, and finally went native in 2001, when I started attending as a local. I like to jazz things up with a harder edge, like the David Bowie pin on my fedora and my black combat boots, which work great in mud.