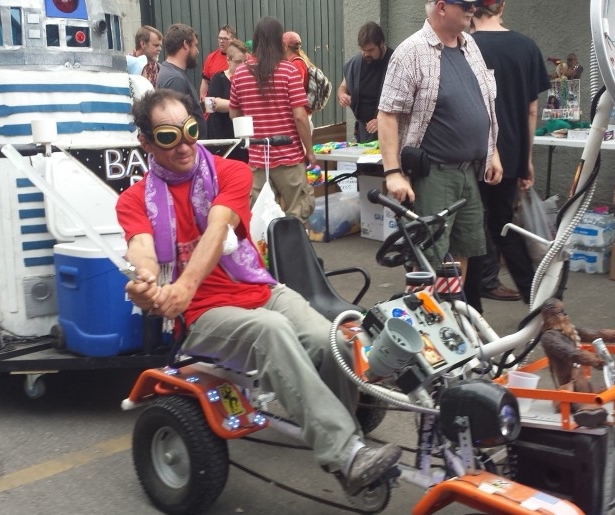 SHARE
The Intergalactic Krewe of Chewbacchus held a parade yesterday to celebrate May 4, otherwise known as Star Wars day (i.e. 'May the Fourth be with you,' and if you don't get the reference, there's not enough time to explain here anyways). The procession wound up Frenchmen St and around the Marigny, showing off the usual incredible range of DIY costumes and accouterments associated with the Sci-Fi themed krewe.
The event was called "Shoeboxus" for the shoebox-sized floats, a la tit Rex, were "…built by students from the Talented Visual Arts program at Martin Behrman Elementary, students and artists in the KID smART program, students at several other schools and arts outreach programs throughout the city, as well as the children of Krewe of Chewbacchus members," according to the Chewbacchus website. Proceeds from the parade went on to benefit KID smART.
Anyways, it was a lovely day with practically perfect weather for a parade, and Chewbacchus, one of my favorite krewes, put on a fantastic show, as per usual (and for a good cause to boot). For your additional viewing pleasure, here's a video from this year's Chewbacchus procession during Carnival season. Presenting: the Bubble Car.