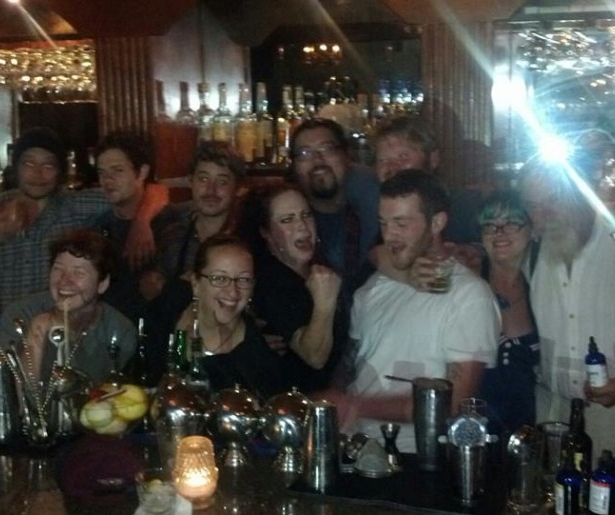 SHARE
Last Sunday night, a community of Nola bartenders met at the former site of Pravda, a bar that held decent court on lower Decatur for quite some time, to say fare-the-well, or dosvedanya, as the case ay be.
Nick Detrich bought the place some time ago and had to abide by the law to not convert the space into his own until a specified amount of time had passed…and that time has come. The Peristoika at Pravda was over, and to celebrate, some of us bartenders even got to cameo for an hour or two behind the bar. I was one of them.
We were celebrating because Detrich could now close for a couple weeks for the construction and remodeling needed to open his new enterprise: Cane and Table.
Back to the gathering, and the guest bartending.
Nick chose a convivial way to say goodbye to Pravda: by having industry friends show up to get behind the bar and peddle the collateral liquor involved in his purchasing of the property. While there's nothing wrong with crème de cacao or midori, we had a mission.
Frappes seemed the only way to constructively move unwanted bottles from Nick's inventory to make room for the preferred liquors which will be the infrastructure of Detrich's bar. So how did we know this style of drink, the frappe, would be the answer?
Well, it's June, it's huggingly warm outside and who doesn't like a drink over crushed ice? No one. Exactly. So bartenders and cocktail enthusiasts alike gathered at lower Decatur to sip and build frappes, for each other, with each other. For my hour behind the bar, I built Crème de Cacao Frappes. I even brought my own ice.
Back to topic.
The New Orleans community of bartenders once again came out as just that. A community. I looked around and saw bartenders from Sylvain, Tivoli and Lee, St. Marie, Broussards, Serendipity, Lucky Rooster, Bar Tonique, Hotel Monteleone, Cure, Twelve Mile Limit, Maximo's and the Saint.
In a business and educational sense, we all look to each other to see what we're doing in order to keep competitive. But what makes New Orleans great is we all get along too. The competition is healthy. We hang out with each other not to keep tabs, but because we're friends.
If I were a visitor to New Orleans, or even a local interested in those who keep New Orleans up top with New York, San Francisco and Chicago in regards to cocktail culture — I'd visit the bars above and ask what I should drink. You won't necessarily have to have a frappe, but you will want to write down where the bartenders think you should go next, and often.