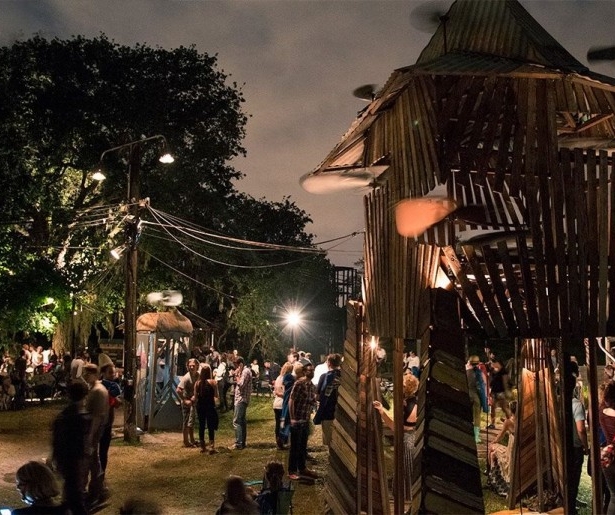 SHARE
In early April, a phantasmagorical sonic shantytown known as the Music Box Roving Village sprang up on the site of a defunct golf course in City Park. There, amid the elements, a series of visiting and local artists have plucked, bowed, stringed, banged and rattled a Rube Goldberg-style installation of handbuilt wooden houses, making the air reverberate with whirs, buzzes, whistles, chirps, gongs, chimes, clanks and all manner of creative sound, both natural and extraterrestrial.

Above The Music Box during its Bywater phase.
Now the Roving Village, built to be nomadic, is about to decamp from its sylvan Midsummer Night's Dream locale. But it's going out in grand theatrical style. Arto Lindsay, master of the crossroads of art and music, steps in as guest conductor for the final City Park performances on Friday, May 8 and Saturday, May 9, with two shows nightly at 6:30 and 8:30. And he's rubbing his hands with glee.
"My first impression? Fantastic!" says Lindsay, who got his initial tour of the Music Box on Monday, when he flew to New Orleans from his home in Rio de Janeiro after a brief stopover in his old stomping grounds of New York.
"I'd seen some videos of the earlier shows, but it was nothing like being there. The place itself is powerful. The houses just kind of add to it. I really like the one where you push a button and the whole thing goes off at once."
Like guest conductors Quintron and William Parker before him, Lindsay will be the one pushing the buttons when he conducts a wildly diverse group of players. This weekend's lineup of nearly a dozen master musicians ranges from jazz chanteuse Meschiya Lake and zydeco king Bruce 'Sunpie' Barnes to Animal Collective's Josh "Deakin" Dibb and "Bone Man Zohar" Israel of the Northside Skull and Bones. And with surprise pop-ups like brass bands on the agenda, anything can – and likely will – happen.
"Things will be simultaneous, there's no other approach possible," says Lindsay, who's spent years orchestrating the organized chaos of parades everywhere from the streets of Bahia to the Venice Biennale. "But we have a lot of people with established styles, so we'll hear those poking through."
Lindsay himself wears many hats: guitarist, singer, producer, composer and multimedia collaborator with world-renowned artists like Matthew Barney. Born in the US but raised in Brazil at a time when Tropicalia music was peaking, Lindsay first made his name in downtown New York with No Wave pioneers DNA, and early incarnations of Lounge Lizards and The Golden Palominos.
But Brazil's siren call lured him back, first in the music he created with Ambitious Lovers and later in his passion for street parades, and he ultimately put down roots in Rio in 2008. Along the way, he's also been drawn to New Orleans, which, like Rio, has made parades an art form.
"It's a pretty amazing town," says Lindsay, who's visited a couple times. He hit Jazz Fest in 2009, when his Bahia friends and musical collaborators Ile Aiye were the featured cultural-exchange artists.
Lindsay also blew into town to compose music for The United States of Hoodoo, a documentary film about African spirituality in the States. "When they told me I could choose where I would hook up with them, I chose New Orleans," he recalls. "It's a place I would love to spend more time."
Given the chance, Lindsay would also love to stage a parade here. "Not during Carnival," he hastens to add. "I would like to do it out of season." He even has a local collaborator: Claire Tancons, a New Orleans-based curator of mass spectacle and processions, who tapped him as musical director for an upcoming parade in Miami.
But for now, he's delighted to be making his New Orleans performance debut at the Music Box (where all four shows are nearly sold out). And he's looking forward to diving in headfirst with co-conspirators that include Loose Marbles' tuba player Jon Gross, drummer Ian Vanek of art-rockers Japanther, electronica wiz Earl Scioneaux III, Yellow Pocahontas drummer Solomon Israel Mason, multi-instrumentalist Aurora Nealand, and White Zombie metal legend Sean Yseult.
Handpicked by Music Box co-founders Delaney Martin and Taylor Lee Shepherd, and musical curator Jay Pennington, it's a combustible mix sure to ignite sonic pyrotechnics that close out the City Park era with a bang.
"Our first rehearsal is Thursday," Lindsay tells me. Isn't that a little late in the game? "Yeah," he admits. "But what's to rehearse, in a sense? We'll try to come up with at least two different game plans." And throwing brass bands into the mix is a natural for this seasoned street-beats vet.
"I love brass bands! They always say Bahia is a place where everyone's a musician, but I really think it's even more true of New Orleans," said Lindsay.
As a parade maestro schooled in the spectacle of Carnival, Lindsay and krewe will likely dazzle the eyes as well as the ears. "We've got some visual elements, we've got some stuff," Lindsay says vaguely, loathe to give too much away.
As for audience participation, well, that's up to you.
"By definition, the audience is already participating by listening," notes Lindsay. "They're there with you. You don't need to formalize that. Encouraging the audience to participate, that's not really my style."
"That said," Lindsay adds with a grin, "maybe we'll get an enormous conga line going!"
Music Box Final Performances – Roving Village Orchestra, Conducted by Arto Lindsay. Shows at 6:30 and 8:30 on Friday, May 8 and Saturday, May 9. Location: City Park, near the intersection of Wisner Blvd and Harrison Ave. Turn onto Harrison, Music Box is about 100 ft. down on left. Tickets are $15.
Image courtesy of New Orleans Airlift.