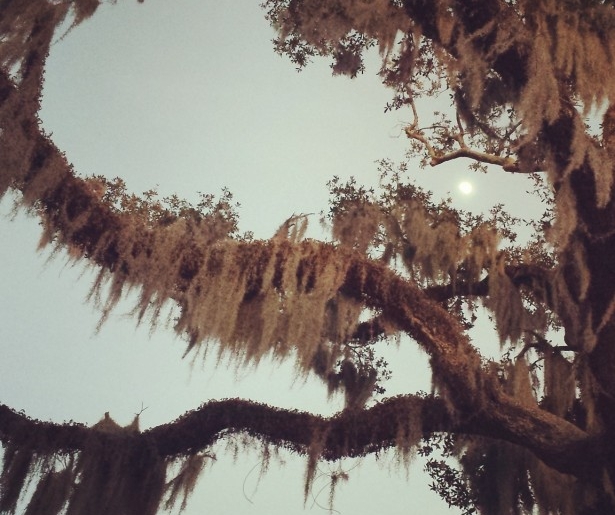 SHARE
Coastal Louisiana loses about a football field's worth of land every hour, the highest rate of coastal land loss in the world. But despite the urgency of the issue, it's not front and center for many New Orleanians, and the multitudes of people who visit the city every year.
John Calhoun hopes to change that, by using art as a springboard to address a complex problem. Building on the success of last year's inaugural Tour, The Goodnight Show host and event founder has organized the 2nd Annual Wetlands Art Tour on Saturday, May 9, with related happenings throughout the weekend.
More than 100 artists, scientists and activists will convene at two dozen venues throughout New Orleans and neighboring St. Bernard parish for a host of wetlands-related activities, ranging from art openings, screenings and panel discussions to live Cajun music and dance.
Participants can even take a free bike tour to ground zero: Bayou Bienvenue, on the Orleans/St. Bernard border, where a once-healthy habitat is now a flooded forest of dead cypress trees. (Tour departs from Clouet Gardens in Bywater at 9 am Saturday morning).
"The bike ride to Bayou Bienvenue last year was really cool, because I witnessed people learning things they didn't know before," says Calhoun, who was inspired to create the Wetlands Art Tour after interviewing a number of Goodnight Show guests involved in coastal restoration.
"Lindsay Pick from Louisiana Lost Land Environmental Tours gave a presentation that got people talking, and they could see with their own eyes what had happened," he added.
Those who want to go deeper into Bayou Bienvenue by kayak can reserve a spot through Kayak-iti-yat Tours ($70 per person, $5 of which is donated to Sustain the Nine, the Lower Ninth Ward Center for Sustainable Engagement and Development).
Throughout the day, Art Tourists can visit three fascinating downriver sites in St. Bernard parish: Crevasse 22, a group art installation at the site of a 1922 river flood; the Meraux Foundation, which features great views of the mighty Mississippi; and Ranch Film Studies, future home of a new production facility.
They can also celebrate the Mother Earth Festival at the All Souls Community Center (10 am -1 pm, 5500 St Claude Ave); stop by Piety Street Market for wetlands-inspired art and crafts (11 am -4 pm, 612 Piety St); and get a drop on the main event at NOCCA's 5 Press Gallery, where exhibiting artists will talk about their work (1-3 pm, 5 Press St).
"How artists respond to coastal land loss through their work helps set the framework for the conversation," explains Calhoun. "One of the speaker artists is Brooks Frederick, a painter from Houma, who collected tar and oil after the BP spill and used it to create portraits of local people affected by the disaster. "
The afternoon's agenda also includes a screening of MRGO-ing, Going Gone, a documentary by Kevin McCaffrey, which explores the environmental consequences of building the "Mr. Go" shipping channel (NOCCA, 4 pm).
The Art Tour proper (6-9 pm) is pegged to the regular Second Saturday openings in the St. Claude Arts District. But for this special event, it expands beyond the St. Claude galleries to encompass numerous ad hoc venues in Bywater and Marigny: Faubourg Wines, Booty's Street Food, Dancing Grounds, Kebab, Suis Generis, Tigermen Den, the Orange Couch and the Community Print Shop. Throughout the evening, Clouet Gardens serves as home base, dishing up Cajun food and live music by La Bande de Plaquemine Brulee.

Festivities kick off in Central City with an opening reception at the Ashe Cultural Arts Center (Friday 6-8 pm), and continue on Sunday in Bywater, where The Tigermen Den hosts a Cajun brunch and dance (Sunday, 11am – 3 pm).
There's a lot going on, so be sure to pick up a map to point you in the right direction, available at any of the Wetlands Art Tour locations. For complete event listings, and addresses for all the venues, check the event page.