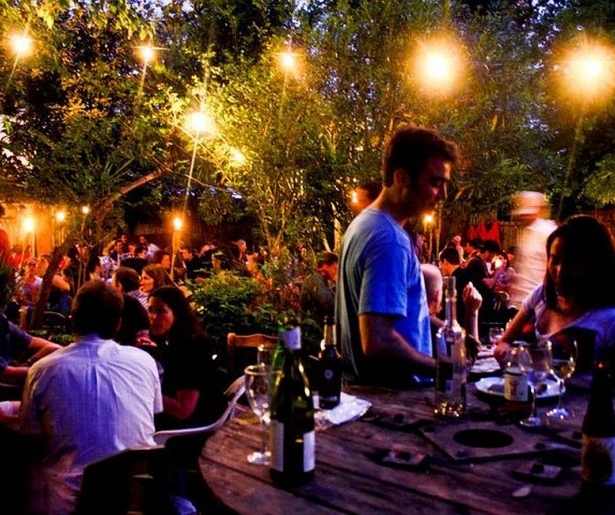 New Orleans's music community, food community and its drinking community were all saddened to lose Bacchanal wine bar owner Chris Rudge on March 13 in his sleep of heart failure at the young age of 40. More than just a business owner, Rudge will be remembered as having started a community verging on family, and showing a lot of people the time of their lives.
In the meantime, the iconic business and brand he founded continues to operate, adapt and grow.
"We're hanging in there, super busy," says Bacchanal co-owner Beau Ross, who knew Rudge since their college days planning parties together in Tallahassee, Florida in the early 90s. Ross owns Bacchanal along with Chef Joaquin Rodas; both were part owners for the last two years, with verbal agreements stretching back five or so years.
"And with Chris a verbal agreement was as good as paper," attests Ross.
For the last ten-plus years, my wife and I lived behind — or what often felt more like attached to Bacchanal in the far back southeast corner of Bywater. When we first moved onto the block prior to the big flood, Bacchanal was still just a small shopfront, their racks lined with the best names in affordable wine of all sorts.
We watched Chris Rudge slowly start to clear some of the feral greenery from the store's back courtyard, with the idea of possibly using the space, somehow. We watched his crew spiff the courtyard up just enough to where guests could lounge around in Rudge's moldy, cracked lawn furniture.
Rudge timidly began hosting music on Sunday nights — luckily, the neighbors didn't really mind, what with the river to the shop's right, the soon-to-be-abandoned Naval base across the street, and intermittent live music spots Vaughan's and BJs both up the street. The sound laws in that light industrial area being more liberal than near Frenchmen Street, you wouldn't find a better, less disruptive place to host live music.
But it was Katrina that imbued the place with significance. When many businesses were still closed, when not all our friends were accounted for, when the rest of the city was still littered with chest-high piles of soggy belongings, the back courtyard of Bacchanal (by then nicely cleaned, and a permanent tiny stage beginning to form in the back corner) was, especially on ultra-busy Sunday nights, the only place that felt "normal" on an otherwise post-apocalyptic landscape.
So legendarily therapeutic was Bacchanal post-Katrina, it ended up featured on HBO's Treme. National magazine Complex wrote of the place, "The food they serve you on paper plates at Bacchanal is probably better than 99.5% of the food I've eaten in traditional restaurants over the course of my life. Get there around sunset and you'd swear you've been transported to something resembling paradise."
Bacchanal's was a studied casualness. "We've worked the last year to really perfect what we do as best we can without sacrificing the funky feel. We had meetings every week where we talked about maintaining the core informality of the place," says Ross.

"We didn't wait on people hand and foot because we wanted to give them the freedom to explore on their own." With a mission statement firmly in place, Ross says,
"We're now working very hard to make sure the quality of the place and the wine is intact. We are actually trying to become more affordable, and still be a portal for young people who are new to wine — which was Chris' vision back when it was a retail shop. We are working with wine reps to make sure we stay true to the game. We want to be the cheapest date in town and a place where you come to explore," he added.
Ross says Rudge also worked in his last year to build a team that could handle such a cataclysmic turn of events.
"We had wanted to build a team we could trust so that we could leave and go hang out in Napa wineries," laughs Ross. "We wanted to go spend some of the cultural credit we'd built at Bacchanal — I mean, the entire wine world has called me lately with condolences. I was surprised how much knowledge is out there about what we do."
Ross says the music will improve only in that it will be even more consistent now. "We are committed to a regular calendar where you'll pretty much see the same bands every month," he says. "We tried so many bands over the years but by now we realize what band works on what night. We've created deep relationships with some of these musicians — for some of them Bacchanal was the gig where they started their band. We are all a big family."
Image courtesy of Bacchanal.