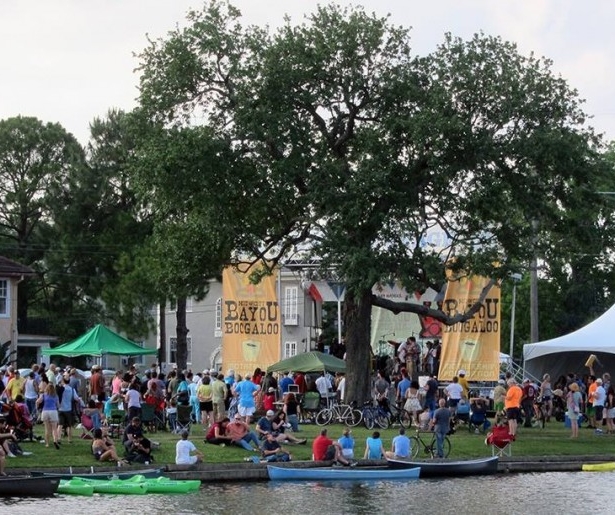 SHARE
Of the many festivals that pack the New Orleans calendar, perhaps none so completely nails the neighborhood that gave it birth like the Mid-City Bayou Boogaloo.
By dint of its creativity, diversity, chilled vibe and of course, location on the banks of Bayou St John, the Boogaloo is truly the festival-esque expression of Mid-City and Faubourg St John. This year, the Boogaloo boogies this weekend, from May 15-17.
Founded in 2006, in the year immediately following Katrina, the Boogaloo has grown from a small gathering of like minded musicians playing on the banks of the city's prettiest interior waterway into a major festival in its own right; last year crowds edged towards 40,000.
The event is hosted, as has been the case since the Boogaloo's founding, by the MotherShip Foundation, a non-profit whose activities include the Restore the Bayou Canopy campaign, which plants live oaks along the banks of the bayou. John. In a statement, the foundation said that in 2015, festival proceeds would be used to launch a new anti-litter campaign.
The good news for festival goers is that those proceeds won't be coming from ticket sales, as the Boogaloo remains a free affair. It's also always been a family friendly one, a chance for locals to get out on the bayou bank and soak up the music, food and (fingers crossed) pleasant May weather New Orleans does so well.
This year's music line-up is headlined by Dumstaphunk, Mannie Fresh, Terrance Simien & The Zydeco Experience and The New Orleans Suspects; check the concert squares and learn about literally dozens of other acts at the festival's website. Some 70 local artists and craftspeople will sell their wares as well.
So what's new this year? A few art installations, such as the MechaGator (see below). All natural local fruit snoballs from Beaucoup Juice that include the option of adding spirits, for an adult treat. and speaking of adult treats, for the first time, the festival will feature a Floating Root Beer Float and Beer and Wine Gardens.

The point of all this? Basically, if you live in New Orleans or are visiting, you've got an activity for the weekend. We'll see you on the banks of the bayou.
Image courtesy of Charlie London, via Bayou Boogaloo.