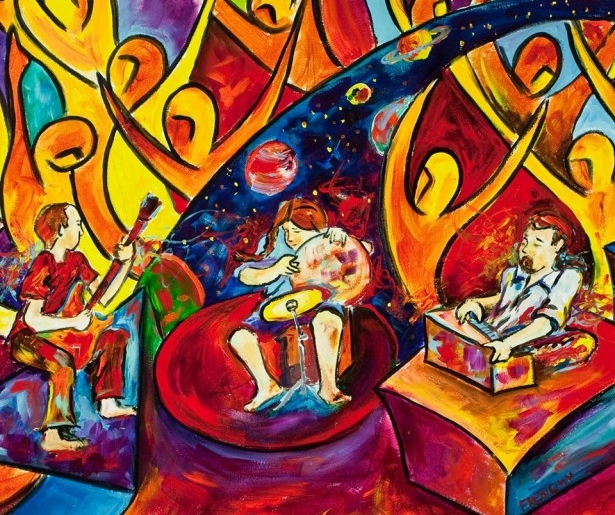 Wild Lotus is not only a successful chain of local yoga studios, with locations Uptown and in the Marigny, but also a live local band that plays its own modernized, New Orleans version of Indian "kirtan" music.
"The lyrics are mantras — some are Sanskrit words," explains Wild Lotus band leader, Sean Johnson, a vocalist who also plays the harmonium. "It's all energy based sound, sung to change our stage of consciousness."
Despite the obscure genre, the ten-year-old band fits easily into New Orleans. With Alvin Young on bass and guitar, and vocalist Gwendolyn Coleman on percussion from the cajon to the frame drum, Wild Lotus entrances unsuspecting crowds at events like the Jazz and Heritage Festival, which hosted the band this year.
"As Western artists, we take the mantra from the yoga tradition and compose originally music around it, so the blend is a rock-gospel-funk-folk — it's not esoteric. We are making music from the yoga tradition more accessible to people who are into yoga, but also for those who are simply into music."
Wild Lotus concerts outside the yoga world always encourage movement and other participation, in an effort to pull crowds in. "When we play, people can just listen to the music, but one thing that distinguishes us is that we ask people to sing along with us."
Like much New Orleans music, says Johnson, "A lot of it is call and response. Rather than just spectating, people are singing along and feeling the power of the music. It's about exorcising, and liberating anything that's pent up inside. We make music that gives people a chance to let that crap go!"
Last summer Johnson and company raised over $31,000 on IndieGoGo.com to record their latest album, Unity. "Our intention with the album was to try and take kirtan music outside the box of the yoga world. So we have a lot of lyrics and chants on the album from different lyrical and religious traditions, everything from Sufi chants to I'll Fly Away.
Proving their international following, Unity hit number-one on iTunes World Music chart and number three on Billboard New Age chart. "We play yoga festivals all over the world," says Johnson. "We do a lot of traveling; every other months we go to a different part of the country for a couple weeks at a time."
Yet for all of that road time, Wild Lotus doesn't play much around town.
"We play at the Sacred Music Festival every year, and a few times a years at
Cafe Istanbul, one of our favorite venues. But it's mostly been great to have concerts at the studio for the last 14 years," says Johnson of where the band was born: "The band was originally just a Monday night jam and whoever would come played. Then after Katrina we couldn't go back home, and I started getting email from all over the country wanting us to help at other yoga studios. So I put together a touring version of the band and a charity tour."
These days, when not touring, Johnson can be found each Tuesday through Thursday at Wild Lotus studios teaches vinyasa yoga, a bhakti form of the practice, which is often soundtracked by kirtan music.
"Bhakti is the yoga of working with our emotions and artistic references, and spiritual practice," Johnson explains, "so music is a big part of bhakti yoga, singing, dancing…but also writing! There's a lot of room for self-expression."
Because of this, Johnson does teach classes accompanied by his band every three or four months. "That's a more physical experience," he says, "you get the storytelling and the poetry that we do… But even during my regular classes, we always do a little singing before and after."
Wild Lotus has done just fine letting the audiences come to them, literally. "We host, two times a year, an eight-day urban retreat in New Orleans," says Johnson. "People come from all over the country to learn the bhakti version of yoga, plus I teach the basics of how to play this music, along with the dance and meditation."
Johnson says his yoga aspirations mesh well with his chosen surroundings in the world's music capital. "When people stay at our retreat, we provide them with live music. It's not hard to turn New Orleans into a spiritual retreat."
Image: a painting of the Wild Lotus band by Frenchy.