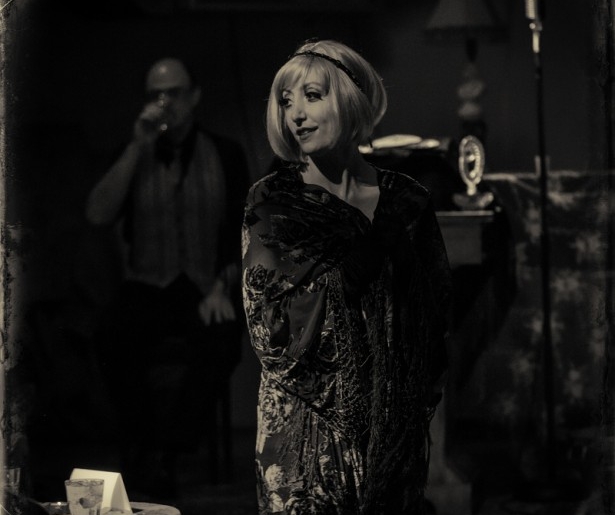 SHARE
Storyville only lasted two decades (1897-1917). But the infamous red light district – a 38-block cluster of legal bordellos bordering the French Quarter – cast a long shadow over the city of New Orleans, where it continues to capture the imagination of residents and visitors alike.
This weekend, the fabled domain of madams, working girls, johns, jazzbos and hustlers springs back to life in Storyville Rising. Staged by a dazzling roster of local and national performers from the neo-burlesque and vaudeville scene, the "immersive cabaret" transports audiences back to turn-of-the-century New Orleans with two 10pm shows at Cafe Istanbul (Saturday, May 16 and Sunday, May 17).
"I've always been fascinated by Storyville," says Storyville Rising producer Mistress Kali, who became a Storyville Starlette and launched Freaksheaux to Geaux after completing dual Tulane master's degrees in social work and public health. "It's been super-idealized as this golden age when everyone was sitting around drinking gin and listening to jazz. But I did a fair amount of research, and found some good things in Storyville that were ahead of their time."
Many successful madams were women of color, and female medical practitioners and midwives played a vital role in the community. There were also some not-so-good things that are often glossed over. So while there are ample corsets, risque humor, and hot period jazz from the Dapper Dandies, the show doesn't shrink from Storyville's seamier side of addiction and violence.
"We're creating an all-encompassing experience, " says Kali, who tapped longtime collaborator Armitage Shanks as the show's director and MC. "Performers will interact with the audience throughout the night."
As soon they come in the door, the audience enters a time machine. Replicas of Storyville's infamous blue-book directories serve as programs, and guests with VIP tickets are seated at tables with one empty chair, where characters will join them during the show.
A few of those colorful characters are based on actual Storyville figures. New Orleans chanteuse Reby Rae reanimates the notorious Emma Johnson, who auctioned off virgins to the highest bidder, while noted local thespian Michael Scott Martin plays a "creepy john" who wins the virgin auction.
But Storyville Rising is not a historical recreation. It's a theatrical evocation of a storied time and place, and burlesque performers from far and wide bring their own special talents to the show.
Po'Chop, the B.A.M.F. of burlesque, blows in with hurricane force from Chicago, where she headlines the city's famed Vaudezilla troupe . Sadie Hawkins, Atlanta's Gravity Defying Fireball, will soar above the audience with flames blazing, while Bella Agogo came all the way from Dublin to seduce the crowd as a good Catholic girl turned mesmerizing snakecharmer.
Jesse-Belle Jones of Seattle will reprise her role as the Modern Sexual Intellectual from the first Storyville Rising performances, staged last fall. Also returning from the original production: New Orleans' own Shadow Angelina, who exposes Storyville's corrupt power dynamics while portraying an ambitious working girl who aspires to be a madam.
"It's a very visually appealing show with many funny moments" says Kali. But she adds that the show is not all comedy, and the issues that plagued historic Storyville, from addiction to disease, are also addressed.
The show's unstinting look at an oft-romanticized era earned Storyville Rising a coveted Brassy Award for "innovation and creative achievement in a burlesque event concept," based on last year's production.
"The award came with a $500 stipend, and a mentoring program that connected me with producers around the country," says Kali. "That kind of technical support helped raise the show's production values so we can really push burlesque to the next level."
"Storyville Rising" runs at 10 pm on Saturday, May 16 and Sunday, May 17 at Cafe Istanbul, 2372 St. Claude Avenue. Ultimate VIP Experience tickets ($75) are sold out. Brown Paper Tickets still has a limited number of VIP tickets ($50) and General Admission seats ($25).
Image courtesy of Storyville Rising