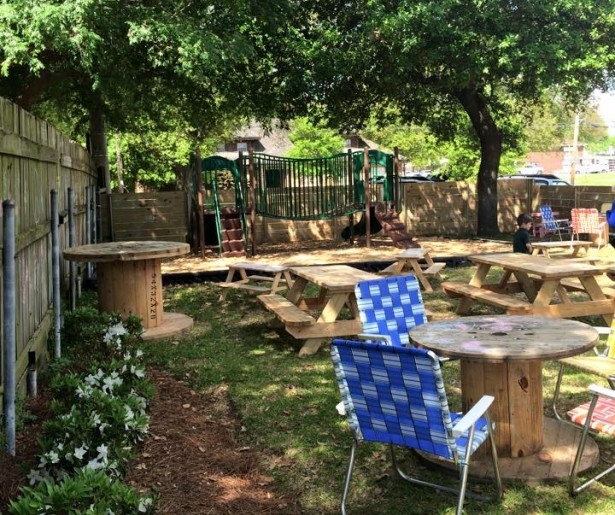 SHARE
There's an old saw that the best restaurants in New Orleans are hidden, tucked away in residential neighborhoods, unseen and passed up even by locals, let alone the average tourist.
While I love and am slightly enamored of this charming cliche, it's pretty demonstrably untrue. Some of the city's best restaurants are very much out in the open, occupying real estate in major hotels or extremely visible locations in the CBD and French Quarter. The restaurateurs of New Orleans are no dummies – they position their businesses to take advantage of location like anyone else.
With that said, there are some amazing restaurants in this city that huddle in the midst of quiet neighborhood avenues, and The Backyard stands among the best affordable family friendly iterations of the genre.
Plopped near West End Blvd in Lakeview, The Backyard's main appeal, beyond its food (more on that below) is its ambiance, encapsulated by its eponymous yard.
Think about a yard, what it's supposed to represent – a green, little lung appended to your residence. It's your little slice of the Earth, but with that said, you can't feel too proprietary of The Backyard's backyard. When you're there, you're likely as not sharing it with other customers, and those other customers likely include children – the owners of this place have thoughtfully set a playground in the yard space.
But it sure feels comfortable enough to lounge in. Beyond the playground, there are some wooden tables, plenty of chairs, and a fence scrabbled over in chalk art. It's cozy and airy all at once.
Inside (the interior space is fine, by the way – modern for New Orleans, cool and clean), a small kitchen cranks. The food is Americana and barbeque, and it's cheap – mains range from $5-9. Chicken wings tossed in a Crystal hot sauce reduction are more smoky than tangy, while the potato chips served with an admittedly too small portion of homemade pimento cheese dip were an unexpected surprise – the dip was creamy and, again, a little smoky, while the chips were fried a deep caramel shade of yum.
I would have opted for a burger, but a brisket sandwich had just made the menu and it seemed silly to pass it up. The chop had a fine balance of char to fat, which is always my measure of good brisket, and stood better on its own than with the tangy house provided barbeque sauce.
The Farmers Market, a vegetarian option packed with 'superfoods' like kale and edamame, is a thoughtful, tasty nod to herbivores – in this case, The Backyard's seemingly signature smoke flavor is subjugated to the fibrous green of the burger's ingredients.
As we finished eating, more couples and families trickled in, greeted with peppy enthusiasm by the staff. Kids yelled in the yard. If the feeling wasn't an exact duplicate of a good meal at your friend's, it was something, by measure of food and atmosphere, that was very close enough.
The Backyard
244 West Harrison Ave
504-309-8767
11am-9pm Mon-Wed, 11am-10:30pm Thu-Sat, 11am-4pm Sun
Image courtesy of The Backyard.