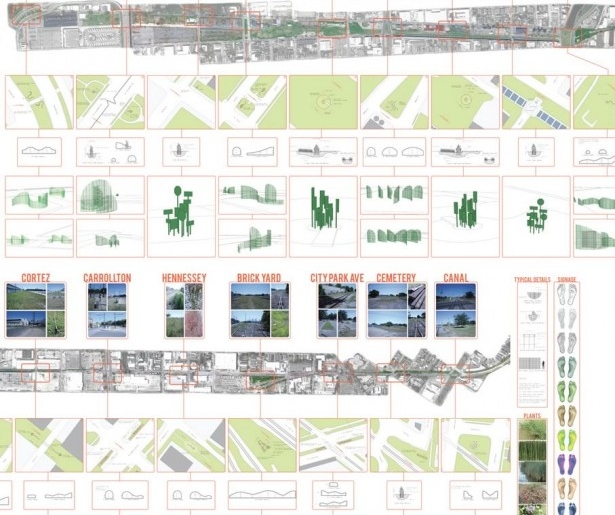 SHARE
Keep your eyes open when you walk around New Orleans. Aside from impressive historic sites and gorgeous residential architecture, sometimes you stumble across a knit in the urban fabric that represents quite a bit. Along the border between the Bayou St. John and Mid-City neighborhoods some enterprising community member has constructed a brilliantly useful and elegant piece of infrastructure.
Six streets dead-end at the canal in the half-mile between N Jeff Davis and Broad Street – making the canal a de facto barrier between the Mid-City and Bayou St. John neighborhoods. Within the last couple of months a community minded – yet clandestine – effort of tactical urbanism has been made to reinforce the existing wooden bridge that would connect N Lopez Street.
On top of the rotting wooden planks riddled with nails and large gaps, there is a three-foot wide, sturdy, painted walkway that can take bikers and walkers safely from one side of the canal to the other.
By simply reinforcing the crumbling bridge cyclists and pedestrians can now easily cross the open canal that parallels, Conti, Lafitte St, and the future Lafitte Greenway. But this is more than just some strategically placed plywood. This bridge is an object lesson in the need for infrastructural improvements and active transportation connectivity in New Orleans.
Emerging evidence is proving that an, 'if you build it they will come,' phenomenon exists with bicycle and pedestrian infrastructure. Judging by the use 'the bridge' gets and interviews with some neighbors, this DIY infrastructure was borne out of necessity.
While it is exciting to see so many new miles of bike lanes planned and installed, this bridge represents the little things that serve to promote a well connected network are crucial to make biking and walking safe an viable transportation options for everyone. As New Orleans moves forward with increasing investment in cycling infrastructure, the city must consider all of the elements necessary for a complete network.