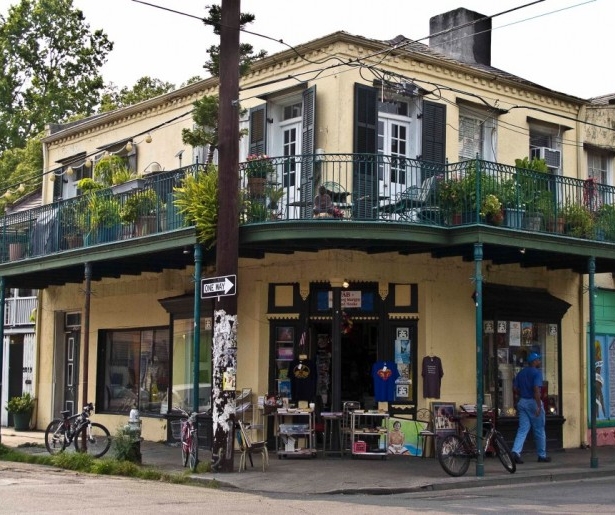 Faubourg Marigny Art and Books remains the funkiest spot on all of Frenchmen Street. Just outside you'll find an impressive collection of antique postcards, decades-old Mardi Gras baubles and posters, an old cordless telephone, a black, Hello Kitty baseball hat, and a photo-smart printer, still in its box. Also there are books – strewn about in a way that makes them tough to catalog but fascinating to sift through.
That's just outside the shop.
The joke goes that, inside, Otis Fennell usually sells hard-to-find books — though these days he keeps things a little better organized.
"That's a major change for me; I have it cataloged for the first time to sharpen the focus on the books I have to make it easier for people to find and buy them," chuckles Fennell, who theoretically knows where in his store you can find everything from the latest New Orleans titles (a sharply up-to-date collection), to your favorite early edition classic literature, your favorite 70s coffee table photography book, or your favorite 80s gay magazines.
But he keeps his massive little collection just enough of a mess so as to compel you to browse for hours.
"To keep it viable, I've become a general purpose store," says Fennell, who keeps the store open more to maintain a cultural institution (and to retain his amazing people-watching spot) than he does to turn profit.
The store first opened in 1977 and remained a gay bookstore under previous ownership for 17 years. "In the 70s, gay authors couldn't get their works published, so they started creating their own books. Then they discovered there was no one willing to sell their work either. So about a dozen gay bookstores popped up."
Of a list that included Oscar Wilde Bookshop (NYC, est. 1967) Crossroads Market (Calgary), Outwrite Bookstore (Atlanta), and the Glad Day Bookshop (Toronto), only Giovanni's Room (Philadelphia, est 1973), and FAB in New Orleans, still exist.
So, when in 2003 FAB's previous owner threatened to close up, shop, Otis bought the business despite knowing nothing of running a book store — he just wanted to make sure it didn't close. He has since stood outside the shop, people-watching, and greeting and advising Frenchmen's crowds every day from 1pm to 1am.
Otis has expanded the store's book collection a bit to interest a broader clientele: straight fiction and biographies, theater and history. "The one thing I have done is to increase the New Orleans content of the store in terms of the books," he says.
He also expanded upon the shop's selection of art. At first glance, Otis' very colorful, bawdy, sexy, decidedly regional art collection, which covers every inch of every wall from floor to high ceiling, might look un-serious or outsider-ish, but in reality is cultivated from Otis' deep connections over decades in New Orleans – it is possibly priceless.
"I did shift focus to art," he admits, "I am a great art lover and there was not a figurative gallery in the city—figurative work is not all I have but it's something I love. Faubourg Marigny Art and Books is the correct way to say the name because the art definitely pays for the books. "
But one wonders how either a bookstore or an art gallery fits in on the newer, more Bourbon-esque version of Frenchmen. "The environment and population is different on Frenchmen and has greatly increased over time," Otis says cautiously.
"It's a dual edged sword because it brings new people, but not necessary people who are interested in artistic portraiture. But given the opportunity to educate — which means walking through the store — people generally walk away with a good feeling. You're not gonna change people's attitudes about sexuality or literature, so I don't seek to do that. But it's refreshing to see out-of-towners grasping that, reacting to it and supporting the store."
Whether people like his shop or not: "Either way I have the best location on all of Frenchmen St," says Fennel, "which is the only reason the store is still here."
For now Frenchmen is lucky to still have the casual but important socio-political statement that is FAB: "I had two customers today who had never seen a gay bookstore," says Otis. "They may or may not be gay themselves, but in the south the only opportunity they would ever have to visit a gay bookstore would be FAB."