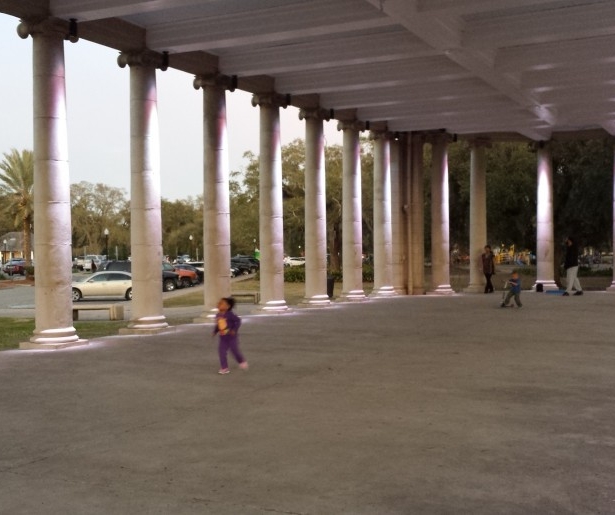 SHARE
This weekend marks the beginning of Greek Fest, which is the city's excuse to hang out some blue and white, drink a little retsina, enjoy some lamb and shout opa a lot.
Of course, Greek Fest is the above but also much more: it's a fundraiser for the Holy Trinity Cathedral, a day to appreciate the beauty of Bayou St John and a celebration of the city's Greek heritage.
We hope to see you at Greek Fest, but in the meantime, here's four other ways of connecting to Hellas in the city of New Orleans.
Eating
There aren't a ton of straight up Greek restaurants in New Orleans – most are ambiguously Mediterranean or Middle Eastern, featuring a few stuffed grape leaves or gyros here and there. There are, however, a ton of Greek owned restaurants in the area.
In fact, not only are these restaurants Greek owned, they're owned by immigrants and their descendants who all hail from the same small island in the Aegean Sea: Chios. Our publishing partners at WWNO have put together a wonderful story about this phenomenon – read more here.
NOMA
Besides possessing a neoclassical facade that brings to mind a Greek temple, The New Orleans Museum of Art possesses a brilliant collection that includes ancient Greek amphorae and other forms of pottery. Eat it up, archaeology aficionados.
Peristyle
Built in 1907, this neoclassical pavilion, pictured above, overlooks Bayou Metairie and is one of the most photographed landmarks in City Park. The open air colonnade could be a set piece from A Midsummer Night's Dream, and inevitably, whenever I go here, I feel like I should be seeing people in togas eating grapes.
Gallier Hall
Yet another example of New Orleans neoclassicism, the former site of City Hall is a lynchpin of the CBD. Gallier Hall serves as an events space and general landmark these days, and its position as an icon of the New Orleans streetscape was cemented last wine, when the hall became the backdrop for the incredible LUNA Fete lightshow.

New School Greek
To be fair, the excellent restaurant Kebab isn't tied to any one nationality anymore than its signature dish is. That being said, the kebab and its variations – gyros, souvlaki, etc – is clearly a cornerstone of Greek cuisine, and this little spot on St Claude Ave is churning out some truly quality charred meat.
The chicken doner is out of this world, as is the lamb special when it's available, and while the following isn't really traditional Greek fare, make sure to order the ridiculously tasty French fries accompanied by the house made coconut-habanero sauce.