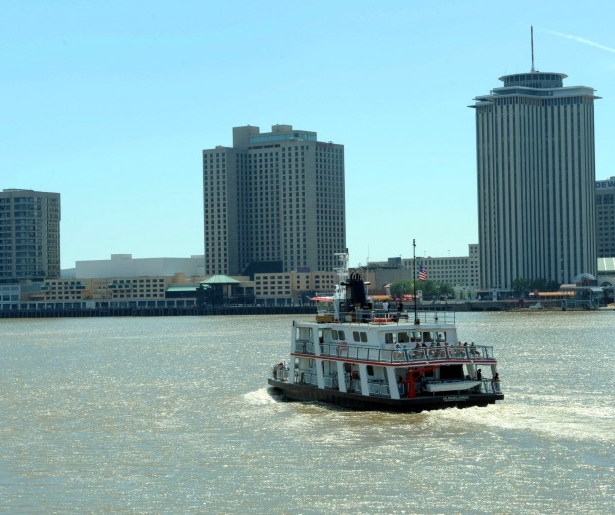 SHARE
Starting June 10, Wednesdays On the Point return to…well, the Point. Which is sort of the point (OK, OK, we'll stop).
The free concert series has a lot going for it. First, as you may have gleaned from the previous phrase, it's free. So we got that going for us. Second: it's family friendly, outdoors, and features lots of food, so get ready to soak. Third: the music schedule is on point, on the Point, as it were, (sorry, one more!) – check it out here. Said Point is at 200 Morgan St if you're using a GPS, by the way
Fourth, like many great New Orleans music events, Wednesdays at the Point is, above all, a window onto a neighborhood, and in this case we're talking about a neighborhood too many folks tend to miss out on.
Many visitors think Algiers is a sunny country in North Africa, and many locals have either never been there, or only popped in once or twice. It's that Mississippi river, of course; most of Orleans parish sits on the east side of the river, but Algiers is on the West Bank, which, er, is east of much of the city (it's complicated).
Because the river happens to run through our fair town, it often feels easier to get from, say, the Bywater to Carrollton — this despite the fact the Bywater is actually right around the corner from Algiers. It's just that 'the corner,' in this case, includes the largest river in North America.
When you stick to the East Bank of Orleans Parish, you miss out on a neighborhood rich in architecture, history, diversity and a straight up sense of New Orleans. Algiers is the city in a microcosm, and it's just a hop, skip and a ferry ride away. Read more about this fascinating neighborhood here, in the first New Orleans & Me neighborhood profile we ever produced, and visit said neighborhood in June at Wednesdays On the Point.
Photo courtesy of Cheryl Gerber.