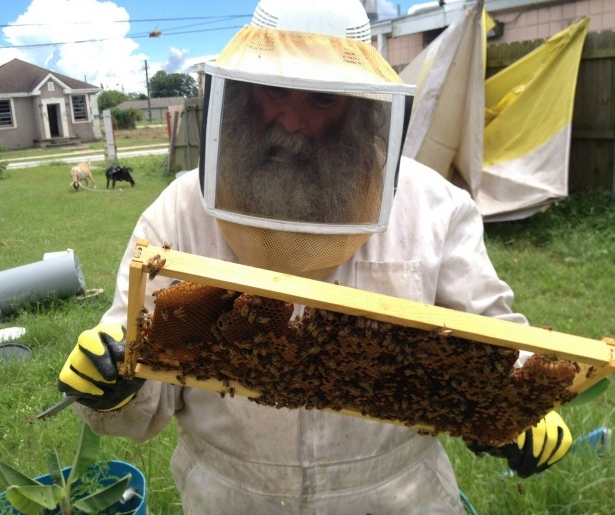 On a temperate day in spring, David Young gathers a large group of volunteers in the Lower 9th Ward to help plant fruit trees, including dwarf pears, lemons, figs, plums, as well as blackberries wherever the dirt is shallow upon the concrete that once supported a house.
David Young explains to these troops, "The Lower 9th Ward is a food desert, with the nearest grocery store three-point-five miles away. Without a vehicle, that distance can be daunting, and so people near here in this neighborhood get stuck with junk food…We are planting these trees today to make healthy food readily available for the neighbors."
Young and his tiny non-profit, Capstone, create these small orchards and gardens in the Lower 9, plus harvest honey from bees, all to helps folks in need.
Young first moved to the Lower 9th Ward in 2009, from Indiana. In 2012, he won PitchNOLA's "Lots of Progress" competition, which awarded his fruit tree idea $5,000, allowing him to purchase two lots from New Orleans Redevelopment Association.
There, he planted a 30-tree orchard of oranges, key limes, grapefruits and figs. Capstone has since accrued long-term leases on 32 lots, many rented from the St. Bernard Project for $1 apiece – a deal he also enjoys on several properties from Habitat for Humanity. Along with the acre he leases from Lower9.com for a payment 10-percent of what he grows, Young says he now has about 60 citrus trees.
Young doesn't fence these trees in. "The food is here for the neighbors to pick," he reiterates. Young lets his community dictate his project, and what he chooses to grow. Capstone also shares garden space with neighbors who want to grow their own produce, and helps folks start at-home gardens.
Capstone's three-year, "Sharing Lots" program, says Young, "provides everything they'd need to be able to grow enough stuff to meet their personal needs plus supplement their income if they want to sell it. Each person gets 25 to 30 feet of ground, plus seeds, technical assistance — we provide everything for the first year. In the second year, we pay only half the operating expenses. Third year they pay all of their own expenses."
Young's is a popular charity for volunteers working with the St. Bernard Project. "Today, David asked us if he could borrow 20 volunteers," says St Bernard Project's Kelsy Yeargain as she helps her crew (most from Winchester Unitarian Church, Massachusetts) plant fruit trees for Capstone in the mild sunshine.
The St Bernard Project guides around 150 visiting volunteers a week to various local charities, most involving the rebuilding flood-damaged houses for their pre-Katrina occupants. "
Which could mean anything form rebuilding the house to just coming by and fixing a leaky wall," says Yeargain. "We also offset housing costs with programs for low to moderate income families. We're also able to buy cheap blighted lots from the city, which we lease to David for his orchards."
Young's project has grown so successful he has started a farmer's market to accommodate the sale of some of Capstone's produce; it runs the first Friday of each month from 3 to 6pm until the end of June, at 5001 N. Claiborne.
"In the same way that people often can't make it to the market to buy food, they often can't make it out to sell the food they've grown," Young points out. "One of our producers has sold a couple hundred dollars worth of their homegrown produce so far, and another three have a good start. One other vendor is bringing some vegetable plants, and we may have processed foods like jams."
"I've got three jars of honey I'm taking to the market with me this week," Young adds. "But I don't suspect I'll come home with three jars."
Young raises honeybees on several of his lots, thanks to a grant from Feast NOLA. He was able to double the size of his "Just Bee Cause" project after winning (again) at PitchNOLA 2014.
"Right now we have 20 hives and we'll be expanding," he says. "We also do a limited amount of removals from houses or buildings where the hives have become a nuisance. Recently we removed one from a kid's trampoline, and we're currently working on one in the French Quarter where the people want to save the tree, which is a little more difficult."
Young says it's all worth the effort. "The revenue from the honey sales will help pay the expense of the food we grow and give away," he says. "Essentially, I sell honey so I don't have to look for more grants. This also helps with better pollination at the gardens and orchards, and helps support honeybees in their struggle to survive."
Image: David Young handles bees in the Lower 9th Ward. Photo courtesy of Capstone.