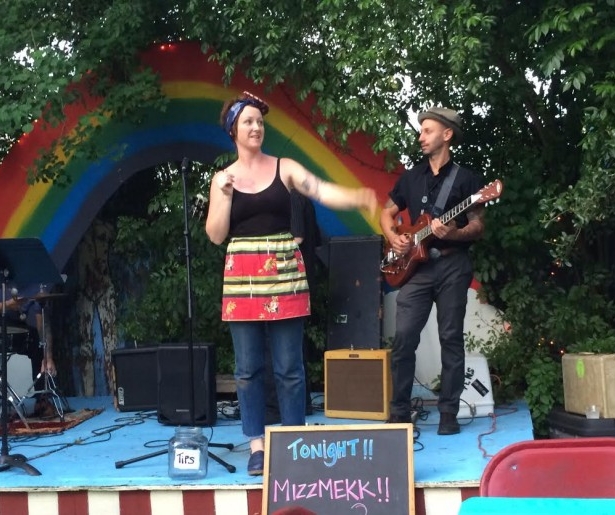 SHARE
Wine flights. Tequila flights. Beer flights. Tastings abound in New Orleans, which is also blessed with an abundance of pop-up restaurants, but Flights of Fancy puts its own spin on both concepts.
Every Monday night, weather permitting, the Mid-City pop-up dishes out different tastes from around the globe made from fresh local ingredients at lively communal dinners, which come with generous sides of music, fashion and art.
Held in an expansive tree-shaded backyard near Bayou St. John, Flights of Fancy doesn't advertise; prospective diners must message the Facebook page to learn the "super secret location!"
But after a year in operation, the secret is out. Not only has Flights become a beloved neighborhood tradition – thanks to word-of-mouth, it also attracts visitors to New Orleans eager to dive into offerings like Andalusian Gypsy Stew, served to the sizzling beats of flamenco guitar.
"We get a surprising number of people who are just traveling through, and heard about us through friends," says Kate Becker, who founded Flights of Fancy with longtime catering partner Trishell Joffrion. "And a lot of local celebs have become regulars. I'm very impressed with the caliber of people who come in."
Things were hoppin' at Flights' first anniversary dinner in early May, where guests made a beeline for the bar to order Cinco de Mayo-themed offerings: fresh-lime margaritas and tequila sunrises ($3); and a three-course meal ($9) of spicy tortilla soup with avocado crema, Mexican jalapeno slaw and horchata rice pudding.
As it is every Monday, the all-vegetarian menu was primarily vegan. Primarily. Regarding the vegan-ness of the Hubig's tribute pies ($3)? "Oh, god no!," Joffrion says with a laugh. Flights' most popular guilty pleasures, the pies come in chocolate, coconut and lemon, and "have got everything that's bad for you!"
Good (and cheap) as the food is, part of the charm of Flights of Fancy is the ad hoc community it creates. The night I visited, noted local comic Chris Champagne and pop-up celeb chef Woody Ruiz of Woody's Fish Tacos fame mingled with first-time visitors from as far away as Oakland and Cape Cod.
Before the main event, local stylistas raided the clothing-swap tables and staged an impromptu fashion show beneath fluttering Tibetan prayer flags. During the meal, Mizz Mekk, a lively four-piece combo, played under a handpainted rainbow on a makeshift stage next to the backyard chicken coop.
Then Becker took the mic to thank Flights of Fancy supporters and give a shoutout to their biggest fans: Mark and Jean Brink, owners of Goodnight Show sponsor Mark's Mufflers, who've attended every single dinner since day one.
As Flights of Fancy continues to take wing, it's started to put down roots in other neighborhood hotspots. Joffrion serves up tacos for vegetarians and carnivores alike at Pal's Lounge Tuesday pop-ups; for St. Patrick's Day, she offered a corned beef option with Guinness dipping sauce (yum!).
And the partners' special Shrimp & Grits brunch, held during Jazz Fest, was such a big hit they plan to offer it again on a semi-regular basis. But wherever their Flights of Fancy take them, Monday nights will remain Joffrion and Becker's cornerstone.
"Monday night will never outgrow its britches," says Becker, who plans to add pop-up vintage and craft vendors to Monday's menu in the coming months. "We may add more ingredients, but we just have one [backyard] pot to work with, so it can only get so big."
Flights of Fancy happens every Monday night, weather permitting, at a "super secret location" in Mid-City. Message the Facebook page for exact address. Also check the Facebook page for upcoming menus and events.