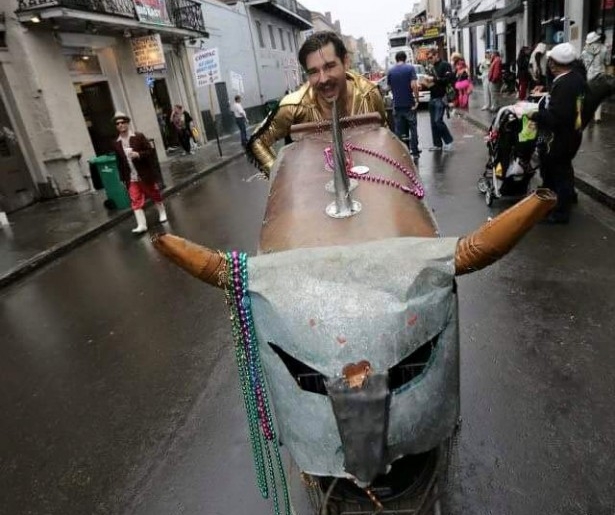 DJ Mike Feduccia always desired to bring the party to the people. "We used to do all the second line parades," explain Feduccia, "and everyone's always accepting, and we'd play the drums here and there. But it didn't always feel like our thing — more like we were there as guests."
Nowadays Feduccia is the party – on wheels. The DJ and friends push the famous New Orleans Techno Bull down New Orleans's streets, blaring and bumping custom electronic party mixes, plus Feduccia's own original dance music.
"Bill Holiday helped build it initially," Feduccia says. "Recently Todd Villa has been one of my bull helpers—in recent years he's been leading up my pit crew, who keep it looking tight."
Feduccia explains the bull's origins: "We procured a shopping cart, welded some bigger wheels on it. Then we got some sheet metal and copper and went over to a friend's house before Mardi Gras in 2007, and we took a step back and went through some ideas of what it looked like, what it could be — we perceived a bull."
"We found some copper tubes that look like horns and hooked the fog machine up to make fog come out the bull's horns. It was made just for Mardi Gras that year, but 30 minutes into the day we realized we weren't gonna be able to take the bull apart. Eight years later we're still here."
Despite the Techno Bull's striking visual (imagine a robot bull, and throw in some go-go dancers and shot girls following along), electronic music remains Feduccia's mission.
"I have a Roland drum machine and a line mixer in the bull, and we plug in bass guitar and synthesizers, and my crew walks with us and plays live," he says. "I prefer to do a live PA, live music, that's what it was made for. DJ Proppa Bear sometimes comes along, DJ Otto DJs and straps drums to himself and we all go down the street, sometimes with some horn players."
In its simplest incarnation, the Techno Bull is a highly ambitious mobile DJ. "It's kind of evolved to just me DJing a lot of times, because it's so hard to get five solid musicians together who don't practice and have them do something that people want to party to all night," Feduccia says.
"We love New Orleans music like everyone else, but I make a lot of electronic music and that isn't as represented here. I always thought we could do an electronic secondline. This is as close as I've come."
Feduccia leads the rolling party proceedings on a loud microphone that always makes its way through the crowd that collects and follows the bull. "John Cleary has gotten on the mic and sang some songs," says Feduccia. "We've had some rap MCs that are kind of known in the underground scene. One of the original beat poets, John Sinclair, said some rhymes on the bull—one of the original MCs!"

Above: the Techno Bull at the Running of the Bulls
New Orleans Techno bull has stampeded through many a New Orleans street party like the Krew of Oak's upcoming Mid Summer Mardi Gras; paraded at both VooDoo and Buku Fest; appeared on Conan O'Brein and twice on the travel channel, among other media cameos.
So many people have rocked out to the Techno Bull that "It has spawned 'bull babies,'" Feduccia attests. "Some of them contact me first and ask permission and I tell them I don't mind. There was someone at Mardi Gras who told me he was from Los Angeles and he saw the Techno Bull a few years ago and he went and made his own, and now they do these parties 'Pin Drop Parties,' where he takes his bull out and you can find his rolling party with your GPS."
Feduccia considers the imitation flattery. "I didn't realize how much everyone would like the bull, from little kids to older people," he gushes. "People come rushing out of the bars in the Quarter. I have done lots of art projects and the bull is the one that has reached the most people — it's also the one that has made the least money," he laughs, adding, "Luckily, money's not why I do it."
Still, Feduccia has teamed up with Krewe of Chewbacchus mastermind Ryan Ballard, who has begun shopping the New Orleans Techno Bull around to different events and festivals.
In the meantime, Feduccia plans to get his own GPS to let people know where they can dance with his musical pet. Next time you run into him, the Techno Bull will be singing some new tunes; Feduccia releases two new albums of original music this May.
"I have a troll alter ego named Lincoln Bagget, and his album is called, A Troll's Journey," Feduccia explains without laughing. "It's all original music, no samples. It follows the troll on his transformation process. He has an Abraham Lincoln beard."
Feduccia's other new album, Trans Euro Express – which Feduccia describes as "silky European house music — comes out under the pseudonym, Sergio Mastersound.
As Feduccia is always too busy running the bull, DJing and MCing the drunken techno street party, he's rarely had time to take good photos of his life's work — and so he encourages fans with pics of New Orleans Techno Bull in action, to post them at the bull's Facebook page.